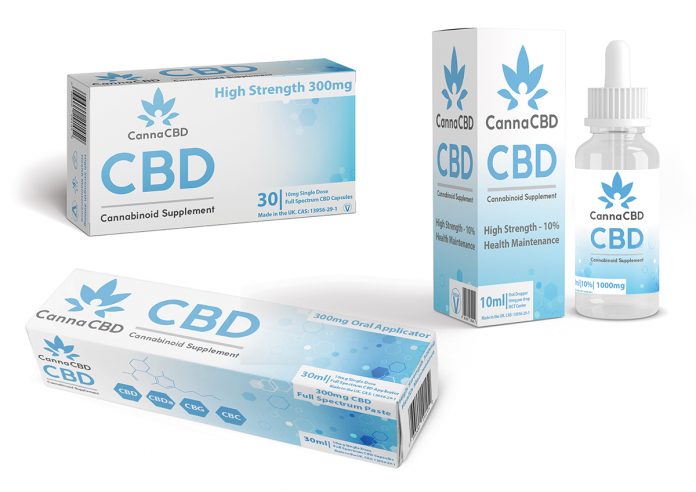 Canna CBD Limited chart the impact of cannabidiol on mainstream fast-moving consumer goods, adopting custom from other lifestyle categories, such as alcohol, tobacco/vaping, cosmetics and health foods
It is without question that cannabinoid-based products have impacted the retail consumer goods market to a large extent in a short manner of time. During the past five years, CBD and other cannabinoid-based goods have gained a very large market share; adopting custom from other lifestyle categories, such as alcohol, tobacco/vaping, cosmetics and health foods.
Almost a year ago, in September 2018 According to Canada's BNN Bloomberg, the drinks giant Coca Cola began talks with Canadian producer Aurora Cannabis to begin developing cannabinoid-infused beverages. Showcasing how this industry has only just begun to be shaped by large corporations, who are bringing cannabidiol into the mainstream marketplace and retailers' shelves, "along with many others in the beverage industry, we are closely watching the growth of non-psychoactive cannabidiol as an ingredient in functional wellness beverages around the world," Coca-Cola said in a statement.
Constellation Brands in August 2018, showed their own interest, by vowing to invest over $4 billion into Canadian producers Canopy Growth, with $200 million spent on the research and development of a Cannabis-based alcoholic beverage utilising their Corona brand. Once again, showing that at this turning point within the cannabinoid industry, large corporations are focussed on bringing cannabidiol products to the mainstream aisles of supermarkets; and not the alternative health sections or stores – but a diverse range of mainstream products enhanced with cannabidiol.
To a lesser extent, Canna Investments – the Owner of Canna CBD and Green Coffee Lab, have positioned themselves to replicate these movements into the mainstream sector but on a more local scale within the UK marketplace. By utilising their own seed to shelf production capabilities, along with retail and marketing experience, Canna Investments has championed a unique approach to bringing new cannabinoid enhanced products to market via its own retail outlets positioned within the high streets of the UK and to an extent, in Europe and Asia. This approach offers an uncompromised view to education, product knowledge and expertise within the arena.
Canna CBD, the cannabinoid production arm of Canna Investments, was founded by Timothy Acton in 2017. Offering a range of typical CBD products, in the form of dropper bottles, sprays, cosmetics and oral syringes packed with full-spectrum extracts, as well as a fully-fledged white label programme offering over 50 clients production of their own branded cannabinoid products. Canna CBD in 2019, turned its focus to the production of mainstream consumer food products.
Opening its first branch of the Green Coffee Lab in May 2019, focussing on offering products incorporating the benefits of a cannabinoid enriched diet. Green Coffee Lab in its short inception has faced media acclaim, featuring in television programmes for BBC and ITV news. With its own hospitality department and hotel offerings, Green Coffee Lab has become one of the core factors in bringing Cannabinoid products to the forefront of consumers daily routines. Working closely with an Essex, UK-based brewery to expand its cannabinoid enriched alcohol offering.
It is apparent from market research, that cannabinoid-based products share a large consumer group with the alcohol market. A joint study by researchers at two U.S. universities and one in South America claims a reduction in the U.S.'s overall alcohol consumption appears directly related to the rise of medical marijuana laws. Over the ten years studied, counties located in medical marijuana states showed almost a 15% reduction in monthly alcohol sales. Analysts at Cowen & Co., have illustrated the very real threat that cannabinoid enriched products have on the $1.2 trillion global alcohol market – quoting: "While recreational cannabis has only limited availability, the rise of cannabis consumption more broadly looks to be weighing on alcoholic beverage consumption, where it is now in decline for men and higher-income consumers."
This correlation of data has lead Canna Investments to focus more on the production of alcohol-based products, along with its line-up of food supplements due to this public perceptional shift on cannabis, cannabinoid-based products and how they interact with health at a social and lifestyle level. One of the core product line ups for the Green Coffee Lab has been its full spectrum enriched coffee beans; infused at the point of roasting for maximum effect. With single-point origin in Columbia, utilising the expertise of Master Baristas, Green Coffee Lab has produced a beautiful blend of full-spectrum CBD enhanced coffee beans for the retail market, allowing further accessibility to cannabinoid products and a new home for them on supermarket shelves. This thought process has continued into Green Coffee Labs subsidiary Leafy hotel – a hotel focussed on bringing cannabinoid accessibility, education and comfort to the forefront of its ethos. With terpene infused bed linen as a sleep aid and an array of CBD products on offer for guests to enjoy, such as shampoo, conditioner, tea, coffees and hot chocolate stocking the rooms. It is here, where Canna Investments has focussed its consumer research – utilising an array of customers from multiple backgrounds with its retail and hospitality sectors to glean data for its New Product Development machine. Utilising this newfound consumer research to develop further products such as variants of Canna CBD's oral sprays, vegan cosmetics and further enriched products.
In summary; it is a fair assessment that cannabinoid enriched products are making a mark on various sectors within fast-moving consumer goods; and Canna Investments intends on pushing its own boundaries consecutively to provide its consumers, clients and associates the highest level of service, education and knowledge of this ever-shifting industry.
Overall, Canna Investments, has various ambitions within the cannabinoid industry; ranging from construction and property development utilising its proprietary hempcrete methods, as well as agricultural development, coinciding with its already established nature as a production facility and retail division, with a keen vision and goal to achieve, we firmly believe there is room within the industry for a UK-based business to expand within the competitive marketplace.
You can discover more about Canna CBD at www.cannacbd.com or the Green Coffee Lab at www.greencoffeelab.com.
Editor's Recommended Articles