Steve Brockway from Maru/edr explores the UK government's rail expansion policy and asks if it's really improving the customer experience for commuters, or should rail companies be listening more to the voice of the customer?
The UK government's intention to expand and improve the railway network is apparent in multiple policies; HS2, Crossrail and even the recent upgrades to Waterloo station are a reflection of the ongoing strategy to build more capacity and a better network for passengers and train companies alike. Even with cuts on a local level, the investment in our rail network looks set to continue with £48 billion of funding announced in November 2017.
This rapid expansion plan is outlined in the 'Visions for the Railways' released by Transport Secretary Chris Grayling in November 2017. However, there is a very real feeling that the policy of expanding the network is leading to more building works, related delays and changing schedules for commuters, begging the question, are these expansion works really addressing the problems of regular commuters?
Is the vision for railway policy improving the customer experience for commuters?
Improving the customer experience is all about listening to and acting upon customer feedback to strategies that will actually improve things for your customers. If you take a look at social media, you'll discover that the number one customer issue is the availability of seating and is especially true if you look during disruptions or strikes. You'll notice a pattern behind the complaints as people report their frustration at a lack of information and poor facilities.
It could easily be argued that the government policy of increasing capacity is directly addressing many of the problems that commuters are experiencing. However, strikes frequently lead to resentment from consumers towards train companies and their employees, with 52% of social media posts monitored during the recent week-long October strikes displaying negative or very negative sentiment towards them. In fact, just 3% of commuter comments analysed by Maru/edr were positive about the strikes at all, with almost all of these being praise of individual employees during the disruption and how the customer experience was managed throughout them.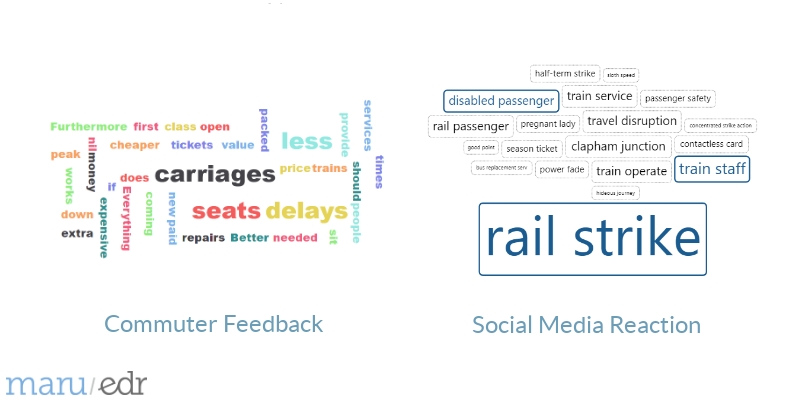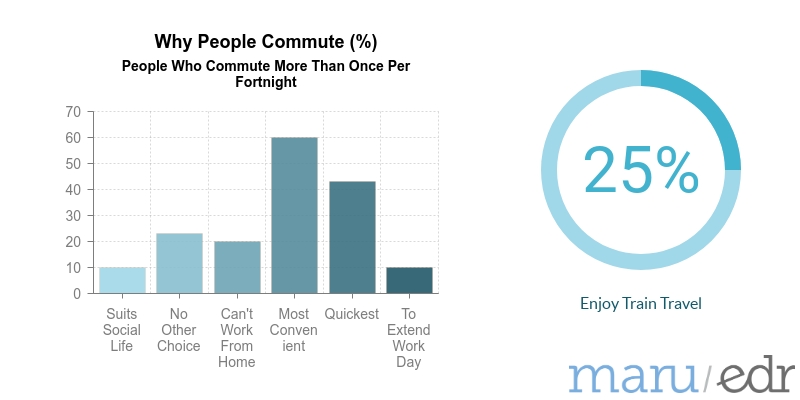 Keeping up with changing commuter habits
68% of regular commuters spend £1,000 a year or more on train travel – with 30% of these spending over £2,000 annually. With commuting being such a key source of revenue, it's important to keep up with changing commuter habits and expectations in a bid to deliver a compelling customer experience.
People travel by train for an extent of reasons, mainly thanks to the convenience (60%) that rail journeys still afford yet interestingly recent results also suggest one quarter (25%) actually enjoy travelling by train and another 10% claim it suits their social life.
However, Maru/edr data also shows that almost 1 in 4 train commuters travels by rail as they have no other choice (23%) or that they cannot work from home (a further 20% of commuters).
Interestingly, data from The Office for National Statistics (ONS) suggests that over 1.78 million employees in the UK now class their home as their primary working location. In fact, between 2005 and 2015, the number of people regularly working from home increased by over 240,000 and a similar increase of 260,000 between 2015 and 2017 suggests that the pace of this increase is set to continue.
Whilst it could be argued that train companies have a captive audience who will persist with train travel through railway improvement works, the growing trend of working from home could present a tangible threat to their future if more and more companies adopt flexible working policies.
Train companies will use insight to serve the needs and changing expectations of commuters who want facilities that work for them. It would appear that building increased capacity and providing reliable and fast Wi-Fi would result in more people commuting on a more regular basis – 10% of regular rail passengers already state that they currently travel by train to extend their working day.
Interestingly, this data also suggests other reasons why people are still commuting with 13% saying that train travel allows them to socialise more and 30% actually enjoy train travel.
Does the vision for the railways match passenger demands?
Whilst it may appear that the additional works will increase delays and so directly work against the demand for punctual and reliable train services, the improvements themselves are targeted at increasing capacity and improving facilities. Most of the major concerns of passengers relate to their experiences as customers, with vocal complaints about increasing rail fares on routes where passengers are regularly unable to get a seat or access basic Wi-Fi.
Government policy does appear to be targeted at solving most of the major concerns raised by passengers and regular commuters, but the most glaring omissions appear to be the availability of internet connections and improving the information available to people about train delays and issues. It means that embedding the voice of the commuter into the heart of train operations is the only way to ensure a successful franchise delivering for both customers and rail ministers.
Steve Brockway
Chief Research Officer
Maru/edr
Tel: +44 (0)1489 772 920
Editor's Recommended Articles