Indonesia has highest capital expenditure (capex) on planned and announced crude and natural gas projects in Southeast Asia over the period 2018–2025, according to GlobalData
The company's report: 'Q4 2018 Quarterly Production and Capital Expenditure Outlook for Key Planned and Announced Upstream Projects in Southeast Asia – Indonesia has Highest Capex on New-Build Projects' reveals that Indonesia leads in Southeast Asia with 23 planned and announced projects during the forecast period. Of the total count, eight are planned and 15 are announced projects.
Soorya Tejomoortula, Oil and Gas Analyst, at GlobalData, comments: "Indonesia is planning a number of oil and gas projects in order to increase oil and gas production, boost government revenues and reduce fuel imports."
In Southeast Asia, a total of 49 crude and natural gas projects are expected to start operations in five countries during 2018-2025. Among these, 21 represent the number of planned projects with identified development plans and 28 represent the number of early-stage announced projects that are undergoing conceptual studies and that are expected to get approved for development.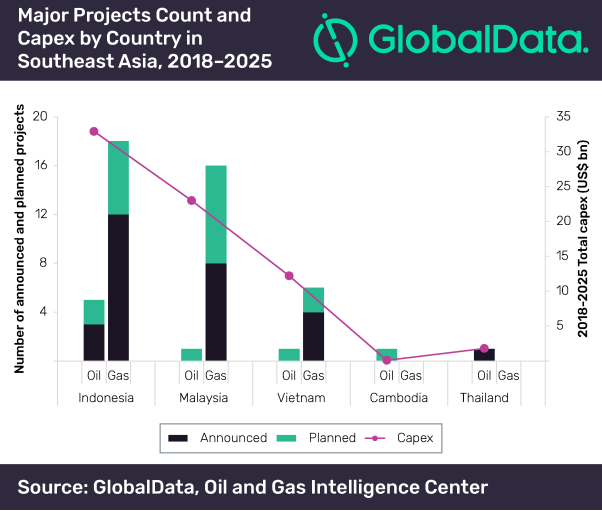 GlobalData identifies Malaysia as the second highest country with 17 upcoming projects– nine planned and eight announced projects, respectively. Vietnam follows with seven upcoming projects, expected to come online by 2025. Cambodia and Thailand are the other countries in Southeast Asia with one upcoming project each.
In terms of operatorship, among the operators in the region, SapuraKencana Energy Sarawak Inc leads with the highest operatorship of seven upcoming projects– four are announced and three are planned projects. All of them are conventional gas projects. PETRONAS Carigali Sdn Bhd will occupy second place with operatorship of three upcoming conventional gas projects.
Key projects in Southeast Asia are expected to contribute about 171,500 barrels of oil per day of global crude production and about 8.1 billion cubic feet per day (bcfd) of global gas production in 2025. The region is expected to spend proposed capex of $14.9 billion to bring the planned projects online and $55.1 billion on key announced projects between 2018 and 2025.
Editor's Recommended Articles