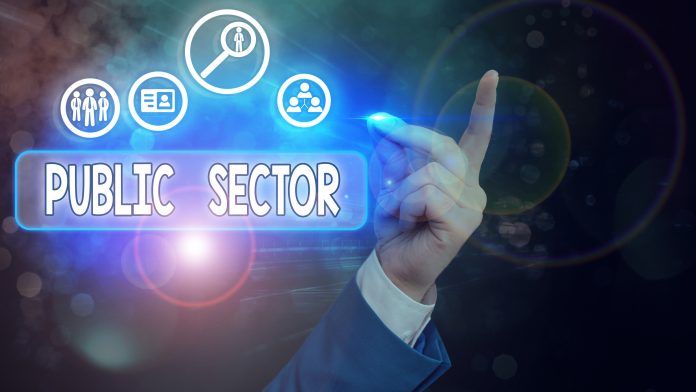 Charlie de Rusett, Founder and CEO from Idea Drop, enlightens us on the issue of idea management in the public sector when it comes to innovation in an organisation
When it comes to innovation in an organisation, there's nothing quite as fundamental as the conception of ideas. Indeed, many employees have the capacity to conjure up unique concepts and points. Unless those ideas are properly managed, however, they're sure to be brushed under the carpet and lost forever, restricting the growth of both a company and its teams.
Without a proper idea management system in place, an organisation simply cannot and will not expand to reach its full potential. But what do we mean by an idea management system? Well, that's precisely what Idea Drop is: the leading tool when it comes to crowdsourcing ideas from all corners of an organisation, as well as managing and actioning novel concepts in order to drive innovation forward, increase efficiency, discover opportunities for cost savings and improve the overall quality of employee life by enhancing work satisfaction.
At Idea Drop, we provide users with a tool that makes the process of innovation as smooth and hassle-free as it can be. Let's take a closer look at how it works.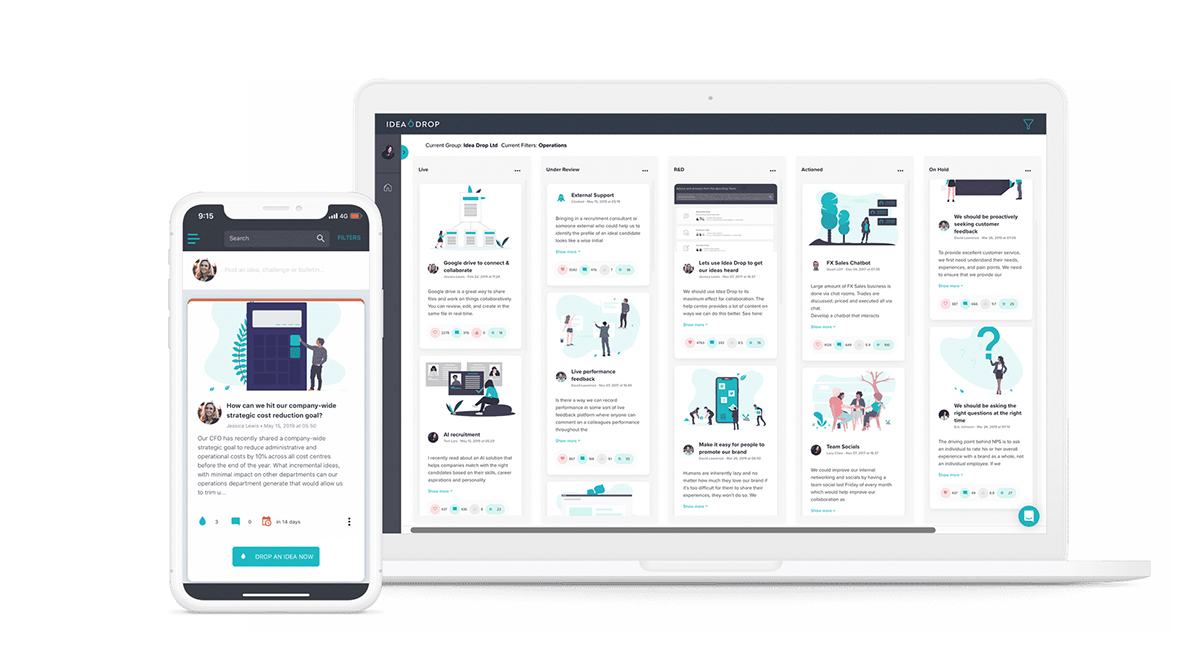 Introducing Idea Drop: The leading idea management tool
Idea Drop is an end-to-end management tool designed to deliver innovation with impact. And no, it's not another generic note-taking tool or team communication platform. It's a revolutionary idea management tool designed to catalyse innovation and success across the board.
So how does it work? Well, really, it comes down to four fundamental steps.
Capture ideas from everyone, everywhere
Idea Drop enables employees to seamlessly share their ideas with the rest of a team whilst simultaneously providing management teams with the opportunity to share strategic challenges aligned with an organisation's strategy and objectives. The Idea Drop platform is accessible via a web browser on a desktop and native app on mobile.
Collaborate and evaluate ideas at scale
Once initial ideas have been shared, the next step in the innovation process is to evaluate and curate suggestions, whittling down the block until one or multiple solid concepts are revealed. All users can collaborate on ideas with ease by bringing other team members into the conversation, by rating and favouriting ideas that they like. The idea evaluation process is also effortless thanks to our powerful technology, which automatically surfaces the most promising ideas based upon a social sentiment.
Action the most impactful ideas
Next, ideas are automatically integrated into a bespoke workflow which runs ideas through an organised process, running from ideation to actual implementation.
Analyse results and report back
Finally, once novel ideas have been reviewed and implemented, managers can then analyse the results of a project. This enables team members to report back to their organisation, proving to senior leadership the impact of the innovation programme and the importance of involving all employees into the initiative.
How Idea Drop is revolutionising the UK's public sector
Since its advent, Idea Drop has quickly picked up speed, rapidly becoming the go-to tool for a range of different organisations across the UK's public sector including the NHS, Met Police, Essex Police, Kent Police, Derbyshire Fire and Rescue, Cleveland Police and British Transport Police.
Birmingham and Solihull Mental Health NHS Foundation Trust (BSMHFT), for instance, is an organisation with more than 4,000 staff members, relies on Idea Drop to smooth out their innovation and communication process.
Idea Drop has been rolled out in an attempt to involve all members of their organisation in the process of updating its strategy and values, giving everybody in the team a voice. After all, these team members will be the ones executing the strategy and, therefore, everybody should have a say with regards to the future of the organisation.
The trust's CEO, Roisin Fallon-Williams, is an advocate of Idea Drop. As Roisin put it herself: "The whole reason for us deploying Idea Drop is that we really encourage everyone to have a voice. Everyone to share their thinking, everyone to share their thoughts. And that's why Idea Drop is a really good platform for us."
When we asked Roisin why she decided to incorporate Idea Drop into her organisation over all other vendors in the market, she gave three reasons:
Mobile app. Her team needed a tool that'd be easily accessible to her busy staff since they'd rarely had the time to sit down at their computer. Idea Drop, available from a user's smartphone at the push of a few buttons, provided exactly that.
Customer support team. 'Your customer support is such that you're going to be really pushing us to make the most of this opportunity – to use this platform, to really invigorate innovation and ideas within the organisation.'
Cloaking feature. Roisin favoured Idea Drop's 'Cloak' feature, which enables users to share ideas anonymously.
Kent Police Force has around 5,449 officers and employees, making it one of the UK's largest police forces, also uses Idea Drop to capture, curate and action the brightest ideas across their expansive team.
Proving the effectiveness of our tool, HMIC (Her Majesty's Inspectorate of Constabulary) report specifically referenced Idea Drop when discussing the Kent police force's ability to innovate and implement new ideas. As it states: "The Idea Drop scheme received a very positive response from the workforce. This scheme allows all officers and staff to post an idea and to comment on or rate the ideas of others. Ideas can be themed and posted globally, or just within teams and directorates."
Without Idea Drop, Kent's police force would struggle to put forth the innovative concepts they've been able to action in recent years. The organisation favours our tool so much, in fact, that it's Chief Constable Alan Pughsley referred to Idea Drop as being "the perfect tool."
Summary
The reality is that public bodies now need to do more with less. In rising to this challenge, novel thinking strategies and ever-closer collaboration need to be implemented across the workforce.
By engaging with all stakeholders across your organisation efficiently and productively, you are empowering them to meet the tremendous challenges facing the public sector in the 21st century by helping drive innovation in the organisation.
If you would like to learn more about Idea Drop's leading idea management technology and see it in action, get in touch with our team today.
Please note: This is a commercial profile
Editor's Recommended Articles