According to a report, more than 340,000 cancer patients could face late diagnosis – due to NHS staff shortages
UK members of parliament have recently condemned the government's failure to tackle NHS staffing shortages that are putting patients at increased risk and are causing survival rates to plummet.
Chair of the Health and Social Care Committee, Jeremy Hunt, said: "Earlier cancer diagnosis is the key to improving overall survival rates. However, progress is being jeopardised by staff shortages which threaten both diagnosis and treatment."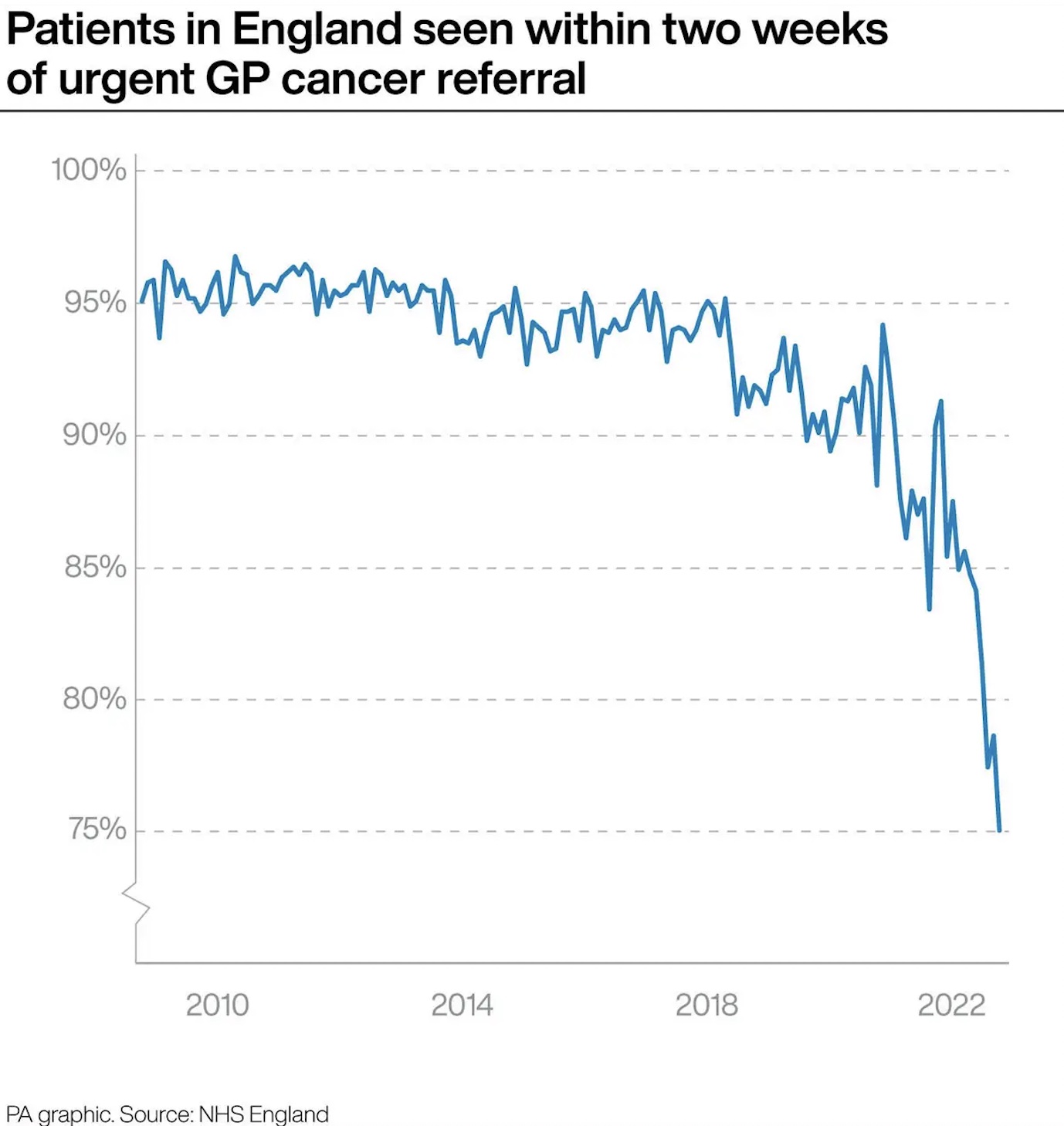 The dangers of late diagnosis in cancer care
According to the 52-page report on Cancer Services, there has been a serious inability from political leaders to fill gaps in the cancer care workforce – which is resulting in patient backlogs and loss.
Furthermore, MPs found that there had been no plan to address shortages of clinical oncologists, consultant pathologists, radiologists and specialist cancer nurses.
MPs added that without action, 340,000 patients between 2019 and 2028 will be denied an early diagnosis, which could mean the difference between life and death.
The report states that the spread of COVID-19 had an extensive impact on the cancer sector of the NHS and that 'vital' cancer surgeries were still being cancelled during the latest wave of the pandemic.
MPs have pointed out the danger that COVID poses to cancer services and the NHS as a whole. They said: "We are further concerned at the damaging and prolonged impact of the pandemic on cancer services, with a real risk that gains made in cancer survival will go into reverse."
https://twitter.com/CommonsHealth/status/1509442602583699465?s=20&t=uxDivdsVng6dXE8WiAxCTQ
Judith Neptial, a lived experience witness, told the report team that she felt unable to raise concerns about her care, felt "invisible" because of her race and in such received a late diagnosis that had a massive impact on her quality of life.
She said: "I did not want to be the angry black woman complaining, or to be perceived to be that. I felt that if I said anything that might be how I would be perceived. I worried about the impact that would have on my care. I do not think I should have had to worry about things like that. People in my group [an online support group for Black people living with cancer] say the same things."
This experience, culminated with others, demonstrates the importance of personalised care and the need for effective communications with people with cancer.
NHS Shortages prove to be continually harming patients
According to the report, the NHS is currently short of 189 clinical oncologists, 390 consultant pathologists and 1,939 radiologists on a full-time equivalent basis. By 2030, the health service estimates that it will be short of over 3,300 specialist cancer nurses.
The Health and Social Care Committee stated in their executive summary: "There appears to be no detailed plan to address such shortages which threaten diagnosis, treatment, and research equally. We have recommended many times the need for an overhaul of workforce planning with independent projections of need, something the Government continues to reject."
The MPs said: "Neither earlier diagnosis nor additional prompt cancer treatment will be possible without addressing gaps in the cancer workforce and we found little evidence of a serious effort to do this."
Editor's Recommended Articles