Paddy Bradley Director of Swindon and Wiltshire LEP lifts the lid on the organisation's emerging Local Industrial Strategy
Since the UK government published the UK's Industrial Strategy in November 2017, we have been working in partnership with businesses and the government towards developing a Local Industrial Strategy for the region of Swindon & Wiltshire.
Our economic priorities identified through our Strategic Economic Plan are closely aligned with the foundations of productivity in the UK's Industrial Strategy. Before the White Paper was published, we identified six themes which identify our place: innovation in emerging low carbon energy technologies; advanced engineering, the aerospace defence sector and robotics; cybersecurity; using science to keep people safe; research and development and higher skills development; and strategic infrastructure investment.
The first four are relative strengths, the last two are challenges to overcome to accelerate our economic growth. Our Local Industrial Strategy will be "fit for the future", cross democratic boundaries and will enable established and productive sectors to thrive and become globally significant.
Over the last year, we have been laying the foundations for our Local Industrial Strategy by undertaking research and developing our higher education, digital capabilities and energy strategies. We have also started work on our rail strategy and refreshed our Local Economic Assessment. Together, these will form a strong and robust evidence base for the refresh of our Strategic Economic Plan and for our Local Industrial Strategy.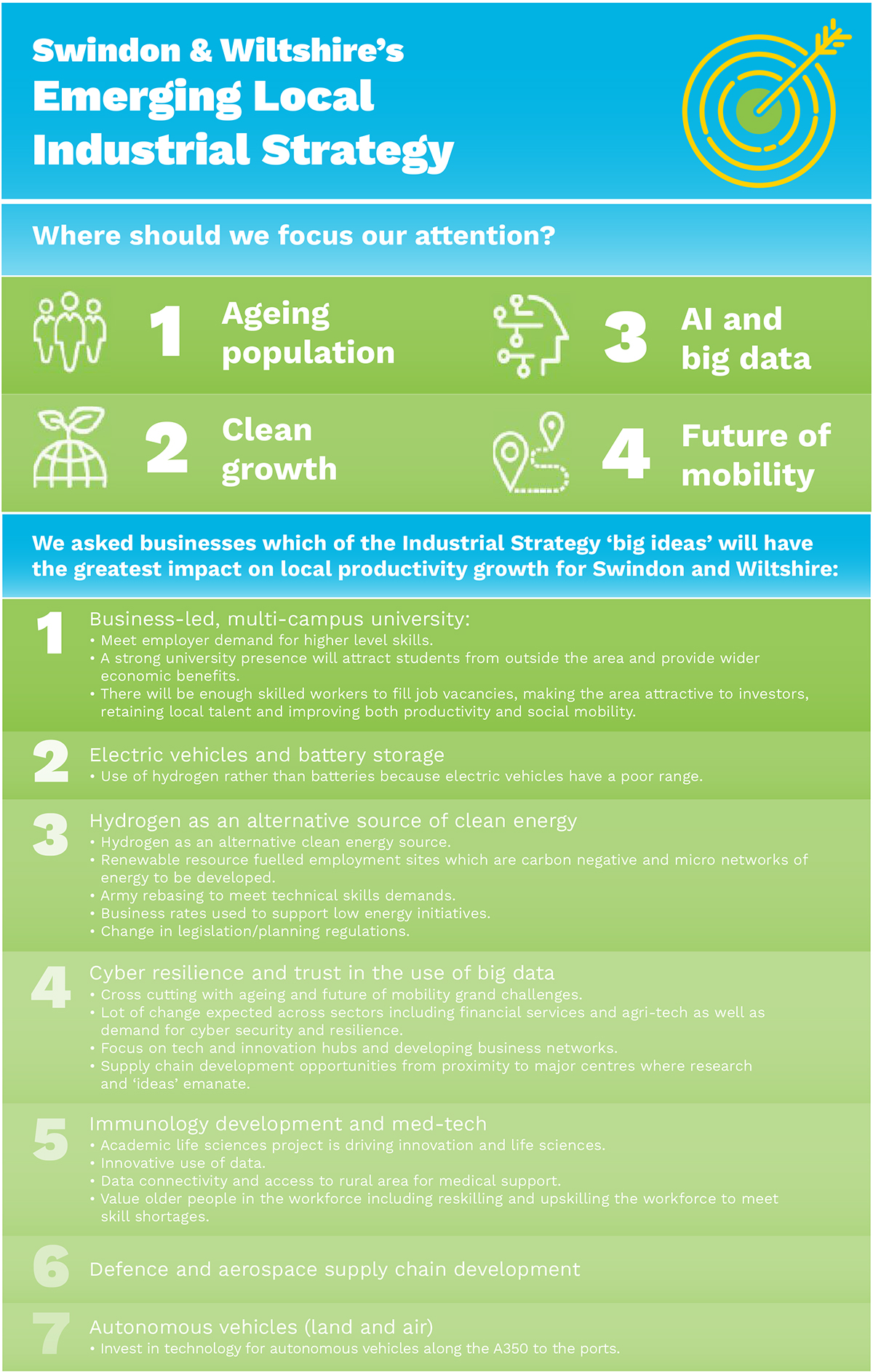 Everything we do it business led, so alongside this evidence collection we have started talking to businesses at the heart of our thriving economy. We held some business engagement events in June 2018 to explore local opportunities against the UK's four Industrial Strategy Grand Challenges that will enable Swindon & Wiltshire to put the UK are the forefront of the industries of the future and be a global leader over the next 15 years. So, what did businesses tell us?
Our Local Industrial Strategy will focus on future-oriented, productive business sectors which are embracing technology and are offering the prospect of growth in high-value jobs. These businesses could be present in both our centres of urban population and our rural economy. The challenge here is in identifying potential "winners" in the competitive world of economic growth.
Please note: this is a commercial profile
Paddy Bradley
Director
Swindon and Wiltshire LEP
Editor's Recommended Articles