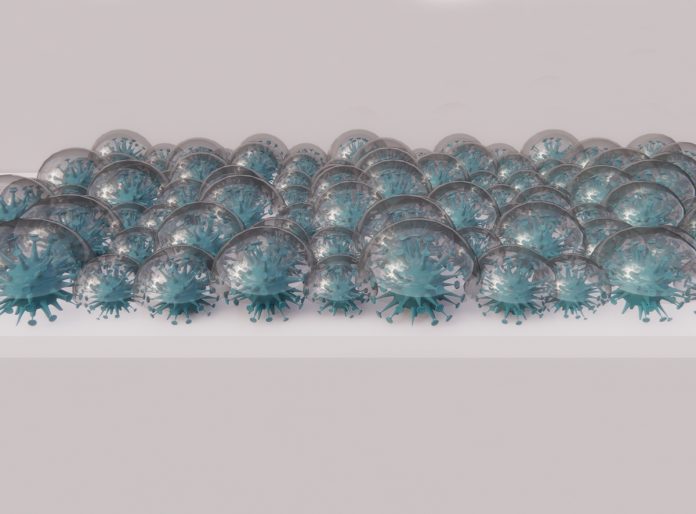 Kate Edwards, Director of LumiBio, highlights what we need to know about COVID-19 infection, prevention and control (IPC)
The COVID-19 pandemic has had a profound impact on the NHS and private healthcare providers, this has resulted in wide-ranging changes to the delivery of our health and social care system, and it has all been implemented at a pace never seen in its history. As more is learned from the COVID-19 pandemic, the guidance on infection, prevention and control (IPC) will continually evolve, however, the core principles such as 'hot' and 'cold' COVID areas, standard hand hygiene practices, additional cleaning regimes, the use of PPE and social distancing have become embedded components.
Risks
Using bleach and or chlorine-based cleaning products is known to be effective, in the short-immediate term, however, these products are aggressive and can cause damage to surfaces, equipment, the environment and most importantly to humans. Human exposure, especially on a frequent basis, to these types of products is not recommended.
This means that spaces need to be cleared before infection control treatment and need to be left unoccupied for a period before allowing re-entry. The use of this type of product is also time-sensitive and re-infection can take place as soon as one hour following application. What is often not understood, concerning this type of product, is that the aggressive nature in which the product works means that the DNA/RNA of the pathogen is shredded on contact and there is a potential for the shredded elements to mutate, if not completely eradicated and reformed as pathogens, but re-formed with increased immunity to the sanitising product.
Critically even when observing the current guidance, we will not know whether the current methodology is effective as there is no testing analysis undertaken to measure the level of pathogen presence.
The opportunity
What is required now more than ever is an IPC system that will integrate seamlessly into current IPC measures and comply with guidance, but will not carry any of the risks or potential side effects that current systems present.
A system that will provide an additional line of defence for patients and staff that lasts for at least three days, in most cases up to five days and that is delivered into a live hot or cold environment with minimal disruption to services.
A system that is provided as part of a managed service which at its core provides a daily, or weekly record of pathogen levels to ensure the efficacy is clearly recorded. An evidence-based audit trail confirming that areas are clean, safe and pathogen levels controlled.
Introducing LumiBio
The LumiBio service has been developed to support health and social care providers to maintain a clean and safe infection-controlled environment. Safe for patients and staff.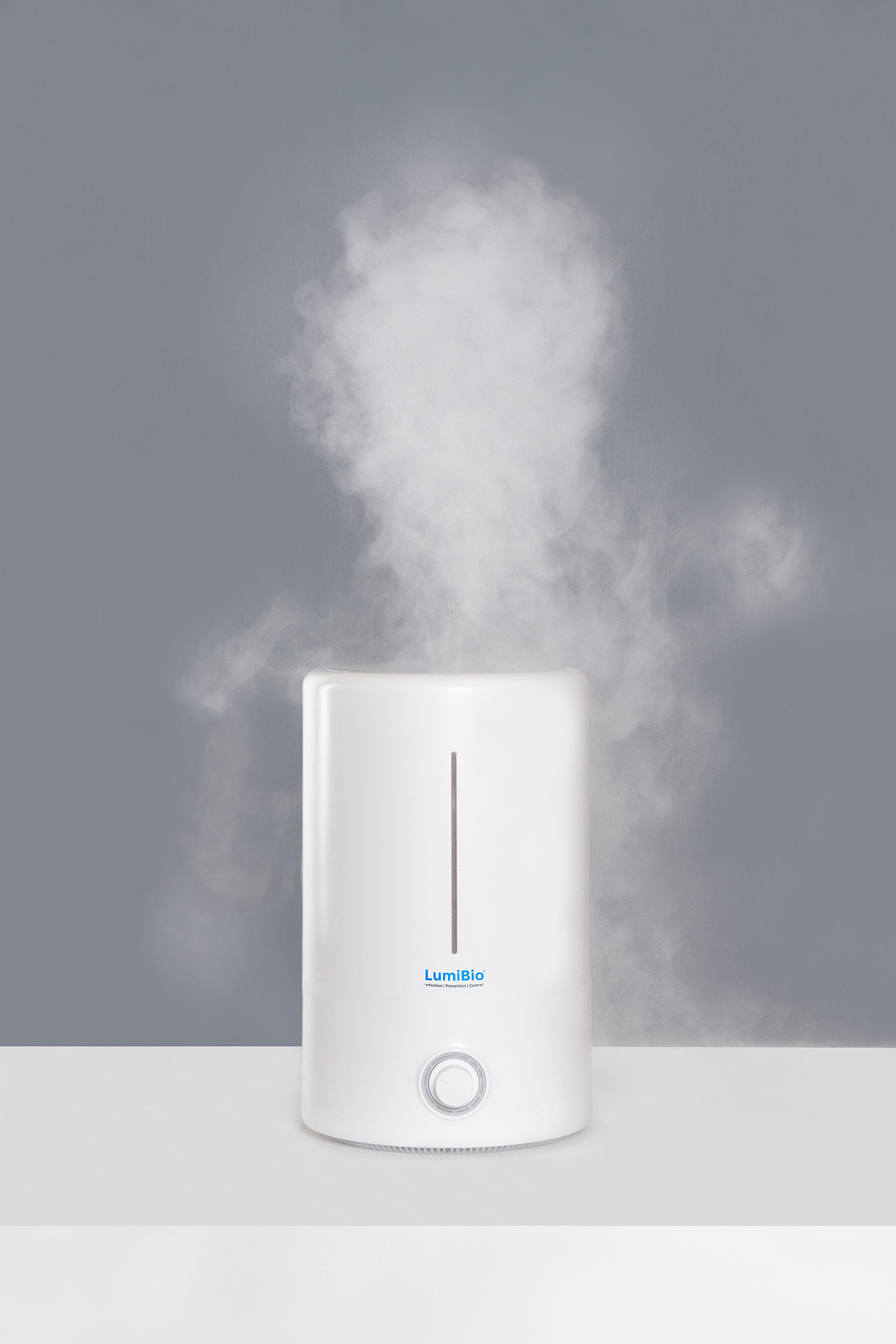 The LumiBio service uses an ultrasonic dry misting system that reaches all surfaces, crevices, and undersides, to give a protective coating. Our treatment is bacteriostatic and on contact immediately penetrates the cell membrane. Working against specific targets, the treatment prevents respiration, synthesis and reproduction, causing comprehensive damage and cell death, whilst remaining completely safe for human contact.
Safety
LumiBio is an all-encompassing infection control system, that is completely harmless and will have no adverse effect on staff, patients, the environment, equipment, and buildings. It is PH neutral and does not contain any bleach or bleaching agents, it does not use UV light and it does not produce any harmful gas. The treatment cycle takes place without any need for anyone or anything to vacate the space.
Each treatment is administered by a LumiBio dry mist unit – requiring no special installation other than a 13-amp socket, unobtrusive and silent
Science
Each treatment cycle uses our dry mist units to distribute a gaseous active layer. This layer immediately neutralises all pathogens that it comes into contact with. But most importantly, it remains active for up to five days and will neutralise any newly distributed pathogen that comes into contact with this gaseous layer.
Having neutralised the pathogen, the treatment suffocates the pathogen and it is eradicated.
This cycle does NOT shred the DNA/RNA of the pathogen as occurs with more aggressive attack methods, this, therefore, avoids mutation and the subsequent re-infection that can occur with the use of aggressive attack formulas.
How can this benefit the delivery of health and social care services?
The LumiBio service is the only disinfection Infection Control method available currently that is completely risk-free.
How LumiBio works provides an additional line of defence protecting the environment, equipment, patients, and staff.
The service will integrate and enhance current IPC guidance and is recognised as a suitable and effective treatment by PHE (effective on enveloped viruses) and has been independently verified as an effective neutraliser of COVID-19.
The LumiBio service will allow routine clinical services to be resumed by the NHS without the need for additional resource, or in areas that propose a challenge, for example, in terms of ventilation.
As part of the LumiBio service, routine swab testing is undertaken to evidence the efficacy of the treatment. This provides FM and Infection Control teams with the assurances that the areas treated are clean, safe and with pathogen levels controlled. Adding critical data and analysis to existing cleaning audits, CQC and PHE inspections.
The Service
The dry mist system is the most effective method of distribution of the gaseous active layer and will reach all surfaces, crevices and undersides, as well as all the areas normally covered by your cleaning regime, which should continue.
We calculate the cycle of treatments to ensure continuous defence and to enhance and integrate into the existing IPC measures. The treatment cycle takes place without any need for anyone or anything to vacate the space, and without the need for FM operatives to undertake any additional tasks.
Our service is normally based upon a fixed price per m³ per month. The actual price is calculated as a result of the completion of our installation and operation protocol.
We also provide Staff Training and awareness for your teams, including FM operatives, clinicians and other building uses to support your communication needs as required, explaining what we are doing.
We would be delighted to explain more about our Service; we have spent three months carrying out demonstrations in live healthcare settings, as well as a range of commercial settings.
Independent efficacy analysis and verification
The LumiBio system has been independently analysed and tested against a full range of Coronavirus pathogens by the Microbiology research team at the University of Alberta Hospital Research Faculty. The work has been led by Professor Matthew Diggle, a leading expert in this field. The Team at the University of Alberta found the product to be 'unique and outstanding'.
The results, which are due to be published shortly have identified the following:
COVID-19 was introduced at a high concentration, much higher than the normal exposure that may take place in daily life.
The treatment immediately on contact with a pathogen neutralises the pathogen. This was demonstrated with Sars-Cov-2 (COVID-19).
The treatment has no impact on any other contact point including cell structures which for research purposes were presented as carriers of the pathogen. This demonstrates the absolute safe nature of the treatment and its highly specific and targeted efficacy.
Having immediately neutralised the pathogen, on contact, the treatment eradicates the pathogen displaying a Log 3 impact in less than five minutes, growing to a Log 6 within 30 minutes. This equates to an eradication rate of 99.9999%.
Also, the active layer distributed by the treatment, continues on contact, to neutralise and eradicate pathogens for up to five days.
We are not aware of any other treatment currently available that has been tested and analysed in this way or that has demonstrated its efficacy in such a demonstrable manner.
Please note: This is a commercial profile
Editor's Recommended Articles