Helen Waters, Executive Vice President of MEDITECH explains how Alder Hey Children's NHS Foundation Trust and South Tyneside and Sunderland NHS Foundation Trust are Global Digital Exemplars leading the UK's healthcare revolution
As the digital transformation of healthcare continues, Global Digital Exemplars (GDEs) like Alder Hey Children's NHS Foundation Trust and South Tyneside and Sunderland NHS Foundation Trust are leading the charge to safer, more holistic care with MEDITECH's integrated EPR.
For over 27 years, both public trusts and private hospitals throughout the United Kingdom and Ireland have relied on MEDITECH to meet their evolving needs. Today, MEDITECH customers are internationally recognised from GDEs to renowned networked cancer centres and are using their IT systems to achieve greater efficiencies in care delivery.
As a long-term trusted supplier, MEDITECH has been named to a number of NHS frameworks, with the most recent being the NHS England and NHSX Health Systems Support Framework. Under Lot 1, MEDITECH has provided not only robust EPR solutions but also extensive interoperability and population health offerings across the healthcare continuum.
Breaking down silos and focusing on patients
Quality healthcare always keeps the patient at the centre, no matter when or where they receive care. That's why MEDITECH supports interoperability across the entire healthcare spectrum, including primary, secondary and tertiary care settings; social care; and care at home.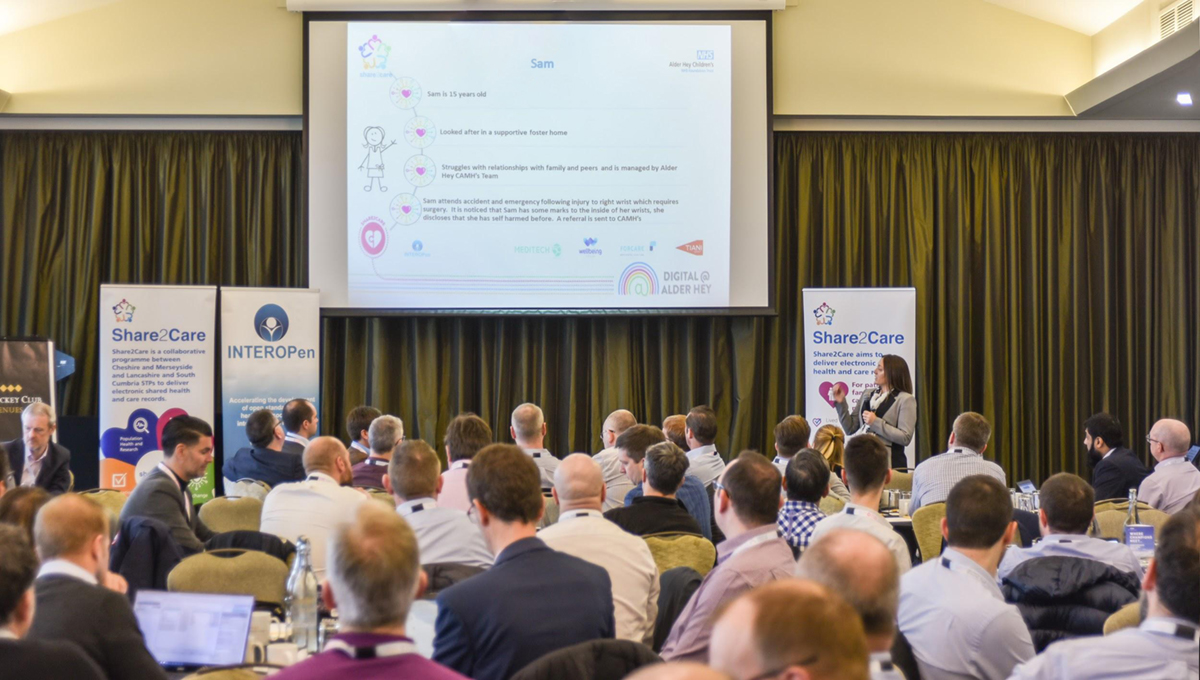 Alder Hey Children's NHS Foundation Trust is currently at the forefront of sharing patient data across the northwest counties of Cheshire and Merseyside, providing care to 330,000 children, young people and their families every year. As the main provider of paediatric care, Alder Hey serves children who frequently transition to and from various outpatient settings. When patients at Alder Hey are referred to other organisations within The Cheshire and Merseyside Health and Care Partnership, clinicians see the full patient story with the proper exchange of information, free from the gaps that commonly occur during care transitions.
Alder Hey's success was highlighted earlier this year, as over 130 attendees – representing over 20 separate NHS suppliers and 15 NHS trusts from multiple regions across the country – attended Alder Hey Children's Share2Care Connectathon.
Alder Hey is also looking forward to implementing MEDITECH's web-based Expanse platform, as part of its goal to help the NHS move to a new era in healthcare. Download the case study to learn more about how Alder Hey is transforming care delivery with MEDITECH's interoperability solutions.
Achieving quality outcomes and creating organisation-wide efficiencies
City Hospitals Sunderland NHS Foundation Trust, now South Tyneside and Sunderland NHS Foundation Trust, relies on its MEDITECH EPR to provide services to a population of around 430,000 people. By leveraging the information within its EPR, the Trust is improving care quality and safety, as well as creating efficiencies and cost savings. The outcomes below have been realised by Sunderland, before their merger with South Tyneside, their GDE fast follower. South Tyneside is looking forward to achieving similar results following their recent MEDITECH implementation.
Sunderland's use of MEDITECH's integrated EPR helps to prioritise care and improve outcomes. Care teams are using real-time patient trackers and embedded clinical decision support to detect sepsis sooner in the ED and the inpatient setting. Through built-in flags, they are identifying changes in vitals and using alerts and guidance to ensure proper escalation processes are followed. Early intervention significantly reduces the patient's length of stay and cost of care. They've now surpassed a 99% screening rate, well exceeding CQUIN recommendations.
Data accuracy is another priority for the Trust. With a real-time feed of observational data, they've removed the risk of transcription errors and have reached 100% accuracy. Real-time documentation has also led to more complete records. Prior to implementation, only 20% of pain scores were documented with observations. Today, clinicians are documenting pain scores with observations 100% of the time, Trust-wide.
Closed-loop medication management is another safety driver for Sunderland. Medication information is communicated in real-time between e-prescribing, pharmacy and medication administration. Since deploying this functionality with MEDITECH's EPR, the Trust has improved safety and efficiency by:
Reducing their medication error rate to 0.5% annually.
Saving clinicians an average of 30 seconds per patient, by scanning medications at the bedside versus manually selecting the correct drug and dose.
Using required fields when prescribing and enforcing completeness of prescriptions, which ensures nursing staff administer medications as directed.
Using multicycle prescribing to save medics prescribing time.
Saving time and money
The Trust realises an extensive range of time-saving and cash-releasing benefits associated with its Global Digital Exemplar Programme and its target of being "paper-free at the point of care." Already, by significantly reducing their reliance on paper-based medical records, Sunderland has seen a financial savings of £500,000+ per annum, with aspirations to see this increase by a further £500,000 during the coming months. Such financial savings are further supplemented by other cash releasing benefits within clinical directorates.
The Trust is also using its EPR to increase volumes and revenue. They saw a 1.1% reduction in their Did Not Attend (DNA) rate, from 11.3% to 10.2%, which they attribute to offering patients a wider choice of follow-up appointment options. Additionally, by integrating eReferral Services (eRS) in the EPR, Sunderland exceeded their 80% CQIN target related to eRS implementation and slots published, reaching 97%. PBR returns are also higher due to more accurate identification of the correct pathway on referrals by clinical staff.
Time savings are also significant thanks to the mobility of MEDITECH's EPR, which improves both the physician and patient experience. This includes:
50 minutes per midwife per day, using an electronic pregnancy record.
A two-minute reduction in clinician handover time using a shared Status Board.
25 seconds savings per login by not having to log into multiple devices.
Use of device monitors to reduce manual transcription of observations.
Moving forward
MEDITECH is committed to building and nurturing long-term relationships with our customers. Both Alder Hey and South Tyneside and Sunderland demonstrate how the right technology partner can provide healthcare organisations with a solid foundation for a sustainable future.
Please note: This is a commercial profile
Editor's Recommended Articles