Professor Sergio Bertolucci, Chair of the ATTRACT R&D&I Committee (IC), explores how the ATTRACT Project is bridging the gap between research and industry to go from Open Science to Open Innovation
The European Research Area is possibly the most convincing example of what Europe can achieve when it acts as a whole.
The ERA, by enabling the free circulation of researchers, scientific knowledge and technology, is an extraordinary and unique example of openness, which has created an inclusive eco­system of trust and has allowed Europe to remain competitive in the production of knowledge across all the scientific fields.
On the other hand, it is also apparent that this excellence has not automatically generated a similarly robust and extended environment for innovation, missing to include the private sector (industry, investors, entrepreneurs) and that the lack of such an ecosystem is one of the main causes of the declining competitiveness of Europe in innovation.
Starting from these considerations, a few years ago a consortium composed by major European research institutions (CERN, EMBL, ESO, ESRF, E-XFEL, ILL), EIRMA (the European Industrial Research Management Association) and two Universities particularly engaged in innovation (ESADE and AALTO) was formed to propose a phased programme of adequate scale to quantitatively assess the connection of Open Science to Open Innovation.
The consortium than engaged in a fruitful discourse with the European Commission, which eventually funded the two-phase project of co-innovation ATTRACT in the framework of the Horizon 2020 research and innovation programme.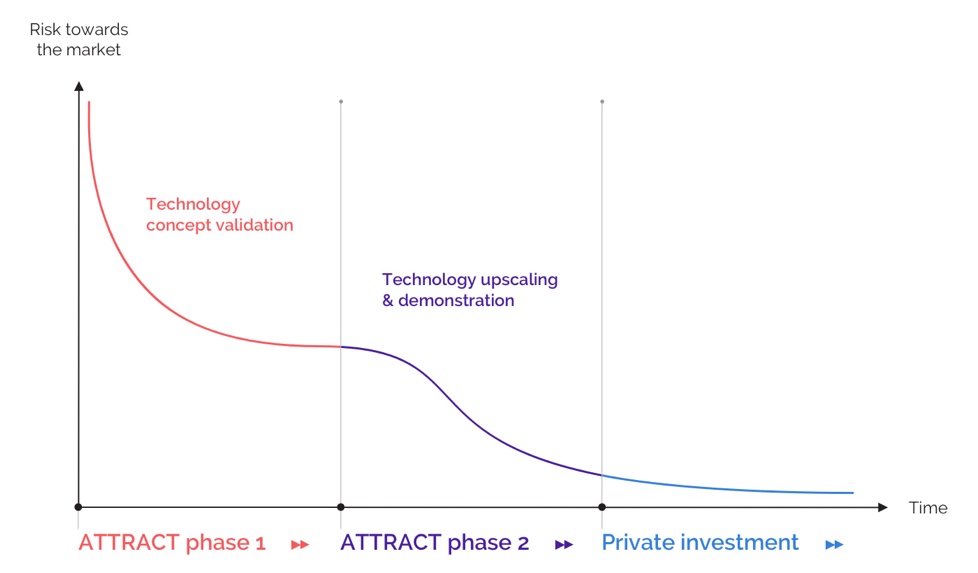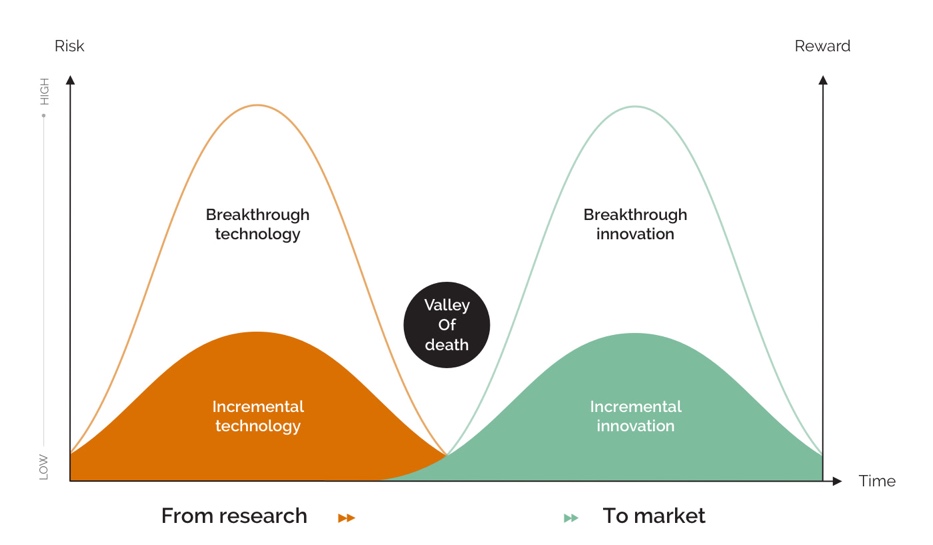 The programme's co-innovation approach seeks to act as a facilitator between two communities – research and industry – bridging their apparently different motivations and goals for undertaking research and development and innovation (R&D&I).
ATTRACT uses public funding to lower the intrinsic risk that breakthrough technology bears as it moves along technology readiness levels (TRLs) and reaches private investment and the market.
The two-phase approach also seeks:
The identification of win-win opportunities for both research and industrial actors, during the very early stages of the innovation value chain (i.e. the so-called early Technology Readiness Level (TRL) phases, typically 1 to 4).
The strengthening of mutual trust, cooperation and interdisciplinary blending, along the later stages of the innovation cycle (i.e. TRL 4 and beyond).
After reaching a stage around TRL 7, breakthrough technologies – thanks to public funding – will have been sufficiently de-risked to become more attractive to private funders. At this point, ATTRACT phase 2 will be completed, and private investment will help to commercialise new products and services for society.
Supporting breakthrough technology
In 2018, the European Commission (EC)'s Horizon 2020 Programme funded ATTRACT phase 1, which supported 170 breakthrough technology concepts in the domain of detection and imaging technologies, selecting them among more than 1200 high quality proposals  across Europe. The projects were each granted €100,000 in seed funding to create a proof-of-concept.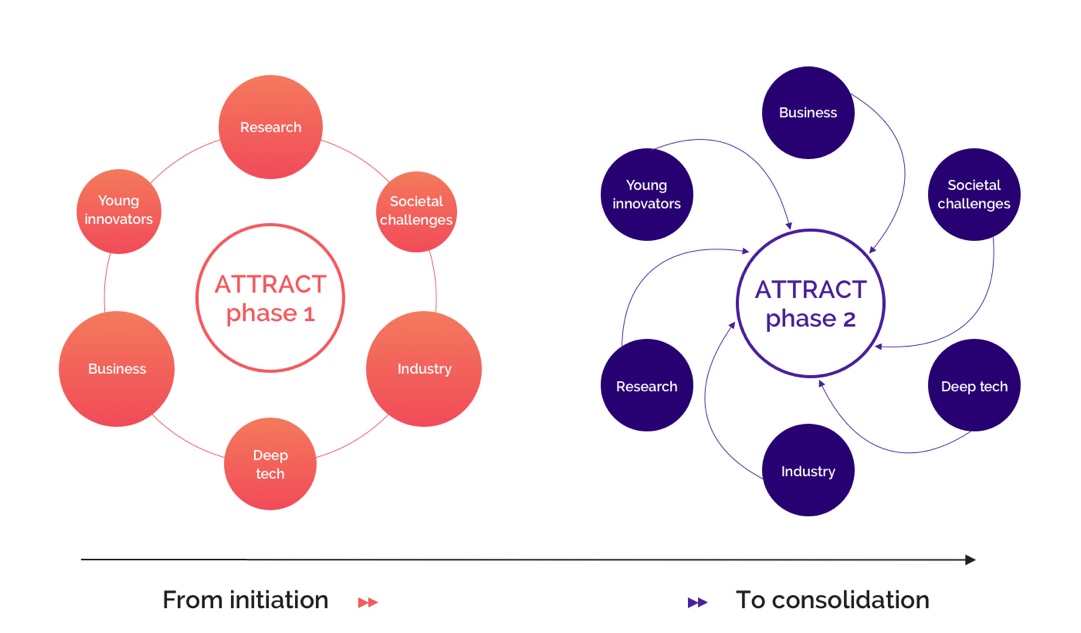 The detection and imaging technologies theme was chosen because:
The scientific mission of many national and European research institutes, as well as their associated R&D communities, is strongly coupled with the development of breakthrough detection and imaging technology.
Detection and imaging technologies are – and will be – at the core of future industrial developments (e.g. IoT, AI, VR) that will enable future paradigms (e.g. smart cities, autonomous transport, sustainable agriculture, personalised healthcare).
Toward the end of 2020, EU approved ATTRACT phase 2, which imminently will open three calls:
A thematic technology call, based on the most promising outcomes from phase 1.
A call on socioeconomic studies on the potential of scientific research infrastructures and innovation ecosystems.
An ATTRACT Academy call for student programs.
During ATTRACT phase 2, data will be collected and analysed for a socio-economic study. This will assess whether ATTRACT phases 1 and 2 succeeded in streamlining the element of "chance" when upscaling breakthrough technology concepts.
The study will provide useful insights on whether a potential scaling of ATTRACT phases 1 and 2 to other research fields would provide significant and quantifiable value for Europe. It will also provide interesting knowledge about how breakthrough technologies can overcome the "valley of death" (see Fig. 2):
For science policy, ATTRACT phase 2 offers an opportunity for studying the construction of an innovation ecosystem. In this context, ATTRACT phase 1 was mainly focused on identifying and initiating interlinks among a community of actors. ATTRACT phase 2 will focus on consolidating these interlinks (as shown in Fig. 3):
Phase 2 will also scale up activities involving young innovators. During ATTRACT phase 1, 100 young innovators interacted with some of the projects and then conceptualised and prototyped new technological solutions linked to the UN Sustainable Development Goals. Now, in phase 2, 400 young innovators will be involved.
At the verge of implementation of the largest stimulus package ever financed in the EU (the long-term budget and the NextGenerationEU, €1.8 trillion in total) to help rebuild a greener, more digital and more resilient Europe in the post-COVID-19 era, we believe that the ATTRACT model could be one of the valuable instruments to achieve the "Technological Sovereignty" that Europe needs for a sustainable and inclusive future.
And ATTRACT is fully behind President Ursula von der Leyen's definition of this concept: "The capability that Europe must have to make its own choices, based on its own values, respecting its own rules. Concerning the values, they are well reflected in the preamble of the Treaty establishing a Constitution for Europe, which defines us as a continent willing to "remain open to culture, learning and social progress". For what pertains the choices and the rules, well, that's up to us all!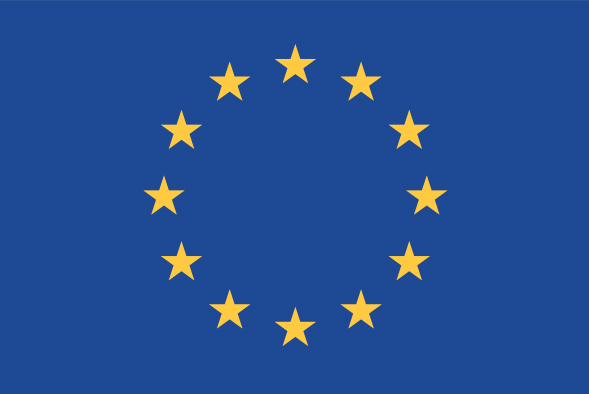 The ATTRACT project has received funding from the European Union's HORIZON 2020 Research programme under the Grant Agreement no. 777222.
Please note: This is a commercial profile
© 2019. This work is licensed under CC-BY-NC-ND.
Editor's Recommended Articles