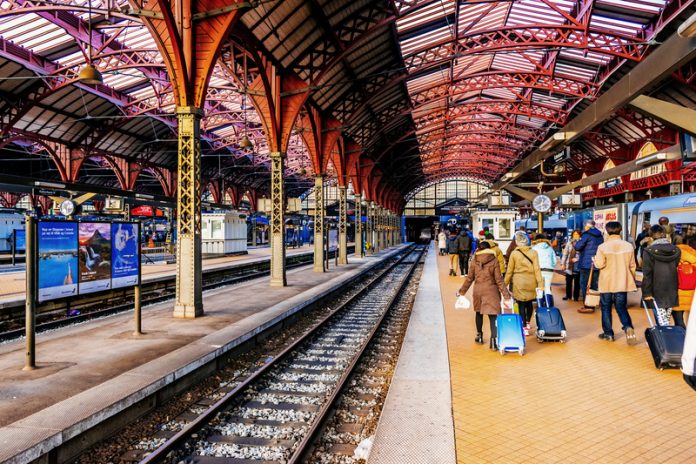 Ove Holm, from the Danish Transport and Logistics Association (DTL) reveals his opinion on the challenges around rail transport in Denmark, including ERTMS
The Danish Transport and Logistics Association is the trade organisation for the Danish road and rail transport sector. DTL represents its members on political issues at local, national and EU level, as well as helping its members with everything from legislation to specific problems within the companies. DTL is also an employers' association for the Danish transport sector. This allows us to cover the needs of the entire sector.
DTL has 2,000 transport companies as members. They oversee 10,000 lorries, 59 locomotives and a total payroll of DKK 5.3 billion. In this interview, Ove Holm, deputy director and policy affairs manager at Danish Transport and Logistics Association (DTL) outlines the priorities for rail transport Denmark, including rail safety and interoperability.
Electrification is a major priority for the rail industry in Denmark, Holm explains as the interview begins. The country is still running diesel locomotives and this makes it expensive to buy new locomotives with diesel engines he tells us. Holm calls for full electrification of the country's rail system and says it is very important that this is rolled out. He then tells us more about Denmark's ERTMS (The European Railway Traffic Management System system) – in his own words.
"DTL thought it might be an advantage in terms of safety and operation, but we have seen that it is not positive for Denmark right now as it is very expensive and we are running into problems in that we are using three different versions of ERTMS (Swedish, Danish and German). We, therefore, think it is an important priority to get ahead with this – but we have recently received a report from the European Court of Auditors on ERTMS and they even visited us here at DTL."
Overall, the European Court of Auditors found that the deployment of ERTMS was based on a strategic political choice and had been launched with no overall cost estimate, or appropriate planning for a project worth up to €190 billion by 2050. Even though the ERTMS concept and the vision of enhancing interoperability are not generally questioned by the rail sector, so far ERTMS deployment has been low and patchy they found. Even if EU funding could be better managed and targeted, it can only cover a limited amount of the costly investment.
The Court made several recommendations including the assessment of ERTMS deployment costs; decommissioning of national signalling systems; compatibility and stability of the system; alignment of national deployment plans, monitoring and enforcement as well as the absorption of EU funds for ERTMS projects (1).
Holm then turns our attention to how DTL is looking to Norway, which means looking at the tracks and there are some issues on that stretch, between the two countries. Holm tells us more.
"There are some infrastructure challenges on that track, which we would like to fix, but it costs money. Getting the goods from the western part of Norway to Denmark and other parts of the Europe is important to us. Now, the freight trains are passing the Great Belt Fixed Link between East and West Denmark, but it was decided that a fixed link across Fehmarnbelt between south-eastern part of Denmark and Germany should be built (the project will consist of a four-lane motorway and a double-track electrified railway, in an immersed tunnel, to open in 2028), to get between and Sweden, Denmark and Germany, so we will have a 200km shortcut" Holm explains (2).
Holm then highlights the message he would like to convey to the current Minister for Transport, Building, and Housing, Ole Birk Olesen. Investment in the northern part of Jutland and getting to grips with ETMRS would be brought into any conversation between DTL and the Ministry of Transport, Building and Housing, Holm explains.
Holm goes on to suggest that the Ministry should slow down the introduction of ETMRS in Denmark, to work towards one harmonised system, as opposed to using 3 different types. He suggests that investment by the government should be made in one type of system – that works for Sweden, Norway and Denmark – so that trains can easily cross over borders.
Signalling systems
The Ministry is currently committed to the implementation of delivering two new signalling systems: the common European Rail Traffic Management System (ERTMS) level 2 on the Main Line along with a Communication Based Train Control (CBTC) system on the suburban network, in the Greater Copenhagen area (the S-train network). We read of the Ministry's website that: "In most cases, the current signalling systems on the Danish railway network are more than 30 years old and a mixture of different technologies that are not able to function well together." (3)
In terms of the Ministry's support for rail, it is worth pointing out that earlier this year; they announced that private operators will be able to bid for more railway routes in Denmark. This is due to an agreement concerning the tendering of Danish rail traffic, which was entered into by a broad majority in the Danish Parliament in June this year. Minister of Transport, Building and Housing, Ole Birk Olesen, comments:
"Providing Denmark with significantly more rail transport is part of the Government's manifesto and…we are taking an important step along the way. At the same time, we will ensure the future of direct rail connection between Copenhagen and Struer, via Herning, which has long been a strong local desire."
"It is important that we develop a modern, effective and market-oriented railway network. The extended tender for Central and West Jutland is a step along the way. But our work doesn't stop here", the Minister added (3).
Holm at DTL then brings in an environmental flavour to the conversation, in terms of rail freight. He says we need to have a fully electrified railway and that if DTL could have a bigger market share of rail freight, that would help matters enormously.
"It would make more sense to have heavy and long-distance goods on rail, but of course Denmark is a small country so in this vein, we are thinking more about exporting goods that can make a difference. Added to that, we have a regulation on how to calculate environmental impacts of transport which only count on the global, but not on the Danish level."
On the challenges and opportunities that lie ahead for the rail industry in Denmark, Holm reveals that the government have supported the Great Belt Fixed Link and have proposed to lower the toll by 25%, but this does not apply to freight trains. Holm explains more on this, as the interview ends.
"It's counter-productive to do this if you want to get more goods on to rail, so DTL has asked the government why they don't include rail freight in the overall equation. The Ministry of Finance said they have scare capacity on Funen (Fyn in Danish, Denmark's second largest island) than on the bridge itself. We suggested a possible nighttime rebate or other slots during the day – where there isn't scarce capacity.
References
(1) http://www.eca.europa.eu/Lists/ECADocuments/SR17_13/SR_ERTMS_RAIL_EN.pdf
(2) https://www.trm.dk/en/topics/the-fixed-link-across-the-fehmarn-belt
(3) https://www.trm.dk/en/topics/new-signalling-system-on-the-railway/whyare-the-signalling-systems-being-replaced
Ove Holm
Deputy director
Policy affairs manager
Danish Transport and Logistics Association (DTL)
Tel: +45 70 15 95 00