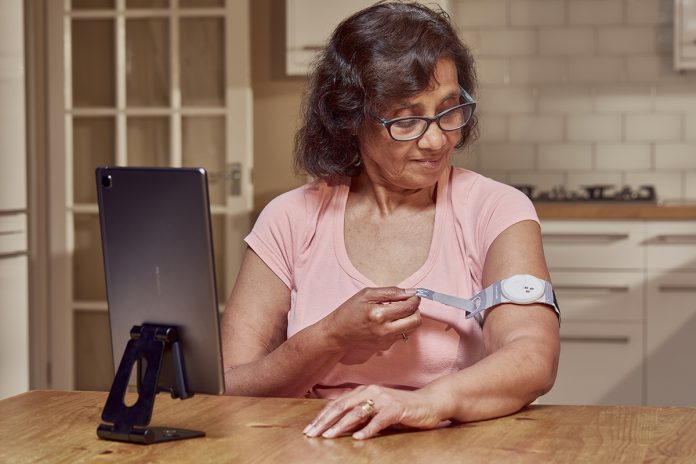 High-quality, patient-centric care is indispensable, particularly when remote. Current Health's care-at-home platform assists healthcare organisations in delivering this promise
Founded and headquartered in Edinburgh, Current Health is proud to work with numerous NHS Trusts across the United Kingdom. During the pandemic, care-at-home programs have become a lifeline for patients and hospitals alike.
Our enterprise platform and proprietary continuous monitoring device have helped NHS partners preserve capacity, integrate community care, and safely deliver excellent healthcare within patients' homes.
Croydon Monitors 8+ Clinical Conditions at Home
Croydon Health Services NHS Trust provides acute and community health services across the borough of Croydon to a population of 391,000 people. With the onset of the COVID-19 pandemic, Croydon was looking to preserve hospital capacity by scaling care at home. Achieving this outcome required Croydon's virtual care team to treat a higher patient volume and more acute clinical conditions.
The team deployed Current Health's remote care delivery platform to help manage their increased caseload and minimise unnecessary hospital admissions. As varying patient cohorts were referred to the service, Current Health's solution was ideally suited due to its configurability to monitor both high and low acuity patients. The virtual care programme treated more than 8 clinical conditions, including: COVID-19, COPD, heart failure, hypo- and hypertension, and frailty.
The care plan for each condition includes monitoring of a given set of vital signs via the Current Health wearable and platform, in accordance with a condition-specific clinical pathway. Through this enhanced insight into patient conditions at home, care teams both deliver preventive care and intervene early based on AI-driven alarms.
From October 2020 through January 2021, Croydon treated 184 patients remotely, avoiding 109 hospital admissions. These avoided admissions preserved 1,055 bed days during that period.
Read more about Croydon's remote care program in our case study.
Imperial Sees 87% Emergency Department Avoidance for Frailty Patients
Imperial College Healthcare NHS Trust provides acute and specialist healthcare in north-west London for around a million and a half people every year. The trust's care home liaison team, known as the Frailty Team, works directly with 26 care homes within the region to provide support, education, and expertise to care home staff to ensure their residents are kept safe, well and out of hospital.
With such a large high-risk population, the Frailty Team sought to avoid emergency department visits and admission by monitoring patients remotely and deploying intervention as necessary. Current Health's remote patient monitoring kit was supplied to nine residential homes where staff were trained on how to use it to monitor high-risk residents. The sensor device included within the kit was worn comfortably on the upper arm of residents to continuously measure their vital signs, and that data was transmitted to the Frailty Team.
The Frailty Team viewed residents' vitals data within their electronic health record. Using the telehealth capability integrated within Current Health's platform, the Frailty Team also completed remote assessments of residents to understand symptoms and other important information not made obvious through the vitals data.
Collectively, this insight helped the team to make informed decisions about resident care, enabling timely, proactive intervention. Furthermore, providing care in the resident's familiar surroundings helped avoid anypotential stress associated with hospitalisation, helping to reduce the risk of further complications.
Over the course of three months, the care homes saw a 92% patient adherence with the monitoring device, and 87% ED avoidance.
Medway's Virtual Ward Achieves 26% reduction in COPD readmissions
Medway NHS Foundation Trust features a virtual ward program that allows acute patients normally hospitalised to be discharged and receive care within their own home as a continuation of the hospital's acute admission pathway. Surge in hospitalisations due to COVID-19 and winter-related conditions presented an increased need for Medway's virtual ward service to prevent hospital capacity from becoming overwhelmed. Medway needed to minimise in-person visits to reduce risk of COVID-19 exposure and transmission while still delivering high quality and effective care to patients within their homes.
Medway's virtual ward team used Current Health's solution to increase capacity and minimise hospital readmissions. The technology was initially integrated into a virtual care pathway for Chronic Obstructive Pulmonary Disorder (COPD) and asthma patients. The care team observed both continuous and intermittent vital signs data and responded to built-in and disease-specific alarm notifications, indicating the early signs of health deterioration.
Among COPD patients, the virtual ward saw a 26% reduction in readmission over a 90-day period. They also saw a 37% reduced need for in-home visits, due to the integration of high-quality clinical data and virtual visits. This efficiency allowed the team to treat more patients without altering the staffing model.
About Current Health
Current Health enables healthcare organisations to deliver high-quality, patient-centric care in the home.
Our enterprise care-at-home platform can be tailored to the needs of the individual patient, supporting the full range of clinical use cases and patient acuity levels.
We provide an interoperable platform that combines state of the art technology – including continuous and non-continuous monitoring, telehealth, and patient engagement tools – to provide a clear window into the patient's home and enable care teams to intervene with the right patient at the right time.
For more information on Current Health's care- at-home platform, please visit our website.
Current Health
Tel: +44 (0)131 285 8101
https://twitter.com/HeyCurrent
Please note: This is a commercial profile
Editor's Recommended Articles