Managing an omnichannel retail business means using various software programs to manage production, logistics, and finances. How can retail ERP systems help facilitate easier
business
growth and omnichannel commerce?
Such decentralization within businesses can cause errors and data loss, which can disrupt a company's normal functioning and reduce the quality of its service. In addition, it can hinder the delivery of a seamless customer experience across all channels, leading to decreased customer satisfaction.
Fortunately, by adopting and integrating retail enterprise resource planning (ERP) systems, organizations can solve most of the challenges of running an omnichannel business. Here are some considerations on how exactly an ERP can help.
Maintaining data synchronization with by using a retail ERP system
One of the key advantages of a retail ERP system for omnichannel commerce is the centralization of data flows throughout an organization.
With an ERP, employees from logistics, production, finance, and HR management departments can work with a single unified database that automatically updates in batches or in real-time.
Additionally, ERP can be integrated with any channel, such as Magento and Shopify-based websites, marketplaces, e-commerce mobile apps, or retail stores.
This way, retailers can synchronize back-office workflows with sales channels, which helps manage an omnichannel business centrally and efficiently.
For clarity, here is how such an integration might look in practice. Suppose a customer ordered a mobile phone via an e-commerce website but did not arrange home delivery. Instead, the customer wants to test and try the phone in a physical store first.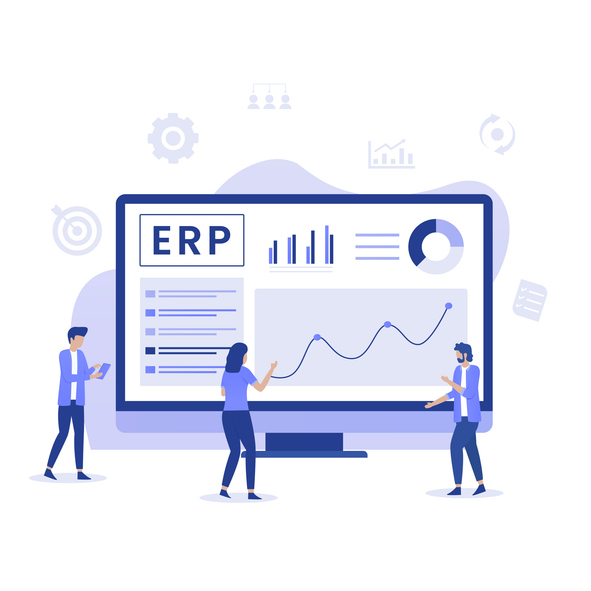 If an ERP is integrated with online sales channels, the order information can be immediately available to all departments. Back-office employees can access order data to ensure the customer receives the product on time. In turn, physical store employees can view customer data to provide more personalized services.
After the customer leaves the store with a purchase, an ERP can automatically update data on the number of remaining goods among all sales channels. Thus, by providing up-to-date and truthful information, a retailer can avoid situations when customers buy currently unavailable products.
In addition, ERP-enabled data synchronization can provide an organization with the following business benefits.
Minimized data entry

Manual data entry is a problem for retailers of any size. One of the reasons is that employees have to spend effort and work time on repetitive and tedious tasks, leading to reduced productivity and increased labor costs.
However, implementing and integrating an ERP can help reduce this burden. For instance, an ERP can automatically transform purchase orders into invoices across all channels. Instead of performing this routine activity, employees can focus on customer engagement and other essential tasks.

Reduced data errors and duplicates

Errors and duplicates reduce data quality, leading to inadequate decision-making and increased business costs. According to Gartner, organizations, on average, lose $12.9 million a year due to poor data quality, and the retail business is no exception.
Ensuring data accuracy at the scale of an omnichannel business is a challenging task, and this is where retail ERP can come in handy. With an ERP, any record entered into the system or edited can be updated automatically, which helps avoid inaccurate inventory counts, order fulfillment delays, and errors in financial calculations.
Providing automation capabilities
ERP allows organizations to automate various retail aspects, thus simplifying omnichannel management. For example, a retail ERP can be equipped with multi-warehouse management capabilities. Such a system can cover all operations related to storing goods, human resources, and stock delivery for different warehouses and locations, which is essential for omnichannel commerce.
In addition, with the proper in-built functionality, ERP can help automate tasks such as sourcing and procurement. For example, with eSourcing features, an ERP system can automatically generate request for quotation (RFQ) documents and send them to suppliers to ensure that stock is replenished across all channels when it runs short.
Reducing operational costs
Establishing an effective omnichannel business is not only challenging but also costly. To ensure sustainable business growth and profitability, organizations must optimize their costs continuously, and here is how ERP can help.
Reducing software cost

Implementing an ERP results in reduced IT costs related to purchasing and maintaining corporate software. After all, employees from all organization departments can work in one unified solution instead of using myriads of different software systems.

Cutting inventory expenses

Since ERPs provide real-time inventory data, employees can always determine how many items are in stock. Thus, organizations can avoid overstocking and reselling, which are both costly for a retail business.

Decreasing work process times

With automation and standardization, ERP can significantly accelerate the completion speed for most critical business tasks, from logistics to finances and HRM. Streamlined operations allow retailers to allocate their workforce more efficiently, reducing business costs.
Enhancing customer satisfaction
A deep understanding of customers and separate audience segments is one of the keys to building a successful omnichannel business. It helps retailers provide customers with the quality service, experience, and recommendations they expect.
Organizations can implement an ERP equipped with omnichannel CRM capabilities and then integrate it with retail sales channels. This way, the customer database can be automatically updated whenever a person contacts an organization with an email, support ticket, or order.
Later, employees can access this data to run more effective marketing campaigns, offer loyalty programs, or personalize services. Employees can even configure and launch automated campaigns across all channels directly from the ERP interface if an ERP is empowered with omnichannel marketing management.
Empowering analytics and reporting
Last but not least, an ERP can help a retailer track the performance of specific sales channels to reveal potentially effective ones. In particular, an ERP system can collect data on each transaction associated with a particular channel to provide reports on the number of purchases or the average buyer's check.
Establishing and maintaining an omnichannel business that combines digital and physical sales channels is a very demanding task for any retailer. However, it can be simplified dramatically by adopting a retail ERP system.
By implementing an ERP, a retailer can synchronize data between the back-office and sales channels and automate key operations, thus streamlining omnichannel management. Among other things, an ERP can help improve customer satisfaction across all channels and reduce omnichannel costs.
Editor's Recommended Articles