When the sunny season finally comes around how many of us get the chance to enjoy significant time outdoors? Here Crown Workforce Management explores how the concept of summertime hours can change this
Many of us in full-time work find ourselves commuting to our place of employment, only to spend seven to eight hours indoors, with an increasing tendency to 'lunch at our desk' and not venture outside again until the end of the day.
It's perhaps not surprising that in the UK there are a growing number of people suffering from vitamin D deficiency. The 'sunshine vitamin' is in short supply if we don't get the opportunity to enjoy what little summer we get. In turn, this leads to feelings of tiredness and lethargy which must have an effect on workplace productivity.
So how can we improve this 'Catch 22' situation? The concept of 'summer hours' is recently something which has caught HR's imagination. Within the workplace, productivity is not high in the productivity stakes – dropping by as much as 20% with projects taking 13% longer to complete as employees lose their focus in hot and humid conditions. Distraction also is an issue – increasing by 45% during the season.
Therefore, it clearly makes sense to introduce some workplace flexibility that will benefit employees and make the time they are in work more productive.
Summer hours are an employee benefit offered to staff to reduce the amount of time spent in the workplace. Neville Henderson, of Pasfield Curran, consultants to Crown Workforce Management, believes they can be operated using different methods depending on the nature of the organisation and the demands placed upon it.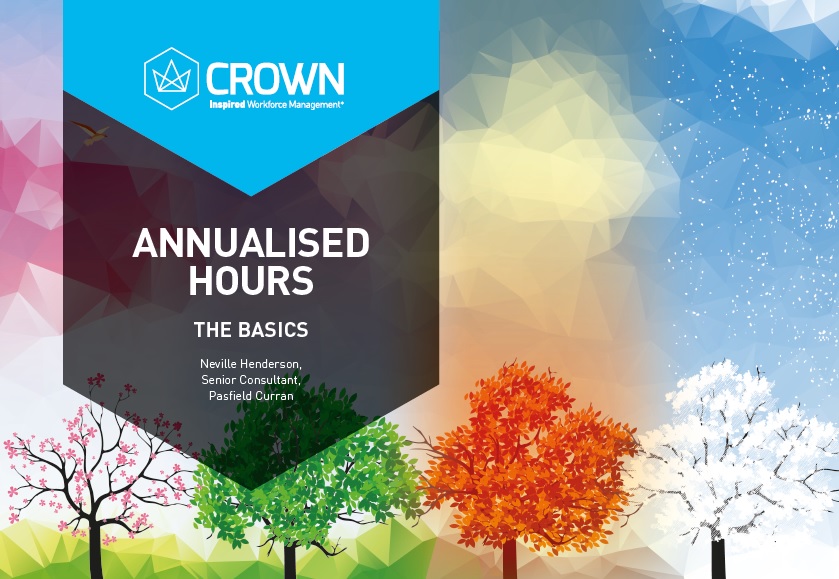 One of the simplest mechanisms to deliver this via a flexible working scheme – allowing staff to condense their work commitments during the week in exchange for an early finish on the day of their choice.
Even those in the service sector who peak times maybe summer, particularly those in the leisure and hospitality industries, can benefit. Scheduling time in lieu from a flexible working scheme can still be operated for the benefit of the business and result in a greater willingness to work unsocial hours.
Annualised hours is another framework which can enable summer hours to become a reality. Many sectors see a natural slow down during the summer with peak demand at other times of the year – leading to requirement for overtime and increased costs.
By applying annualised hours across the business, employees will be contracted to work a set number of pre-planned hours with some flexibility depending on business and employee requirements. This will create flexibility to meet seasonal demand and have a direct employee benefit: If there are unused hours left at the end of the year then these are usually written off –a significant 'carrot' to encourage productivity, low sickness and generally smarter working.
"Upfront planning to examine different periods of the year means that it is possible to design shift patterns and time-off to allow more usable leisure time whilst also increasing productivity when people are at work," says Neville.
"When designed properly, Summer working through annualised hours aligns employee and employer incentives and actually encourages more productive team working.
"Having flexibility from your own core workforce means that all work can now be carried out with the correctly skilled people that you employ and have trained."
There are key benefits to offering summer hours to your employees which include:
Greater flexibility – often needed, particularly for those with children, that need to accommodate the long school holiday.
Increased productivity – happier employees are more productive. A win for your staff and your business.
A boost to morale – minimising the risk of the summer 'slump' and providing something to look forward to at the end of a working week.
Improving health – reducing mental and physical demands lift the toll on employee health and is beneficial to the employer which might otherwise struggle with sickness absence and retention.
Better worklife balance – by making things practical and helping your employees to accommodate other demands in life will help you retain resources
A matter of trust – ultimately, summer hours demonstrates that you trust your staff to do the job. That is an empowering message.
Good workforce management software can help make or break a summer hours programme, enabling HR managers to roster staff when needed, track attendance, and report on workforce efficiency.
Workforce management software provides a platform for holiday requests, schedules and can interface into the payroll system.
Adds Neville: "The ideal approach is to get employees and equipment to work better whilst planning more efficiently, building a strong organisation with solid procedures that maintains a focus on motivating staff."
For further information on the design and implementation flexible working schemes contact: neville.henderson@pasfieldcurran.com
To download a free guide to Annualised Hours – the Basics visit: www.crownworkforcemanagement.com/annualised-hours
Crown Workforce Management
Editor's Recommended Articles