Niels Henrik Pontoppidan from Eriksholm Research Centre, Oticon, discusses how all stakeholders from different fields have influenced the development of a big data platform to impact public hearing health policy making within the EU
According to World Health Organization (WHO), as of today 466 million people across the globe have a disabling hearing loss, and by 2050 the number is predicted to rise to 900 million unless action is taken.1 In 2017, the WHO adopted a resolution on the prevention of deafness and hearing loss. This resolution calls upon the Member States to integrate strategies for ear and hearing care within the framework of their primary healthcare systems, under the umbrella of universal health coverage.(1)
The EVOTION project
Successfully obtaining a Horizon 2020 grant, the EVOTION project started in late 2016 to develop an innovative big-data prototype platform for supporting public health policies and has a clear aim of adding to the increasing knowledge about the societal consequences of untreated chronic hearing loss conditions. The consortium embedded a clinical study within chronic hearing loss that followed 1,000+ patients for one year for developing and evaluating the platform. The 13 partners(2) come from eight European Countries and represent a mix of academic and industrial partners with roles that cover the clinical side, technical side, and policymaking.
The EVOTION platform is an end-to-end system with analytical capabilities that turn citizens' health data and medical health records into specific evidence for use in the formulation of policymaking and later monitoring of policy interventions. It takes several analytical steps to process the raw data to create valid outcomes and compare outcomes with a sufficiently wide range of policy criteria. These steps become available within a single platform.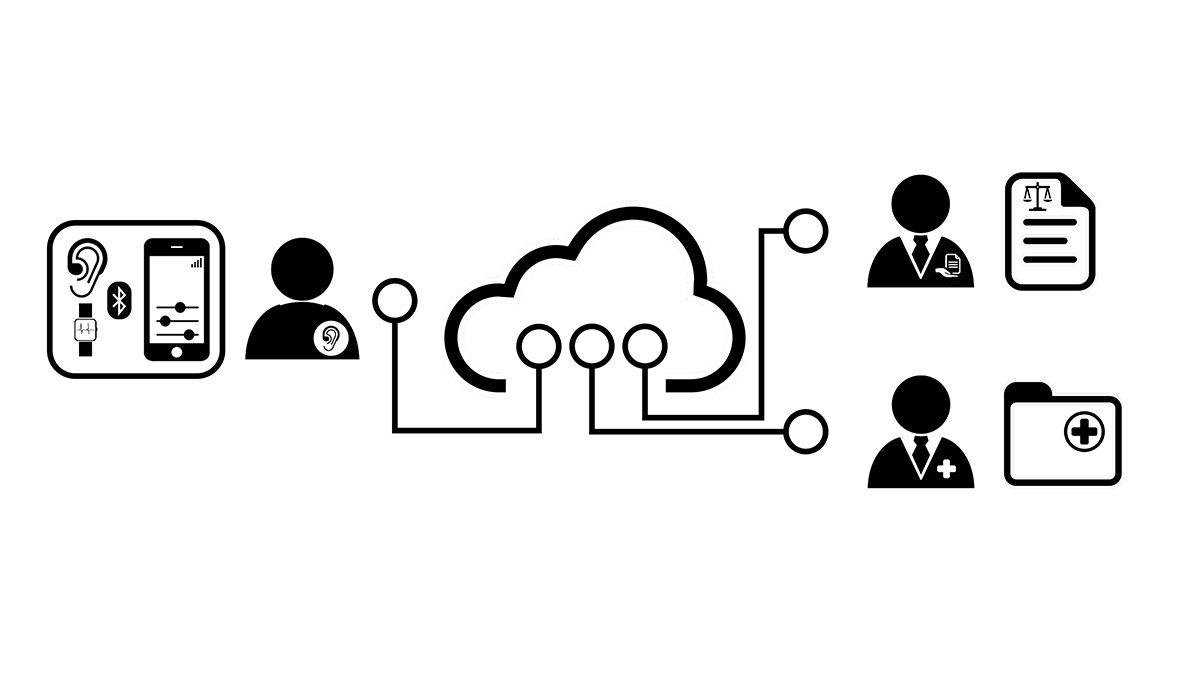 Within the project period, partners primarily prepared EVOTION as a tool which policymakers use to develop, decide, and monitor strategies for hearing healthcare systems to (support/help/assist) fulfilling the ambitions of the WHO resolution. However, the EVOTION platform contains tools addressing needs in many health areas.
Stakeholders
The EVOTION platform design process targets several levels of stakeholders in the design of the platform (see Figure 1). The primary target stakeholders for the requirements(3) and design(4) are policymakers and their advisors. However, the platform also targets the requirements of health professionals and citizens, as the platform must address their needs too to be worthwhile to all stakeholders and increase the contribution of health data from these groups. EVOTION involved policymakers as well as domain experts within hearing health in the design process.
Data
The backbone of the EVOTION platform is a contemporary modular system with data injection components for citizens' hearing loss related sound environment, behavioural use of hearing aids, data collected via phones and another set of data-injection components that collect medical health records from the hospital systems. The injection process includes anonymisation mechanisms to preserve privacy at all levels whilst enabling individual linking of hearing aid data with medical health records. Moreover, the logged data does not enable anyone to assess what was being said at any point.
Another group of components in the platform offers big data analytics, decision support, a user-interface with a dashboard and tools for specifying policy workflows. The tool for specifying policy workflows enable configuring policy workflows based on already defined analytical methods on the data as well as a scripting based back-end to develop new complex analytical workflows.(5) The two entry levels in the platform allow domain experts and data scientists to contribute to the platform whilst the dashboard allows policymakers with a statistical background to utilise the tools. The platform also contains a social media component for interaction between policymakers and citizens during policy definition and policy assessment phases.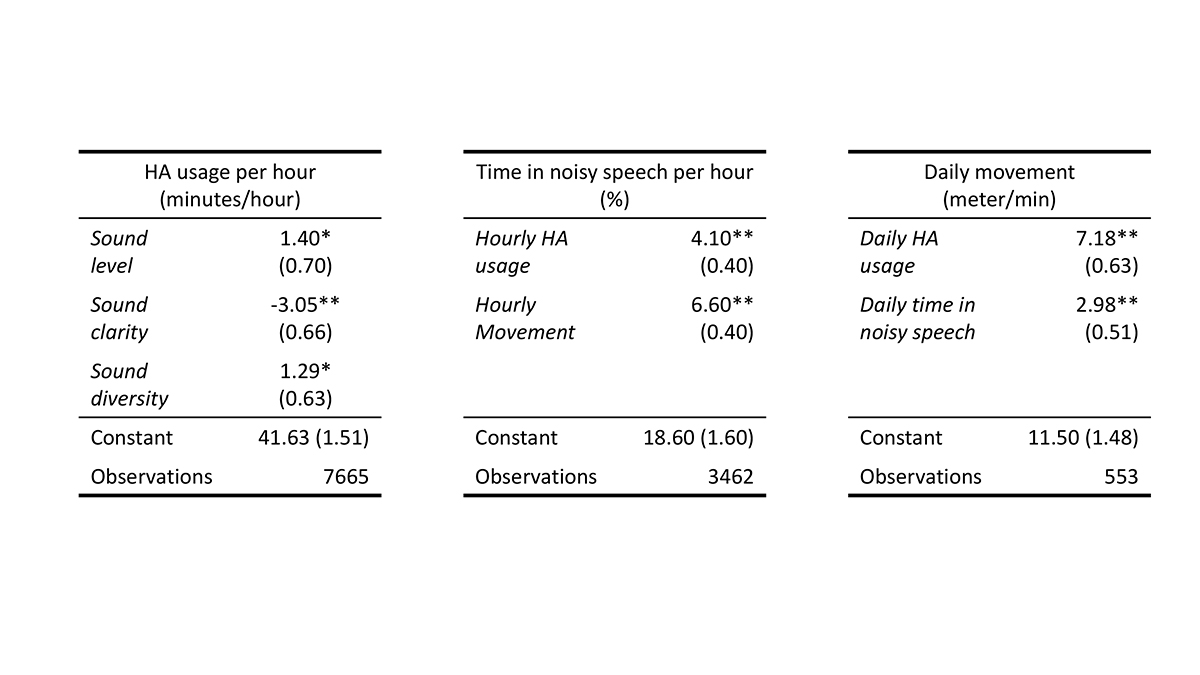 Applying the analytical tools of the platform to identify factors that influence hearing aid usage, one analysis showed that people with hearing loss use their hearing aids for longer time when the situations are louder and noisier (See Figure 2 left), and another analysis showed that hearing aid use time are positively associated with physical activity and time spent in more complex listening situations (indicating more socially active behaviour) (See Figure 2 middle and right). These new analytical tools provide a novel insight into understanding how people hear and can inform new clinical interventions and public hearing health policies.
Whilst developing the project and the platform the partners awaited data for the development of such analytic tools. Therefore, we decided to share fully anonymous synthetic data to substitute real data. Sharing the synthetic data allows people outside EVOTION to validate the tools, test the platform in action with meaningful data, and facilitate the faster development of even more platforms supporting public health policies. The synthetic data is available for download(6) and described.(7)
To follow the last EVOTION findings go to the website www.h2020evotion.eu where you can also learn more about how EVOTION makes an impact on ear and hearing healthcare8 and find publications9 and deliverables10 of your interest.
References
1 https://www.who.int/news-room/fact-sheets/detail/deafness-and-hearing-loss
2 http://h2020evotion.eu/evotion-team/
3 http://h2020evotion.eu/?ddownload=557
4 http://h2020evotion.eu/?ddownload=559
5 http://h2020evotion.eu/?ddownload=703
6 https://zenodo.org/record/2668210
7 https://www.frontiersin.org/articles/10.3389/fnins.2019.00850/full
8 https://youtu.be/J2v32HBZucM
9 http://h2020evotion.eu/publications/
10 http://h2020evotion.eu/deliverables/
Please note: This is a commercial profile
Editor's Recommended Articles