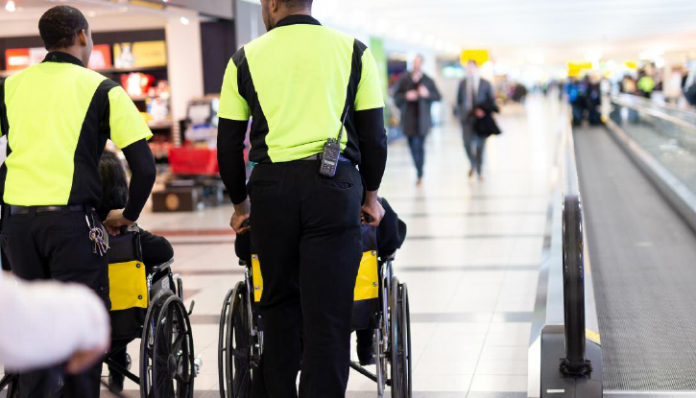 Hilary Stephenson, Managing Director of Sigma explains how the UK's airports should navigate disabled access
When it comes to disability, access and accessibility are often conflated. By definition, access is the opportunity to approach a place or service, while accessibility refers to the quality of being able to do so.
Everybody, regardless of their personal circumstances, should have a high-quality of accessibility within all aspects of their life. This includes airport experiences, which are playing an increasingly key role in many people's workdays and leisure time.
However, according to the Civil Aviation Authority (CAA), over 10% of travel hubs across the UK are currently below par in this respect. Recent examples of this include when Justin Levene, a paraplegic man, had to drag himself through a London airport after his wheelchair failed to arrive on the baggage carousel. Despite the fact that an increasing number of airports are deemed to be 'very good' in terms of accessibility, shortcomings – such as the one mentioned above – continue to reoccur. This indicates that the aviation
sector needs to do more to improve its disabled access.
Findings from our recent 'Accessible Spaces' report support this. The research highlighted a severe lack of accessibility awareness within a variety of venues across the UK's tourism industry – including airports. It found that a quarter of businesses could not accommodate
for those in wheelchairs, and a third of companies were unable to accommodate for those
with cognitive impairments like autism. To resolve this situation, the industry must completely revise its approach to accessibility. This involves going back to basics; identifying each airport's exclusive aspects and taking the appropriate action to ensure both their online and physical presence are disability-friendly.
With this in mind, let's identify the outstanding issues currently holding UK airports back and how they can be addressed to become more accessible to all.
Pinpointing the problems
In order to start resolving an airport's accessibility issues, management must identify what these problems actually are. These can range from inaccessible websites to poor customer service. From there, appropriate action can be taken to overcome these obstacles.
Currently, the most common issues faced by disabled individuals within UK airports are as follows:
Excessive waiting times for assistance.
Lack of staff awareness – inexperienced online chat attendants, untrained desk staff or unhelpful social media responses.
Poor web accessibility – sites not designed with disabled users in mind.
Prioritising cost saving over high-quality service for disabled passengers.
Poor recording and reporting of performance data – this helps airports identify what is working well and what needs to be improved.
These are clearly good starting points for airports to interrogate, but each travel hub is different. The most effective way of addressing areas for improvement is to analyse individual feedback received annually from governing bodies such as the CAA. This will provide a better understanding of what specific improvements need to be made.
However, regardless of how well an airport's accessibility is perceived, if a venue is given any suggestions on ways it could further improve its offering, these should not be considered optional modifications. Instead, they should be seen as basic necessities.
Leading the way
Great examples of airports that have taken this feedback on board and consequently improved their accessibility are Edinburgh and Liverpool.
Edinburgh's 'Very Good' rating was particularly impressive given that just two years ago its accessibility was considered 'Poor'. The airport implemented Neatebox's Welcome app to facilitate great user experience for disabled passengers. This allows users to request visits
to the airport prior to travel and sends the venue an overview beforehand of that person's condition, including top tips to aid interaction with them. It has also built up close ties with local disability groups to ensure its offerings are in line with their needs and expectations.
Liverpool, on the other hand, was recognised for providing disabled travellers with an efficient, timely service throughout the year, with 88% of people rating their experience as excellent or good. This involved staff being on hand to assist individuals throughout
their entire airport journey if they required and ensuring minimal waiting times for those people requiring wheelchairs upon arrival. Overall, the measures have enabled disabled travellers to experience the same seamless journey as every other passenger.
Their efforts highlight what airports should be doing – but what is the best way to go about making changes for those that are lagging behind?
What needs to be done?
To ensure the rest of the UK's airports get up to scratch, they must improve both their physical and online presence.
This must be more than just a box-ticking exercise to meet various accessibility guidelines. Instead, it requires airports to ensure every aspect of the venue and business caters for all passengers, regardless of their ability.
One way of checking this, which works for interiors and web design, for instance, is by questioning whether a service or offering is fit for those with loss of mobility,
hearing, sight, or those with various behavioural disorders. If the answer at any point is a "no", it is clear something needs to be done to rectify this.
Physical modifications: In terms of airport interiors, there are countless modifications that can be made. As a basis, a few worthwhile considerations are outlined below:
Become wheelchair friendly – have a dedicated desk for mobility enquiries, ensure there is wheelchair access throughout the airport, dedicated disabled parking in a range of airport car parks, wheelchair accessible telephones and good toilet facilities.
Provide services for travellers with cognitive impairments – enable pre-visits so individuals can familiarise themselves with an airport, create quiet zones and implement a lanyard scheme so staff can identify those who may need additional support.
Adapt for those with visual and hearing impairments – install induction loops throughout, adapt payphones for those with hearing aids, provide braille signs and be guide-dog friendly.
Provide better staff training – enrol employees on to courses to ensure they are properly trained to understand and deal with customers of ranging abilities.
Digital inclusion:
However, it is pointless working to improve an airport's physical accessibility if its website does not mirror this level of inclusion. For this reason, user-friendly web design is key.
Here are a few inclusive features that should be incorporated to improve web accessibility:
Text size – make sure this is adjustable.
Visual effects – make these optional by allowing users
to turn them on and off where required.
Links – make clickable links larger than surrounding text.
Video accessibility – ensure videos are closedcaptioned or there is a sign language version available.
The Web Content Accessibility Guidelines are also a great point of reference for web design as it specifically outlines how an airport's websites can be made more accessible.
When designing accessible websites, it is also important to note that attempting to amend previously excluding features should be avoided. This will never be as effective as tailored coding – hence, designers should start from scratch and focus on accessibility from the outset.
While the above changes may seem costly and timeconsuming, they are essential to ensure everyone has equal access to everything an airport has to offer.
Preparing for taking off
Going forward, there needs to be a complete revision on how airports approach accessibility. This involves re-analysing the foundations of their services and offerings to ensure they accommodate for every traveller.
Not only will this improve the quality of life for the 13.9 million UK residents who have some form of disability, but it will also enable the aviation sector to benefit from the increasingly valuable purple pound – which currently equates to £250 billion in the UK alone.
However, above everything else, airports must remain mindful of the fact that inclusion is not just a commercial obligation, but also a moral imperative. It is not enough to simply allow disabled travellers access to an airport, these venues need to be entirely accessible to them as well. By adopting this mindset, the UK's aviation sector may better cater for all.
Hilary Stephenson
Managing Director
Sigma
Tel: +44 (0)1625 427 718
hello@wearesigma.com
www.wearesigma.com
www.twitter.com/WeAreSigma
Editor's Recommended Articles