Ahead of World Hepatitis Day on 28th July 2019, the WHO Regional Office for Africa detail the key issues when it comes to the burden of viral hepatitis in the WHO Region of Africa
As many as 325 million people around the world are affected by the global epidemic of hepatitis B and C – more than ten times the 36.7 million people who are living with HIV. (1)
Sub-Saharan Africa has one of the highest burdens of disease with over 60 million living with chronic hepatitis B, 4.8 million of whom are children younger than five years old. The regional prevalence of hepatitis B (HBV) infection is about 6.1%, with approximately one in every 15 people (1:15) infected. Additionally, there are 10 million living with chronic hepatitis C infection (HCV), with a prevalence of less than 1% infected (i.e. one person in every 100).
Viral hepatitis affects adults, adolescents and children in this region and also occurs as a co-infection in people with non-communicable and communicable diseases. Among people living with HIV, globally 4 million people have HIV-hepatitis co-infection. Undetected and untreated, these patients are also at risk for liver disease undermining the gains of the HIV response. In Africa, HBV is predominantly transmitted in the perinatal and childhood period and from mother to child; whilst unsafe injection practices both in health facilities and community account for the majority of hepatitis C infection. Intravenous drug use is an emerging concern for HCV transmission in Africa.
According to the most recent estimates of the Global Burden of Disease, (2) viral hepatitis was responsible for approximately 1.5 million deaths in 2015. Every day, more than 3,600 people die of viral hepatitis-related liver disease, liver failure and liver cancer. The death rate from hepatitis B and C have increased by 22% in 2015 from the baseline in 2000. The available evidence suggests that over 2 million Africans with chronic HBV and HCV may develop progressive liver disease in the next few decades if no intervention is deployed. Viral hepatitis mortality is becoming a bigger global threat than death from HIV/AIDS (1.3 million), malaria and tuberculosis (TB) [0.9 million and 1.3 million, respectively].
It is clear that viral hepatitis has become an emergency. The availability of highly effective generic antiviral therapy for hepatitis B that cost $30 a year and the rapidly declining cost of generic curative HCV medication make universal access to viral hepatitis screening and treatment feasible. The benefits of hepatitis elimination beyond health outcomes include averted medical costs and reduced time spent in sickness. These savings accrue to improvement in education, economic growth and in accelerating poverty reduction in families' communities and nations.
A coordinated public health response in Africa is needed. Government leadership and community collaboration are pivotal to providing an enabling environment for collaboration and partnership in addition to mobilising funding, training and the successful implementation of a country-specific hepatitis response.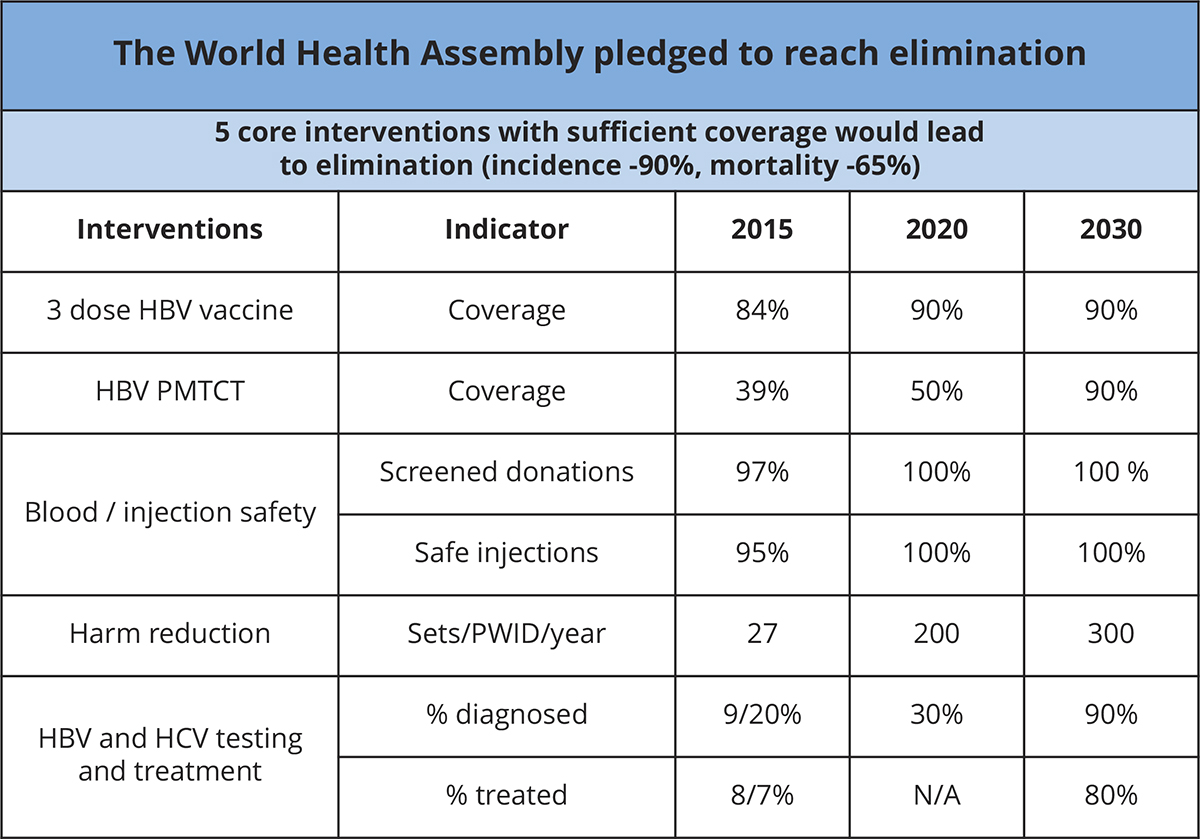 The African Response to the Global Health Sector Strategy for Viral Hepatitis and
The WHO Global Health Sector Strategy (GHSS) for viral hepatitis elimination was endorsed by the WHO Member States during the 2016 World Health Assembly (WHA 69.22). The strategy set ambitious targets for elimination of viral hepatitis as a public health threat by 2030 and promotes universal access to hepatitis preventive, screening and treatment services (see table 1).
It also promotes synergies between viral hepatitis and other health issues and positions the viral hepatitis response within the context of universal health coverage. (3)
The African Regional Framework for hepatitis Prevention, Care and Treatment (2016-2020), guides the WHO Member States to implement the Global Health Sector strategy on viral hepatitis (2016-2021) and proposes priority actions such as developing evidence-based and costed national plans, strengthening hepatitis prevention and developing strong and funded hepatitis screening and treatment programmes. (4) The national hepatitis response should be guided by a national plan with a clearly defined governance and management structure that can ensure a coordinated and efficient response and clear accountability.
In the Africa region, the hepatitis response is lagging behind other all other regions. The scorecard summarises some of the progress made in implementing the core priorities for Africa. Currently, 27 countries have developed a national action plan for viral hepatitis, but only 13 countries (30%) have officially endorsed and launched it. Strong progress has been made in hepatitis prevention, but coverage of timely hepatitis B birth dose is only 10%. As shown in the scorecard only 11 countries have established timely hepatitis birth dose for the control of perinatal and mother-to-child infection (see #1 in the scorecard).
Screening and treatment programme to identify the 71 million Africans with chronic infection are vital to reduce the morbidity and mortality of viral hepatitis and reaching the WHO impact targets. Of the 30 highest burden countries, only eight have established screening and treatment programmes most of which are small scale implementation projects in specialist centres.
Despite the availability of highly effective generic antiviral therapy for hepatitis B and C, only three countries are implementing a government-led public health approach and making significant progress towards the GHSS 2020 and 2030 target. Some of the significant barriers to mounting an effective African response to viral hepatitis include poor community and political awareness, inadequate data for decision making and advocacy, limited access to affordable diagnostics and drugs and inadequate financing and lack of trained health workforce.
This scorecard takes a closer look at the progress of countries in Africa towards these targets.
Since 2015, the WHO Regional Office for Africa has also contributed to advancing the regional hepatitis response with the ultimate goal to save the lives of 6 million people living with viral hepatitis in the region by 2030. Some of the achievements to date include providing support tailored to the needs of individual countries and includes promoting the development of evidence-based national action plans aligned to country characteristics, development of normative guidance and treatment guidelines and coordinating hepatitis surveillance and data to facilitate regional and global hepatitis reporting.
WHO is also promoting regional awareness by supporting national commemorations of World Hepatitis Day (July 28), capacity building and high-level meetings such as the African Hepatitis Summit.
References
(1) WHO Progress report on HIV, Viral hepatitis and sexually transmitted infections, 2019.
(2) Global Health sector strategy on viral Hepatitis 2016-2021, towards ending viral hepatitis.
(3) Prevention, care and treatment of viral hepatitis – a framework for action.
(4) https://www.afro.who.int/publications/prevention-care-and-treatment-viral-hepatitis-african-region-framework-action-2016
Prof Olufunmilayo Lesi
Regional Mechanical Officer for Viral Hepatitis
WHO Regional Office for Africa
Tel: +(47 241) 39975
lesio@who.int
www.afro.who.int
https://twitter.com/WHO
Editor's Recommended Articles