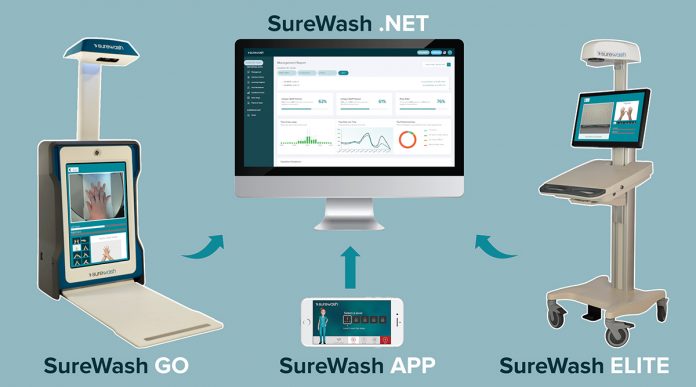 SureWash, a CPD certified hand hygiene training company has been helping healthcare facilities globally with the fight against COVID-19. Founder and CTO, Dr Gerard Lacey tells us about their technology and what comes next for the company
How does the SureWash technology work?
SureWash uses Artificial Intelligence (AI) to deliver hand hygiene training to the World Health Organization protocol (WHO).
Hand hygiene has, and always will be essential to infection prevention and control. However, training for healthcare workers had not progressed despite technological advancements.
Our system brings hand hygiene training to the next level by using a video camera to measure the users hand hygiene practice. The kiosk then provides real-time feedback on the technique.
Learning is divided into 5 different levels, each varying in difficulty. Once a level is passed, you can then progress to the next, which will have less prompts and a shorter time to complete each pose. By the final level, the user must complete the technique without any guidance. SureWash will assess the user's proficiency, and if level 5 is passed, a CPD point is awarded.
The reporting suite on SureWash.Net provides administrators with the ability to track and assess users' learning progress over time. This includes how many staff members have completed the training, which departments trained the most, the average pass rate among staff and more.
Who can benefit from SureWash training?
Our hand hygiene training is not only for healthcare workers. It is suitable for staff, patients and visitors or anyone who enters the hospital environment. As a result of the increased awareness in the importance of hand hygiene, organisations outside of healthcare are now also looking for training solutions and we can help.
What makes SureWash technology unique in the market?
There are many products out there that offer training, however, we specifically focus on teaching the technique. Alcohol gel needs to be applied to the hands with sufficient friction to push the gel into all the crevices of the skin where germs live. UV boxes measure how well the hands have been covered with gel, but they cannot tell if enough friction was used to kill the germs. This is where our technology comes into play.
Repetition of the technique is also imperative for learning a psychomotor skill like hand hygiene. It is the same as learning how to tie your shoelaces. However, to encourage this repeated use of our technology, we incorporate gamification through the training levels. These help to make training fun and engaging because they challenge the user and encourage competition among employees.
How can your technology be used to make a difference during COVID-19?
Now is not the time to abandon training in healthcare. In recent months, training has been put on hold due to pressures of the pandemic. However, a recent survey by Skills for Health highlighted that "70% say that training needs have increased due to the pandemic". This is related to areas such as PPE usage and infection control.
The benefit of SureWash during COVID-19 is that it brings training into the workplace to offer a convenient approach to learning. By removing the need for classroom setting training, facilities can train staff in the hospital at times suitable for employees.
SureWash training is available 24/7 and is delivered in short sessions as research has shown that learning is best delivered through a "practice-rest-repeat" technique.
A study conducted at Yale Medical School using the SureWash GO found that in order to achieve proficiency, users must take an average of 32 hand hygiene training sessions or a total of 23 minutes' over a 5 day period. Participants were determined to be proficient when they could complete the WHO technique in less than 42 seconds.
SureWash also delivers short infection control lessons and quizzes to assess the standard of knowledge in an organisation and to identify gaps in learning. These short learning sessions can be personalised to each organisation. Not only are these beneficial during COVID-19, but they also help staff to be prepared for possible future outbreaks as knowledge can be refreshed at critical times.
Have there been any new developments?
We have recently integrated with Learning Management Systems (LMS) and Virtual Learning Environments (VLE). This provides a stress-free approach for organisations to deliver practical hand hygiene training and assessment remotely.
The online course leverages the SureWash Hand Hygiene APP to deliver the practical training. To support this, instructors are provided with templates for lessons and quizzes suitable for delivery on their learning platform. The SureWash course is compatible with Canvas, Blackboard Learn, Brightspace and Moodle and more.
What comes next?
The future for SureWash is very exciting.
We have two projects underway; one being related to PPE. During the early stages of the pandemic it became clear to us that there was a pressing need to support healthcare workers in the safe use of PPE. We are currently developing an interactive device that delivers PPE training. It will leverage SureWash's core technology for hand hygiene training to guide the user through the donning and doffing of PPE. It will also help staff identify the risks associated with wearing PPE and how to mitigate these. The kiosk will not only deliver training but will help reduce the stress associated with wearing PPE by incorporating mindfulness into the process.
Our second venture is with De Montfort University. We are working alongside A Germs Journey, an educational company that teaches children the importance of hand washing through their interactive books and e-books.
Together we are developing a child-friendly tablet-based version of our mobile application. This will provide educators with a tool to deliver fun and interactive learning about germs and the importance of hand washing correctly. The app will use our technology to teach the WHO technique and will be supported by a Germs Journey's educational content by Education Specialist Professor Sarah Younie and Microbiologist Dr Katie Laird.
Going forward, commercially we will continue to promote good hand hygiene and increase the functionality to include specialised training for different sectors.
By continuing to enter new markets and focusing on product development, our future is looking incredibly exciting.
Please note: This is a commercial profile
Editor's Recommended Articles