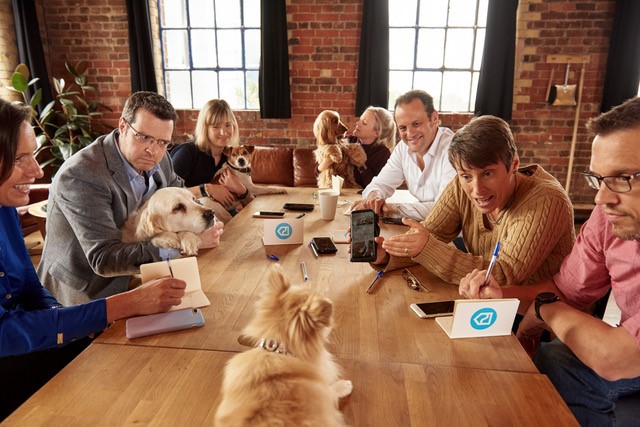 The first ever think tank of its kind, a think tank for pets, has been formed to address the severe lack of pet-friendly rented accommodation across the UK
A committee of animal-loving economists, charity representatives from Crisis and RSPCA, property pros and vets front the unique all-pet policy institute, which was initiated by SpareRoom.
What's more, SpareRoom plans to employ cats and dogs as 'research assistants', to help better educate landlords and emphasise the positive effects that pets can have on tenants and properties. The pets' role would be to visit rented homes and demonstrate to landlords how well-trained cats and dogs might behave and treat their properties. 
The purpose of the think tank for pets is to develop ideas and policy suggestions to encourage more landlords to consider allowing pets into their properties – an issue that's becoming ever more important in the era of 'generation rent'. 
The potential benefits of allowing more pets in rented properties aren't limited to increased income for landlords, but also include improved physical and mental wellbeing for tenants, a reduction in the number of pets that end up in rehoming centres and even a potential reduction in homelessness. 
In the process of developing ideas to address the lack of pet-friendly rented accommodation, the think tank members studied original research by SpareRoom, conducted among tenants and landlords. A summary of findings from that research is provided here:
78% of tenants said they have struggled to find rented accommodation that will allow their pet(s) to live with them [ii]

This has resulted in 21% of tenants keeping a pet in their property without their landlord's knowledge – and breaching the terms of their rental contract in the process [iii]

Despite the popularity of pets among Brits, figures from SpareRoom reveal that only 7% of ads in the UK on SpareRoom would 'consider' pets, with this dropping to just 5% – that's one in 20 homes – in the London area [iv]

Over two thirds (69%) of landlords said they wouldn't allow pets in their properties [v]

Landlord's cited smell (57%), potential damage to the property (55%) and concerns they won't be trained (37%) as their main reasons for not allowing pets in their properties [vi]
Despite landlords' reservations, 88% of pet owners claim they've never experienced any complaints and that their pets have never caused damage to the property[vii]
Out of the tenants that already own a pet, 53% of these stated that they pay between £10 and £49 extra rent per month to allow their pet to live with them, with 32% paying between £50 and £99 extra per month [viii]
After extensive debate and discussion among think tank members, the think tank's first set of ideas to address the issue of pets in rented properties has been released in a 44-page report, which can be viewed here.
Among the think tank's initial ideas and suggestions to convince landlords to accept pets are:
Working to get damage by pets covered, both in landlord insurance policies and by tenants

Tenants agreeing to sign a contract to say that they'd pay for any damages their pet was responsible for

Charging a subsidy for pets on top of a tenant's normal monthly rent

Creating a pet policy agreement between landlords and renters, which could be easily downloaded. The template would include conditions such as 'regular landlord inspections' to check that the property is free of mess and damage, and to check in with neighbours that they're happy and have no issues with the pet

Another key point raised by members of the Think Tank committee was that they'd like to see a set policy that all social housing providers must take pets

 
Matt Hutchinson, Communications Director for SpareRoom said: "With more of us renting our homes it's vital we have a conversation about what that means for quality of life. We know that allowing pets into rented homes can be particularly beneficial – and in more ways than people might think. Pets can be a source of higher rental income for landlords, but they can also improve the well-being of tenants, reduce the number of pets given up for rehoming or, worse, abandoned, and they can even have an impact on reducing homelessness. 
Ultimately, there's no reason tenants shouldn't be able to live with pets, subject to certain relevant conditions and checks being in place. By finding the obstacles and removing them, as well as seeing the positives, not just the negatives, we should be able to make it much easier for people to have a pet, whether they own their home or not." 
References
[i] One Poll and SpareRoom's survey of 3,193 pet owners, October 2018
[ii] One Poll and SpareRoom's survey of 3,193 pet owners, October 2018
[iii] One Poll and SpareRoom's survey of 3,193 pet owners, October 2018
[iv] Number of live ads on the SpareRoom site in Q2, 2018
[v] SpareRoom's survey of 1,261 landlords, October 2018
[vi] SpareRoom's survey of 1,261 landlords, October 2018
[vii] One Poll and SpareRoom's survey of 3,193 pet owners, October 2018
[viii] One Poll and SpareRoom's survey of 3,193 pet owners, October 2018
Editor's Recommended Articles