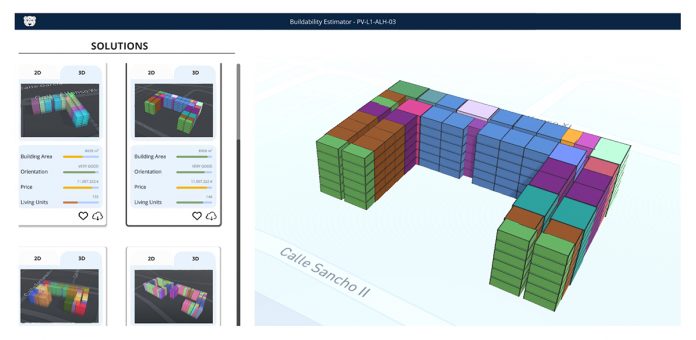 Jose M. Peña – Director of Lurtis Ltd discusses implementing new technologies and argues this is an opportunity for the AEC sector to join Industry 4.0
Nowadays, thanks to Building Information Modeling (BIM) and the development of other technologies, there is an increasing awareness of the potential and benefits of their implementation. This enables companies to generate and manage building data throughout their entire lifecycle, resulting in higher performance, efficiency and productivity.
Nevertheless, the industry is just gradually implementing these new technologies, as it is only now being applied in large projects and is limited to the design part.
Moreover, in this 4.0 Industrial Revolution era, the development of technologies, such as prefabrication, cloud technology, digital twins and artificial intelligence (AI) are significantly boosting. However, there is still much to be adopted and developed, therefore, this is an opportunity for companies in the sector to harness this moment to exploit their competitive advantage.
AI is one of the technologies that can make a more significant contribution to the construction sector. Machine Learning, Machine Vision or Data Mining techniques, among others, combined with data collection would help the construction sector build in a more industrialised way.
Generative Design & the BIMBOT project
At Lurtis, we help different sectors obtain optimal solutions through the development of AI-based technology. Specifically, in the Architecture, Engineering and Construction (AEC) sector, we have developed tools that assist in building design as part of the BIMBOT project (an innovation project in collaboration with Morph Estudio). BIMBOT intelligently helps architects in tasks that would take days or weeks to complete, to take just a few minutes by using those tools. This set of tools generates a great variability of designs (Generative Design), finding optimal solutions that suit users' needs according to more than one objective, such as minimising the resources needed, the budget and maximising the available space.
AI solves this problem by modelling expert knowledge and learning rules based on different quality criteria, to efficiently generate and search for candidate solutions using hybrid evolutionary multi-objective optimisation techniques. In addition, these tools are fully integrated with Revit (the most widely used BIM software in the world), which allows users to work quickly and easily, by using a unique platform.
Lurtis is a leading company in AI-based Generative Design for the AEC sector, solving problems such as optimising buildability, automatic design of rooms and the material selection for the building envelope.
Buildability optimisation: A building development project
Pre-designing the distribution of buildings on a plot is complex and necessary in the early stages of a building construction project. This task requires many resources in terms of time and personnel just for a preliminary assessment of a building development's investment interest and potential. To achieve this, Lurtis offers Buildability Estimator, a tool that interactively suggests optimal building design and partitioning solutions, driven by multiple objectives and constraints, such as reducing the initial investment, complying with the regulations, maximising the available space, and accomplishing a good building orientation.
Moreover, by using state-of-the-art optimisation algorithms, we have managed to analyse a vast number of alternative solutions in just a couple of minutes regarding the distribution of volumes in the plot, the different building typologies, and the internal distribution of the family units in the building.
All this, along with some functionalities, such as comparing solutions, creating detailed reports, and downloading solutions to Revit, allow users to obtain preliminary designs and find the one that best suits their needs more efficiently.
This tool becomes of great interest for the Build to Rent sector; however, we envision huge potential with traditional building styles and new trends, such as Off-site Construction.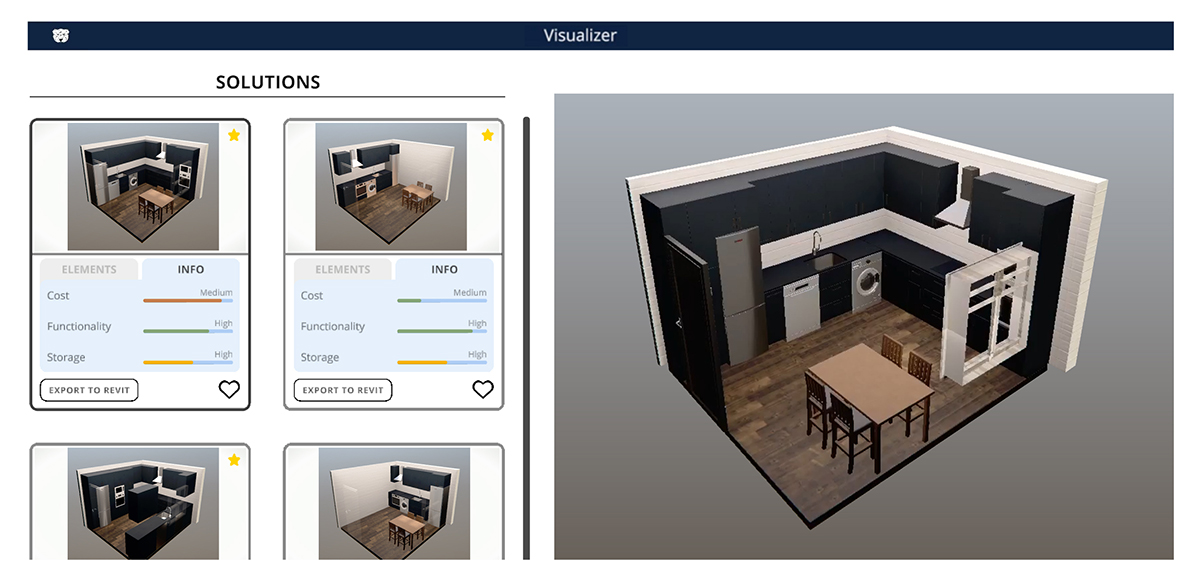 Design of rooms
Lurtis also offers technological solutions to provide an optimised space organisation according to the users' requirements for designing both kitchens and bathrooms while being fully adaptable to any other room.
Lurtis' endeavour aims to leverage AI's potential for the AEC sector, providing a standardised technology ready to be used instantly without the need for customisation. However, sometimes it is necessary to implement technology adapted to users' needs. Not all processes are carried out in the same way among different companies because their difficulty level or goal varies from one to another. In adopting AI-driven digitalisation, the development and implementation time is higher, and cost-effectiveness is the key factor in the decision-making process. AI has given additional tools to address these problems in many other domains. However, AEC still needs its own AI revolution.
At Lurtis, we recommend that companies analyse the processes that must be improved, set SMART objectives and find ways to carry out those improvements. Innovating and adopting new technologies is the only way to design, build and manage buildings more efficiently and productively, increasing the competitive advantage.
Please note: This is a commercial profile
© 2019. This work is licensed under CC-BY-NC-ND.
Editor's Recommended Articles