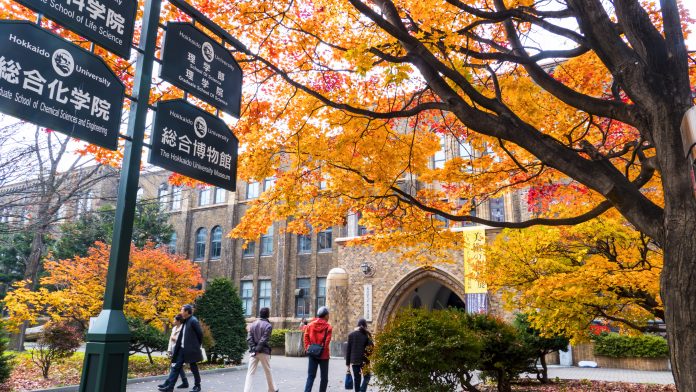 Open Access Government discuss Japan's focus on supporting young researchers to help achieve the country's scientific research and development goals when studying in Japan
Japan's Ministry of Education, Culture, Sports, Science and Technology (MEXT) is taking measures to encourage active participation in society of various individuals including young, female and foreign researchers, research assistants and professional engineers, while promoting research integrity.
Suematsu Shinsuke, Minister of MEXT, made a statement in February 2022 that "at MEXT, we are doing our utmost to prepare an environment where we can welcome students safely and securely by taking all necessary COVID-19 countermeasures in cooperation with universities." To assure this entry of international students into Japan with priority, the Japanese government will initiate the "Scheme for Smooth Entry of International Students."
"We are focused on ensuring that all the international students who have been patiently waiting for over two years to study in Japan and those who are hoping to start the new semester in Japan will be able to enter Japan as soon as possible and continuously, and at the same time, we are aiming to open the doors to many more international students," added Minister Suematsu Shinsuke.
MEXT places huge importance on young researchers in Japan, because they are invaluable in maintaining Japan's international competitiveness and realisation of an innovative society and successful economy. A main aim of MEXT is that Japan leads the world in science and technology capabilities, and young researchers from all over the world can bring new perspectives and push boundaries.
Cross-sector collaboration in education and research
Furthermore, the promotion of industry-academia- government cooperation is essential for bringing the fruits of university research to society and for the revitalisation of university education and research.
MEXT is working to strengthen industry-academia- government cooperation and place coordinators to create an environment in which universities can independently participate in such cooperation. It also actively provides assistance for joint research by universities and businesses and for practical application of research results and specialist support regarding technology transfer and intellectual property.
To achieve sustainable growth and development in an increasingly globalised world, it is indispensable to develop the educational environment and promote human resources development responding to such moves.
JSPS and support given to the activities of researchers
Sub-group of MEXT and funding agency the Japan Society for the Promotion of Science (JSPS) have a wide range of activities such as:
• Subsidising academic research.
• Training researchers.
• Promoting international exchanges related to academics.
• Supporting university reform and globalisation of universities.
Furthermore, JSPS actively carry out a wide range of projects and support the activities of researchers in a stable and continuous manner.
For example, JSPS hold academic workshops and seminars for young people, whereby they promote bilateral research cooperation in all areas including humanities and social sciences, foster young researchers, and conduct academic research based on the free ideas of researchers. In these workshops, excellent young researchers share their knowledge and ideas through participation to determine the direction of their careers as researchers and to develop new research areas. This "bottom-up" approach allows researchers freedom to carry out a wide range of projects, and, amid concerns about a decline in Japan's research capabilities, helps to create an environment in which young researchers can look into the future and devote themselves to challenging research.
More on Japanese research and development: Space exploration
Astronomical research plays a large part in Japan's R&D plans. The development and utilisation of space exploration play a pivotal role in establishing the basis for Japan's existence as a nation, by means of realising a better quality of life, encouraging industry through satellite-based applications such as telecommunications, broadcasting, positioning/navigation/timing, weather forecasting, earth observation, and bringing new knowledge through space science research.
The Japan Aerospace Exploration Agency (JAXA) is the core implementing agency supporting the Japanese government's development and utilisation of space with technology. JAXA became a National Research and Development Agency in 2015, taking a step forward to achieve optimal R&D achievements for Japan.
Most recently, JAXA has started accepting applications for the 3rd Kibo Robot Programming Challenge (Kibo- RPC), which will take place in fiscal 2022 under a revised framework. Kibo-RPC is a programming competition for controlling free-flying robots within the International Space Station (ISS)'s Japanese Experiment Module "Kibo," and an education program to provide young talent with an opportunity to develop robotic manipulation and computer programming skills in a spacecraft setting. This project has been organised jointly by JAXA and NASA as part of the Japan-U.S. Open Platform Partnership Programme, particularly targeting students from the Asia- Pacific region including Japan with an aim to expand the use of Kibo by Asian regions.
The JAXA Space Exploration Center (JSEC)
JSEC is focused on international collaborations for sustainable human space exploration. Working closely with government, industry, and academia in Japan, as well as space agencies outside Japan, JSEC develop strategies, investigate space systems, and manage projects. JSEC bring together JAXA's joint activities in scientific understanding and technological development to tackle the challenges in human and robotic exploration.
International sustainable space exploration
Like JAXA, all over the world space agencies are turning their focus to sustainability. By default, space missions must be as sustainable as possible because supplies are limited on spacecraft. A Moon base that does not rely on regular supply missions is more viable and could last indefinitely if it created its own fuel from local resources and solar energy. A range of JAXA missions are underway to ensure that humans can engage in sustainable activities on the Moon and on Mars, and this is also the case for the European Space Agency, which have been working for over 25 years to create a portable ecosystem so that astronauts can bring a self-contained atmosphere-in-a-box that will supply oxygen, water and food while processing their waste.
Editor's Recommended Articles