European Commission President Ursula von der Leyen said that Europe would "radically raise" microchip production – as demand will double in the next decade
President von der Leyen said that EU demand for microchips would double in the next decade, with a draft proposal of the European Chips Act to be put forward in early February.
Speaking to the World Economic Forum today (20 January), she said: "By 2030, 20% of the world's microchips production should be in Europe."
Why do microchips matter?
In 2022, the semiconductor market is valued at $601.25 billion US dollars.
World powers are constantly manoeuvring to carve a slice of the market as their own, which would give them significant economic power in the future – especially as countries transition into digital and green infrastructure. Microchips can also be held hostage by high-production countries, leaving recipient countries at risk of paying high prices, removing unrelated sanctions or cutting a deal that lessens their power.
Currently, the EU is producing 10% of the world's microchips. Taiwan is the market leader, responsible for 50% of microchip production globally.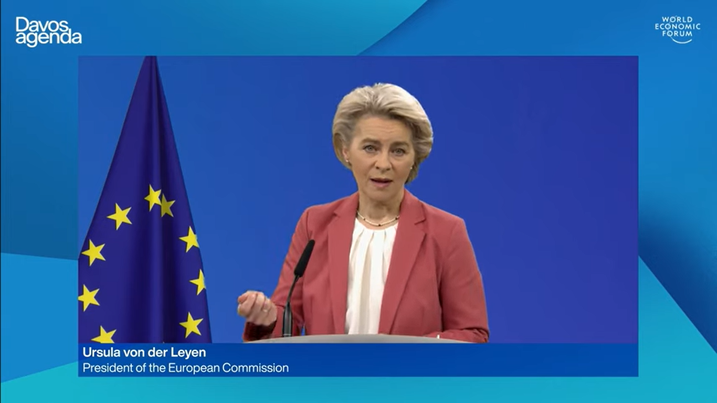 What is the draft proposal going to say?
The draft of the European Chips Act is expected to contain five things. Expanding on this, President von der Leyen said: "First, we will strengthen our world-class research and innovation capacity in Europe.
"Secondly, we will focus on ensuring European leadership in design and manufacturing. Thirdly, we will further adapt our state aid rules under a set of strict conditions. This will allow public support for European 'first of a kind' production facilities that benefit all of Europe. Fourthly, we will improve our toolbox to anticipate and respond to shortages and crises in this sector to shore up our security of supply.
"And fifth, we will support smaller, innovative companies, in accessing advanced skills, industrial partners and equity finance."
Ongoing battle between Taiwan and China
Earlier in January, Taiwan announced that it would fund $200 million towards microchip production in Lithuania. The partnership sprung up in defiance of China, with the larger State considering Taiwan to be part of its territories. Lithuania allowed a Taiwanese embassy to be constructed, leading to a trade snub from China.
Despite ambitious attempts to reimagine their supply chain, China remains behind Taiwan in microchip production – at only 16% self-sufficient in 2020.
Finishing the part of her speech that addresses microchip ambitions, von der Leyen further emphasised that the EU would: "build supply chains we can trust by avoiding single points of failure."
While her language remained diplomatic, it is clear that the Commission is tired of dependence on the "handful of producers outside Europe."
Editor's Recommended Articles