Here, Videx UK highlights how innovative hands-free door entry can help services return to normalcy post-COVID-19
As the world continues to navigate the COVID-19 crisis, there are more challenges each and every day throughout the healthcare and business sectors alike that need to be overcome. Finding solutions to create COVID-19 secure environments is vital to building back better, with the key being to prevent further transmission of the virus.
Minimising touch equals minimising transmission, and the world is advancing, adjusting, and innovating to create safer spaces for everyone. Access control and door entry technology, for example, are constantly developing, with ever more products entering the marketplace. Using infrared sensor technology, we at Videx UK can offer both entrance panels and exit buttons in a touch-free format as a safer solution to door entry through our unique range of no contact systems.
How can touch-free access benefit both the healthcare and business sectors?
The NHS is still under enormous strain, with the focus on optimising patient care while preventing further transmission. Videx UK's range of touch-free products are designed to help the NHS keep all services and treatments open as the UK continues in its efforts to manage the COVID-19 pandemic. A no-touch solution can greatly benefit hospitals, surgeries and dental practices as they focus on creating a COVID-19-secure environment for staff, patients and visitors. Furthermore, the panels can also include proximity access control, allowing authorised personnel to enter buildings completely touch-free which is particularly useful for hospitals and other NHS services such as urgent care facilities and GP surgeries.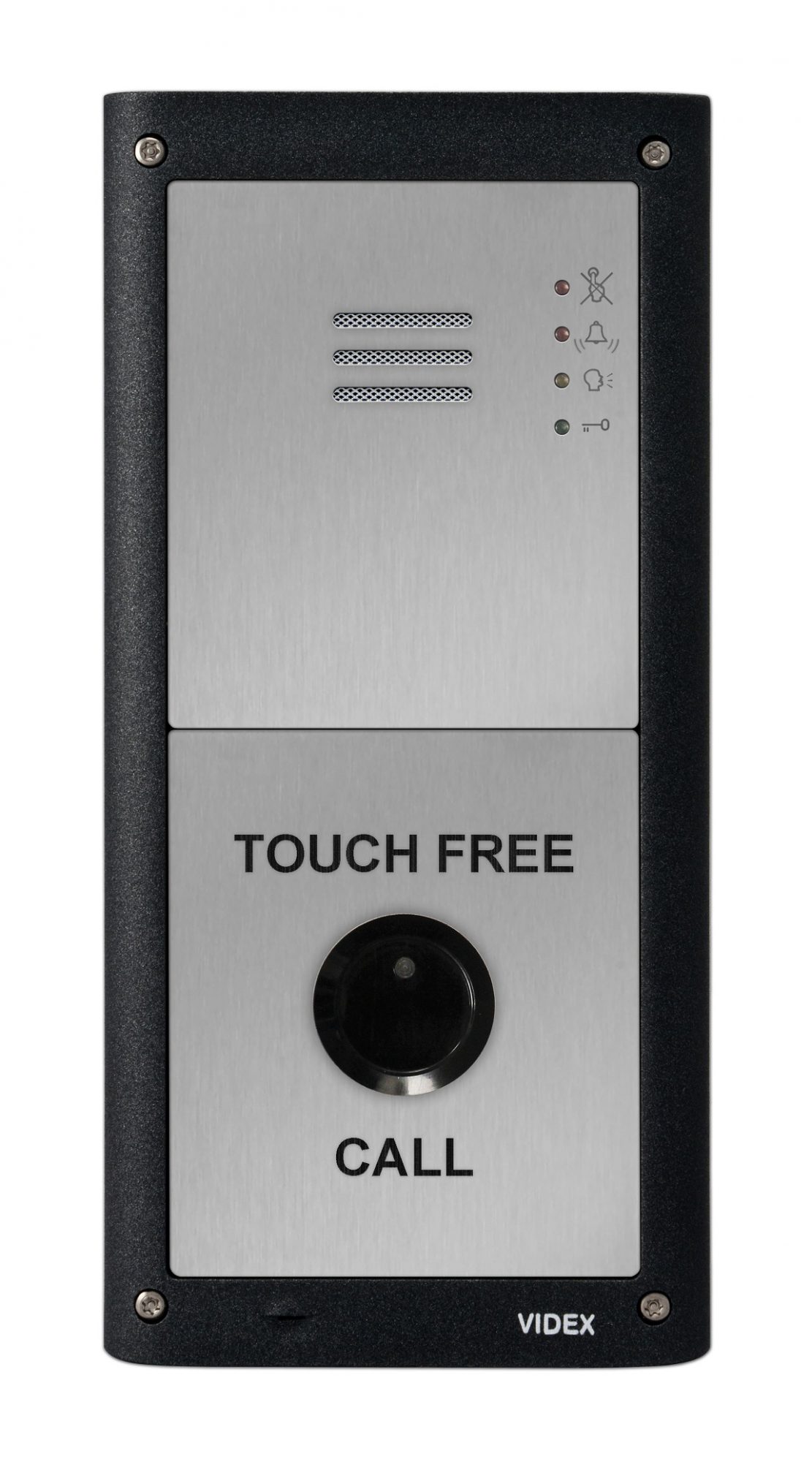 James Gray, National  Sales Manager at Videx UK, stated: "Our touch-free access control range has proved hugely popular in recent months as minimal contact remains key to reducing the spread of the coronavirus.
Opting for a touch-free entry solution really allows hospitals to significantly reduce physical contact between people to help manage infection control and stop the spread of COVID-19. However, this is not confined to the NHS and health sector use – our touch-free range is also an ideal entry solution to schools, offices and a wide range of commercial businesses."
To return to a new "normal", businesses must now place health and safety at the forefront of everything they do, for the safety of their employees, partners and customers. Working from home has become necessary for many, and if businesses want to reopen safely, using hands-free alternatives is a step in the right direction. With Videx UK's no-touch entry panels, visitors are able to alert someone of their arrival without needing to press a button. Both surface and flush exit buttons are also available to allow users to exit without the need to press buttons.
The panels and buttons are compatible with several Videx UK systems including its IP system, two-wire video kits and leading GSM kit.
The panels and exit buttons, which are for internal use unless appropriately protected externally, boast several key features including adjustable activation range (3cm-15cm) and activation time (from 0.5 seconds to 20 seconds). All panels are IP55 rated and require a power input of 12Vdc. They can operate in a temperature change from -20 degrees to 75 degrees.
Our touch-free range offers better protection against the transmission of COVID-19 and viruses that can also spread from touching common-use surfaces and devices. Furthermore, we provide fully customised options, offering bespoke entry panels and exit buttons that are in keeping with the surroundings of the building, whatever they may be.
Touch-free systems can benefit not only healthcare but also businesses and the wider public sector, for example in education and transport. Ultimately, minimising the further spread of the virus is the goal and innovative solutions such as this are paving the way to building back better towards a safer post-pandemic world.

Videx UK
As a leading UK manufacturer and supplier of access control systems, Videx UK has been established for over 35 years and are true experts in the door entry market. Videx UK and its team of estimators, technical support and designers are focused on making and providing high-quality products and support to customers. Be it a public or private building, a school, a social housing development, a hospital, an office block, a private residential home or student accommodation, we are able to meet the customer's individual or group access control needs by:
Installing smart and innovative systems that provide the utmost security and convenience.
Offering in-depth technical knowledge of door entry systems.
Understanding the unique demands of each client, be it ongoing, changing, or emerging requirements.
Providing lifelong product support.
As technology develops, so too does the access control needs of organisations, whatever the size or type. As such, this is why product innovation and a focus on continuous research and development are vital at Videx UK.
Please note: This is a commercial profile
Editor's Recommended Articles