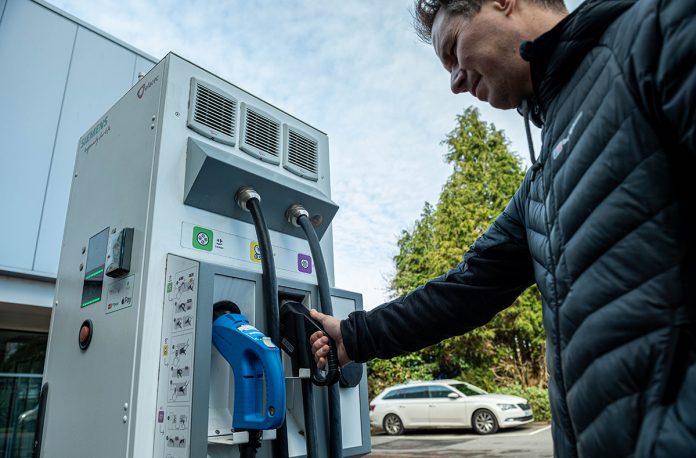 Siemens Mobility ponders if we can meet the UK Government's ambitious electric vehicle targets
Following the UK Government's announcement to bring forward the ban on the sale of new petrol and diesel cars and vans to 2030 (and plug-in hybrids to 2035), the number of new battery and electric hybrid vehicles on our roads looks set to grow exponentially over the coming decade.
Even though there are over 100 battery electric vehicle (BEV) and plug-in hybrid electric vehicle (PHEV) models available in the UK, this is a long way from the choice consumers have when buying petrol and diesel vehicles. This is clearly a reflection of how young the market is, but it is one that is developing rapidly. Many car manufacturers have already announced their electric vehicle (EV) plans; for example, Jaguar will only sell BEVs from 2025 and Ford and Volvo will follow suit in Europe from 2030.
To meet the UK Government's ambitious targets, while there have undoubtedly been huge improvements in EV technology, there remains much to do in a relatively short space of time. This is not only in terms of car design, battery lifecycles, recycling and energy supply but also in the evolution and roll-out of the charging infrastructure network.
Ownership and use of EVs
Recent research conducted by YouGov* on behalf of Siemens Mobility reveals some interesting differences in the ownership and use of EVs. It also highlights some factors that are likely to influence the speed of uptake of EV ownership. Of the sample interviewed (a nationally representative sample of GB adults), just 3% of people currently drive an electric vehicle, with a further 9% planning to switch. This was a higher figure amongst younger adults; in the 25-34 age group the figure increased to 11%. This group also displayed the highest support for low emission and congestion charging zones in the poll.
A quarter (24%) of adults who said they would use an electric or hybrid vehicle were worried about the availability of charging points and this issue of 'infrastructure availability anxiety' is arguably the greatest barrier to the uptake of battery EVs. Addressing the availability and ease of charging of EVs is therefore critical if we are to change the behaviours of the UK's 33 million car drivers. Significant work has already been carried out to support the expansion of rapid and ultra-rapid charging infrastructure on the motorway and strategic road network as well as the commissioning of charging hubs. And while an additional £950 million is being provided to upgrade the power networks needed for rapid charging infrastructure, with £400 million being provided by the Charging Infrastructure Investment Fund for hubs, there clearly remains a great deal for the industry still to do.
As well as installing charging infrastructure on the strategic road network, local fuel stations and at new rapid hub locations, we also need to focus on providing cost-effective on-street charging. This is aimed predominately at local residents to make sure everyone has access to affordable energy for their vehicle, as well as opportunities to 'charge smart' and so reduce running costs.
This is particularly an issue in our towns and cities and could disenfranchise whole segments of the population, for example, younger people living in cities who may not have access to off-street parking. At the moment, charging on the rapid public network costs in the region of £0.25 to £0.40 per kilowatt-hour. This compares to just £0.15 (even as low as £0.05) for those able to charge at home.
A good deal of cooperation and collaboration will be needed to make all this happen, and it will require central and local government to work closely with EV charging network owners and operators, as well as the landowners.  In the private sector, businesses and organisations are developing different commercial business models that will enable them to generate a return on the high capital investment of charging infrastructure.
Providing safe and reliable EV charging infrastructure
The shared end goal though must be that the private and public sectors provide EV charging infrastructure to consumers that is safe, reliable, fair and provides real value.
But it's not just acceleration in the deployment and commissioning of charge points that are necessary to support EV adoption, it will be critical to ensure the EV infrastructure is fit for purpose, and both reliable and available when required. As a relatively new sector, it is important to make sure that the right number of people with the right skills are in place to provide installation and maintenance services, both now to establish confidence in the network, and into the future.
Siemens Mobility's Intelligent Traffic Systems business (which on 1st July becomes Yunex Traffic, A Siemens Business) continues to invest heavily in its service teams with over 400 team members and a 24/7 Service Operation Centre. The team has proudly provided high-quality service to the EV sector for more than 10 years and is set to grow rapidly to keep pace with the rollout of charging infrastructure. In recent years the company has supplied, installed, maintained and in some cases operated EV chargers across a range of different projects, including over 400 rapid charging units in cities including London, Birmingham, Bristol and Coventry.
The Government's bold decision to bring forward to 2030 the end date for new fossil fuel-powered vehicles has been well received and is clearly providing the impetus for change that was needed. It is expected that other countries will follow suit, with more announcements possible at the COP26 summit in Glasgow in November. But, now that Government policy, funding, stakeholders, vehicle and battery manufacturers, infrastructure providers, operators and landowners are all aligned with a shared goal, we're looking forward to working together with our partners to provide a safe, reliable charging network that is accessible and fair for all.
* Survey detail: All figures, unless otherwise stated, are from YouGov Plc. Total sample size was 2016 adults. Fieldwork was undertaken between 16th – 18th April 2021. The survey was carried out online. The figures have been weighted and are representative of all GB adults (aged 18+).
Please note: This is a commercial profile
© 2019. This work is licensed under CC-BY-NC-ND.
Editor's Recommended Articles