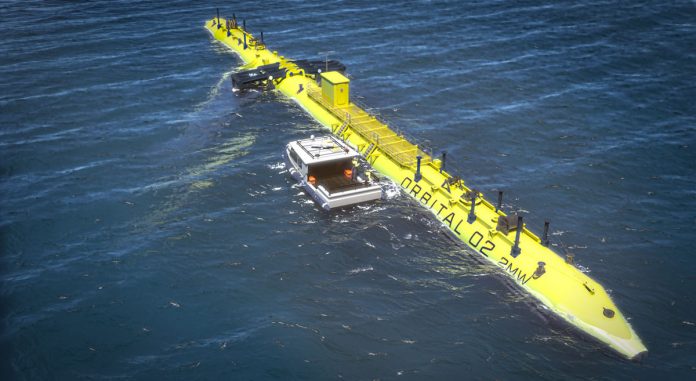 Karen Fraser Specialist, Energy Scottish Enterprise charts the project OCEANERA-NET COFUND, which is supporting collaborative innovation in ocean energy
Europe is leading the world in the development and implement­ation of ocean energy technologies. The Ocean Energy European Research Area Network (OCEANERA-NET COFUND) project aims to make sure Europe stays in the lead by supporting collaborative innovation and knowledge transfer. €7.8 million of funding has been approved for nine demonstration projects under the COFUND Joint Call 2017. This includes €2.6 million from the EU through Horizon 2020, co-funding with national and regional funds, supporting €14.5 million worth of research expenditure. A second call was launched in January 2019, with a budget of €6.8 million.
The projects funded cover essential technologies for delivering the industry by tidal, wave and ocean thermal means, such as moorings/anchoring systems, connectivity, energy storage systems, hybrid steel and concrete foundations, tidal blade pitch controllers and composite materials. The co-funding model, together with direct engagement with national and regional stakeholders, complements other Horizon 2020 activity and has been particularly successful in generating "bottom-up", industry-led innovation and engaging smaller companies. 28 companies, of which 24 are small and medium-sized enterprises (SMEs) are partnering in the demonstration projects described.
This five-year project has been led by Scottish Enterprise with partners across Europe – Basque Energy Agency, Region Bretagne, Sustainable Energy Authority of Ireland, Region Pays de la Loire, FCT (Portugal), CDTI (Spain) and the Swedish Energy Agency. For the second call, Flanders Innovation and Entrepreneurship (Hermes Fond) joined the partnership.
RESOURCECODE, led by the European Marine Energy Centre, brings together leading researchers in oceanography, world-class test facilities and industry to develop open access, high resolution, North West Europe wave energy resource dataset, software toolbox and online portal. This will provide designers with the information and tools needed to push forward new marine renewable energy projects, improving cost, quality and time to market.
TOPFLOTE – Scottish tidal turbine developer Orbital Marine Power, with global drivetrain solutions provider SKF, will deliver a controller for floating tidal turbine blades allowing the blades' pitch angle to be readily varied in real time to manage dynamic loadings and optimise power performance, tested on the Orbital O2 2MW commercial demonstrator turbine. Pitch controllers have enabled dramatic increases in turbine and blade scale in wind energy, resulting in energy cost reductions. TOPFLOTE seeks to unlock similar improvements for floating tidal technology, facilitating up to a 50% increase in yield for Orbital's machines.
SEABLADE – manufacture, evaluation and analysis of blades for a 2MW floating tidal energy converter – is led by Irish company Eire Composites. The project will accelerate the development of a commercial-ready, cost-effective tidal blade product, testing at NUI Galway and on the Orbital O2 2MW turbine, aiming to gather test data to validate a 20-year design life for the blades. This will result in more reliable blades that will lead to reduced maintenance and increased productivity, and lower LCOE.
CF2T – led by Brittany-based tidal company Sabella, this project will design and test an innovative hybrid foundation, combining steel and concrete, designed to decrease CAPEX and installation costs and improve the reliability of the foundation structure, reducing the overall LCOE of a tidal project. This will be deployed alongside a classical steel foundation as part of the pre-commercial project Eussabella, which aims to install two Sabella D12 tidal turbines in the Fromveur Passage, allowing comparison of structure reliability.
INNOTEX – Innovative Thermal Exchangers, led by French company Naval Energies, focuses on ocean thermal energy conversion. It will test a falling film NH3 evaporator on a 300kW model built by INTEGASA. An analysis suggests that the evaporator can operate with a small difference in temperature and optimise the available thermal gradient, which will increase thermal evaporation performance and optimise the overall energy performance of the OTEC plant.
SPhorcis is led by Spanish company Smalle Technologies. SPhorcis is a cost-effective, innovative solution that gives wave energy harvesting a new focus: off-grid low power production (10-100 w), with potential worldwide markets. It consists of a mechanical system within a sealed box which can be directly connected to batteries so that energy demand for marine offshore equipment can be met on the spot. SPhorcis will be tested during 2019-2020 in Galway Bay, through a collaboration with SmartBay Ireland.
UMACK – Universal Mooring, Anchor & Connectivity Kit. Led by Swedish wave energy developer CorPower Ocean, this is a joint industry effort bringing together wave and tidal developers, offshore-engineering companies and researchers. It will address affordability, survivability and reliability through demonstration of a generic anchor-foundation-mooring-connectivity system, applicable to a wide range of wave and tidal energy converters, with potential for use in floating offshore wind.
WEP+ – Wave Energy Production – is led by Neureus Technologies from Spain and will be demonstrated in Gran Canaria. WEP+ aims to contribute to the penetration of wave energy in the electricity network in accordance with network regulations. Energetic storage systems will be implemented as a tool to smooth power oscillation peaks. Work will also be carried out to optimise costs, reduce LCOE and contribute to the technological development of the wave energy technology.
Please note: This is a commercial profile
Karen Fraser
Specialist, Energy
Scottish Enterprise
Tel: +44 (0)141 468 5658
Editor's Recommended Articles