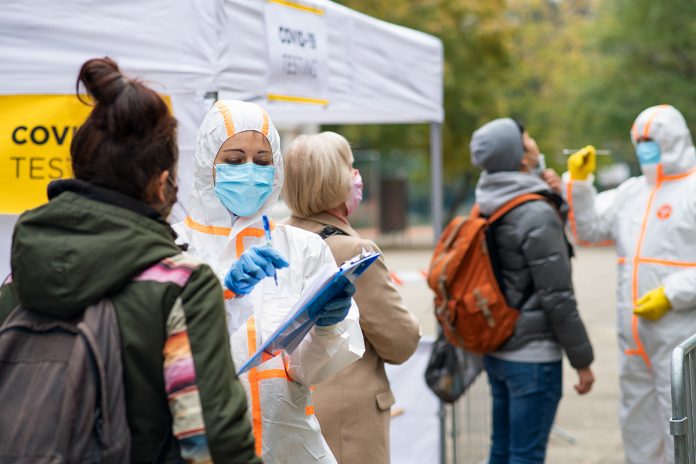 Here, we interview Alex Wilson, Co-founder of specialist reagent company PCR Biosystems, discussing how their expertise in enzyme development and large-scale production has been successfully applied to COVID-19 testing solutions around the world
PCR Biosystems develop and manufacture PCR kits and reagents for molecular biology research and diagnostics. After more than 20 years' experience within the industry, co-founders Mark Stevens and Alex Wilson launched the company in 2012 with the aim of doing things differently. The focus has been the creation of high-performance PCR reagents that simplify the customers' research, and precision components to support partners with their diagnostic assay development.
Now, nine years on, PCR Biosystems have a portfolio of reagents engineered using proprietary assays and smart screen technology, covering a broad spectrum of PCR applications. Importantly, PCR Biosystems also operate under an ISO 13485:2016 certified quality management system, meaning that the products and processes meet the international standards for the manufacture of medical device components.
During the pandemic, the spotlight has been very much on PCR. Tell us about your new product qPCRBIO Probe 1-Step Virus Detect, how its launch came about and what it can be used for.
Alex: "qPCRBIO Probe 1-Step Virus Detect was launched early in the pandemic, specifically to support high-throughput testing for SARS-CoV-2 (the virus responsible for COVID-19). This product is a high-concentration 4x RT-qPCR kit designed for rapid and accurate detection of viral RNA sequences. All that is required is the addition of specific primers and probes, together with the swab extract and water. A key benefit for users is the ability to add more sample to their reactions to boost analytical sensitivity, even when working with small volume reactions.
By developing qPCRBIO Probe 1-Step Virus Detect we aim to offer researchers and diagnostic kit manufacturers flexibility in their assay development and ultimate confidence in the quality and accuracy of the results generated."
How else has PCR Biosystems helped to support the fight against COVID-19?
Alex: "As you can imagine, demand for rapid and reliable reagents went through the roof as the severity of the crisis hit. Aside from qPCRBIO Probe 1-Step Virus Detect, our pre-pandemic portfolio already included a range of products that could be used for COVID-19 testing, and we immediately scaled-up production of these critical reagents.
To support testing on a massive scale, we introduced bulk pack sizes of our key products, ensuring consistency, convenience and value for high-throughput testing of clinical samples. In addition, we validated our qPCRBIO Probe 1-Step range for the qualitative detection of SARS-CoV-2 nucleic acid using the Charité, Berlin, and CDC recommended primer-probe sequences (RdRp, E and N genes). Supporting customers with technical expertise in assay development and scale-up has been another key focus for our team throughout the past year.
Mid-pandemic we began to supply our bespoke Riboshield™ RNase Inhibitor as an independent product. This reagent protects RNA and can stabilise RNA targets such as SARS-CoV-2 in samples, thereby ensuring reliable diagnostic results.
Most recently we have launched IsoFast™ Bst 1-Step Mix, providing an alternative method to PCR for the amplification and analysis of viral RNA. Through its nucleic acid strand displacement capabilities, Bst polymerase eliminates the need for the high-temperature denaturation step associated with traditional Taq enzymes. This enables faster time to result and facilitates low-cost detection in the field without specialised thermocycling equipment."
While many supply chains have been disrupted due to the pandemic, how have PCR Biosystems continued to scale up and optimise operations to ensure continued supply?
Alex: "Since the outbreak of the pandemic, we have been committed to ensuring researchers and organisations in all markets can access the PCR products and services they need. Being agile and quick to respond has been instrumental in our ability to meet every reagent order received during this time – something I am incredibly proud of.
Thanks to our contingency planning, we immediately implemented shift-based working for production, assembly and order fulfilment and had three detached teams working seven days a week, with two fully trained commercial teams in reserve to provide operational support.
We massively ramped up the manufacture of RT-qPCR reagents, and steered our customers towards bulk formats, recognising the imminent plasticware shortage. Having an excellent relationship with suppliers has been crucial, and upscaling of not only our business but that of our critical suppliers an essential step in this process.
With our expanded manufacturing facilities, large stock reserves, capacity for further scale-up and a big increase in our team of PCR experts, we have been able to meet our commitment of an uninterrupted supply of reagents, and we are well placed to tackle any future surge in demand."
What does the future hold for PCR Biosystems?
Alex: "We are ambitious with our future plans – investing massively in our research and development activities and driving forward a large product development pipeline. The long-term vision, both for the current pandemic and after, is to facilitate ease-of-access to diagnostic and molecular reagents that offer stability and reliability, particularly for point of care applications. To this end, we are shortly launching a Lyo-Ready range of PCR reagents. These products can be lyophilised – a process of drying down to solid form, making shipping and storage easier, increasing product life span and allowing greater flexibility in sample volume.
We will also continue to expand our distribution partnerships and diagnostic collaborations as we move through 2021 and beyond. In the scramble for COVID-19 testing reagents, we know that some regions were less able to secure the necessary materials from their suppliers. We have benefitted greatly from a highly experienced distributor network supporting customers with their reagent needs in 39 countries. Our commitment to supplying global healthcare systems with the products and expertise needed will remain ever strong in the future of PCR Biosystems."
For more information, contact the UK headquarters on + 44 (0) 20 3930 8101, email info@pcrbio.com or visit www.pcrbio.com
Please note: This is a commercial profile
© 2019. This work is licensed under CC-BY-NC-ND.
Editor's Recommended Articles