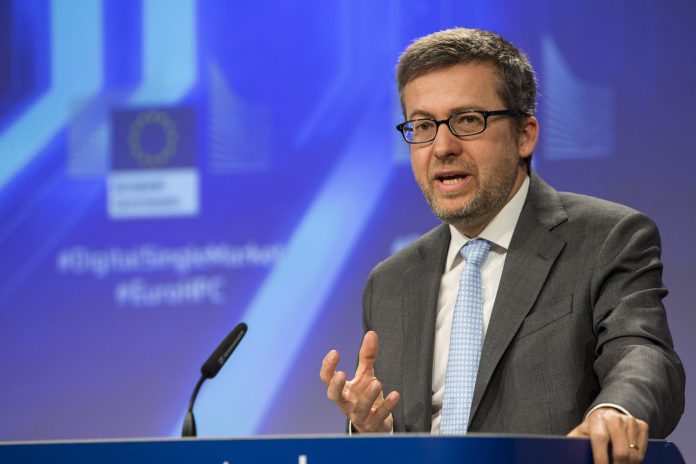 Open Access Government places the excellent work of European Commissioner for Research, Science and Innovation Carlos Moedas under the spotlight
Carlos Moedas has been European Commissioner for Research, Science and Innovation since 2014. His responsibilities include ensuring that research funding programmes, particularly Horizon 2020, contribute to the European Commission's jobs, growth and investment priorities. Moedas is responsible for ensuring that EU funding is used effectively and innovation is supported across all member states.
Moedas is also responsible for promoting the EU's research and science base on the international stage, strengthening those capabilities across all member states and encouraging the private sector to apply their research to meet the challenges facing society.
In February, Commissioner Moedas delivered a speech to mark European Industry Day setting out how Europe can put itself in "pole position" to be at the forefront of the next big wave of innovation: the merging of physical and digital technologies often referred to as Industry 4.0.
"The next wave – from AI to biotech to two-dimensional materials – they all require leading-edge science," he said.
"But, of course, science alone is not enough. For Europe to lead the next wave of innovation, we need a new force of momentum."
This force, Moedas continued, will be generated by three key elements: science to develop new ideas and the technologies of the future; start-ups and SMEs to combine technologies and new business models; and industry to scale-up innovations and create economic and social impact.
"Without all three as strong components, we won't have the lift-off we need for the future of innovation in Europe," he said.
Supporting this "ecosystem" will be the cornerstone of a new programme for research and innovation to build on the success of Horizon 2020, which over its current seven-year cycle, will see more than €20 billion invested directly in the industry, Moedas added.
But the commission is not waiting until 2021 to introduce what Moedas described as the most urgently needed reform to support innovation – a European Innovation Council.
Currently, in a €2.7 billion pilot phase, the EIC will bring funding schemes together in a single place, simplify them and make them "innovator-centric", Moedas said.
It will also provide a crucial link between large corporations and SMEs, helping start-ups to access partners across value chains from investors to public procurers and technology providers.
"This will be the formula for winning the next innovation race," Commissioner Moedas said.
In March, as part of the European Year of Cultural Heritage 2018, Commissioner Moedas, alongside the commissioners for Education, Culture, Youth and Sport and the Digital Economy and Society, took part in a high-level Horizon 2020 conference on innovation and cultural heritage.
The event showcased promising innovations to preserve Europe's cultural heritage for future generations, ranging from providing digital access to inaccessible sites to helping to preserve priceless artefacts and exploring new ways of valuing cultural heritage for creative industries.
The conference also saw the unveiling of a policy review assessing EU-funded research on cultural heritage and proposed improvements to the European Research Framework after 2020.
Between 2014 and 2020, the EU is expected to invest €500 million in research and innovation on cultural heritage, a sector that employs over 300,000 people and has indirect links to 7.8 million jobs in areas such as tourism, security and interpretation.
With 453 inscribed sites, Europe counts for almost half of UNESCO's World Heritage List and Commissioner Moedas said the ambition is to become a global leader in heritage-based innovation through Horizon 2020.
"Cultural heritage is a limitless source of innovation, where traditions meet with cutting-edge technologies," he added.
But while preserving the treasures of the past, the commission is also looking to emerging technologies that will shape Europe's future. This was highlighted by the recent creation of an expert group on artificial intelligence.
From better healthcare to safer transport and more sustainable farming, AI offers many potential benefits to both society and the economy. However, there are also many questions about its potential impact on how we live and work.
The expert group will seek to create a broad alliance of stakeholders, who will discuss how to use and develop artificial intelligence (AI) successfully and ethically. It will draw up draft guidelines on AI ethics based on the EU's fundamental rights considering issues such as fairness, safety, transparency, the future of work and democracy.
Announcing the group's formation, Commissioner Moedas said: "Artificial intelligence has developed rapidly from a digital technology for insiders to a very dynamic key enabling technology with market-creating potential.
"And yet, how do we back these technological changes with a firm ethical position? It bears down to the question, what society do we want to live in?"
Open Access Government
JMiles@openaccessgovernment.org
Editor's Recommended Articles