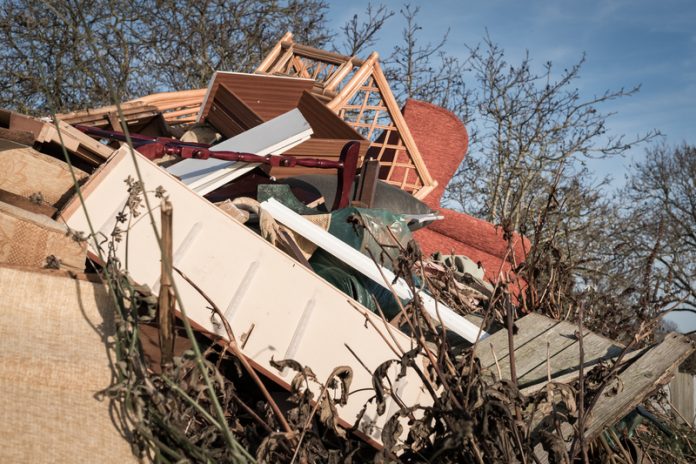 Troubled by the notion that fly-tipping is on the rise, and in particular household waste, Sellhousefast.uk took to analysing the number of fly-tipping incidents on residential land across England, to determine which areas may be worst affected
Per the Department for Environment, Food and Rural Affairs, local authorities dealt with over 1 million fly-tipping incidents in 2016/17 – a rise of 7% on figures in 2015/16. Two thirds (67%) of total fly-tipping incidents involved household waste in 2016/17 – an upsurge of 8% on 205/16.
Sell House Fast found Bradford had reported the largest number of fly-tipping incidents on residential land in 2016/17 – with a figure of 852. Swiftly followed by Leicester (745) and Country Durham (534). Two local authorities situated in the South East can be seen in fourth and fifth place: Thanet, at 524 and Brighton and Hove, with 517 reported residential fly-tipping incidents.
Rounding off the top 10 local authorities most affected by reports of fly-tipping on residential land are Tameside (491), Birmingham (399), Dartford (280), Rochdale in the North West (267) and Wakefield – with 258 recorded incidents.
However, it isn't all unwelcome news, as local authorities such as Lichfield, Shropshire, Stoke-on-Trent and Warwick reported 0 incidents of fly-tipping on residential land in 2016/17. It is important to note many local authorities have started to improve the way they capture and report fly-tips over the past few years.
Robby du Toit, managing director of Sellhousefast, comments: "Household rubbish, white goods and garden waste are among the most frequently fly-tipped items. It is so important for homeowners to dispose of their unwanted items responsibly. It's a shared task and perhaps, more needs to be done to encourage individuals to recycle. Services need to expose more clearly where relevant help and information can be found."
In light of the stark rise in fly-tipping, Sellhousefast.uk pulled some helpful advice from the National Fly-Tipping Prevention Group (NFTPG):
• You are legally responsible for any household waste produced on your property.
• You could face an unlimited fine if your waste ends up fly-tipped and you cannot show that you took reasonable steps to prevent it.
• If you have waste to dispose of, ensure it is transferred to an authorised person, such as a registered waste carrier or waste site that is appropriately registered with the relevant enforcement body.
• If you are using a waste carrier (other than your local Council) to remove household, garden or construction waste, always ask for their waste carrier number. If in doubt check their details on the public register of waste carriers, or call the Environment Agency on 08708 506 506.
• Always ask a carrier what exactly is going to happen to your waste and seek evidence that it is going to be disposed of appropriately. A legitimate, professional body should not object to being asked reasonable questions.
• Make sure to get an invoice and receipt for your waste, to retain as proof.
Local authorities provide Household Collection Recycling points where homeowners can take their own waste for disposal and recycling. Contact your Local Authority to find out more services in your area.
Editor's Recommended Articles