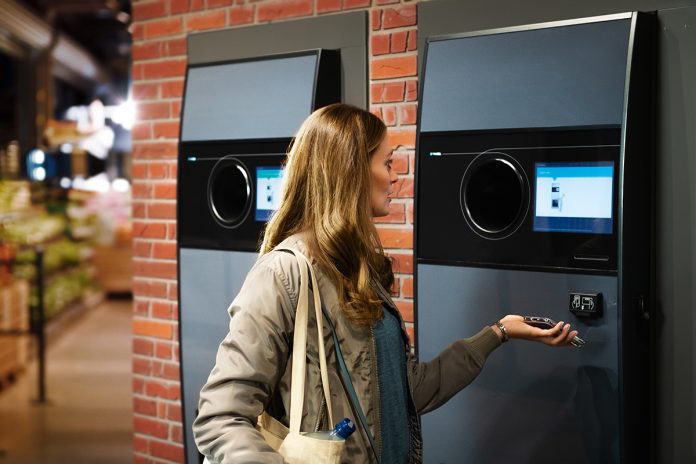 Truls Haug, Managing Director at TOMRA Collection Solutions, explains the role of reverse vending technology in deposit return schemes, ahead of the schemes set to be introduced in the UK over the coming years
With Scotland set to bring in a deposit return scheme (DRS) in 2022 and England, Wales & Northern Ireland in 2023, reverse vending machines for collecting drinks containers are set to become a regular fixture in our daily lives.
Deposit return schemes have already proven to be a success in over 45 countries worldwide, incentivising consumers to return their empty containers for recycling and achieving return rates of over 90%.
Scotland's DRS is expected to see a 20p deposit on drinks sold in aluminium and steel cans, as well as containers made of glass and polyethylene terephthalate (PET) plastic.
Deposit return schemes use reverse vending machines (RVMs), bulk return points (for larger quantities of containers) and manual returns to collect empty drinks containers for recycling. Each have different roles to play, with reverse vending machines likely to make up a large proportion of return points in the UK, since the schemes are set to be 'return to retail'. This would mean that containers can be returned to any applicable shop that sells drinks.
RVMs not only automate the process vs manual returns over the counter but can increase the efficiency, security and value of the experience for all stakeholders in a deposit return scheme.
Connecting stakeholders and avoiding fraud
RVMs operate by collecting and identifying each empty container which is returned. This level of detail enables an RVM to give a high level of transparency about the material collected, a huge benefit of a deposit return scheme. The machine can also connect a wide range of stakeholders such as retailers, the scheme operator and the government via real-time operational, financial and logistical data.
RVM technology can also be a powerful tool against fraud within a deposit return scheme. By quickly comparing each container to the registered database and running other security checks, the machine can easily reject attempts at returning bottles or cans that are not part of the scheme. This can be more difficult with returns made manually over the counter.
Making recycling work for retailers
Aside from addressing security issues, RVMs placed in a shop can offer retailers benefits such as a way of engaging with customers and making returns more efficient.
For example, instead of redeeming their deposit in cash, customers can be given the opportunity to donate their refunds to charity. By supporting causes close to the hearts of local residents, retailers can benefit from creating a strong sense of community around their store.
Retailers can also maximise the effectiveness of their RVM through its data analysis, from knowing peak periods for container returns to the materials which are returned most frequently. This information will help improve the customer experience, while enabling the retailer to make continual changes, such as emptying the bin ahead of busier times at the store.
TOMRA's Notify+Assist app offers another way for retailers to create a more seamless experience for customers, allowing instant remote notifications and automated help to store staff, so that they can get back to serving customers.
From a logistical point of view, an RVM can also cut down on the amount of storage space needed for returned containers. This is because the bottles and cans are likely to be crushed inside the machine to devalue them, although the exact details of this will be defined by the final scheme design.
Engaging consumers
More and more consumers these days are tech-savvy, meaning a seamless digital experience can be a natural way to increase engagement with sustainability.
Personalised apps, such as myTOMRA, can enable consumers to track their own recycling and understand the positive contribution they are making. Paperless transactions and other flexible payout methods can also make the whole RVM experience much more convenient and simpler to use.  We hope that apps like myTOMRA will be available as part of the UK schemes and expect confirmation of this from the DRS operator nearer the go-live date.
Reverse vending machines can, therefore, play a role in monitoring our collective progress when it comes to recycling, enabling the necessary transparency to reach long-term recycling targets and environmental ambitions.
As we progress to a more circular economy in the UK by taking steps to use resources more effectively and improve domestic waste solutions, transparency across the industry will become increasingly important. Deposit return schemes are a great example of a closed-loop material handling system, helping us to turn off the tap on plastic pollution.
Please note: This is a commercial profile
Editor's Recommended Articles