Peder Vejsig Pedersen from European Green Cities tells us about the use of ATES technology with groundwater cooling and heating at Bispebjerg Hospital, Copenhagen
Under the coordination of the non-profit European Green Cities, with the support of the Danish Energy Agency's Smart Energy pool during 2019 and 2020, a targeted development and dissemination work on "Smart Energy" solutions will be carried out in several locations in Denmark, where the focus is on the widespread use of renewable energy in combination with optimised energy supply solutions that seek to utilise heat pumps in combination with so-called groundwater heat and groundwater cooling.
I want to emphasise here that based on the expertise from the company Enopsol, and in a collaboration with the Copenhagen energy supply company HOFOR, as early as 2019, that an energy plant has been commissioned to utilise groundwater as a cooling medium in connection with the overall major redevelopment project for Bispebjerg Hospital in Copenhagen.
This so-called ATES * technology avoids the normal installation of large and noisy mechanical cooling systems on roofs, while at the same time saving 75% of the total energy consumption for cooling and heat. This is because it is possible to utilise the heat supplied through cooling by the groundwater during the summer season, using heat pumps in the winter, which then cover the peak of the heating needs during the coldest months. This also ensures that the groundwater temperature is not affected from year to year as it is possible to achieve a thermal balance for this.
The investment in the overall ATES solution has a positive user and community economy and pays home in five or six years. This can also be used advantageously for other hospital buildings and the like.
In addition to this project, there is also a collaboration with the company, Green Island, which is involved in the development of a fossil-free district at Vinge Nord in the Frederikssund municipality. You can find out more about this at http://www.greenisland.dk, as well as a dialogue on similar solutions using heat pumps and building-adapted solar cells for a new urban development area in Køge Nord, as well as renovation projects at Avedøre in the Hvidovre municipality.
Information about the above will be provided on the "Sustainable Cities and Buildings" association website and database and on the website
* Aquifer Thermal Energy Storage (ATES)
ATES groundwater cooling and heating
For the Bisperberg Hospital in Copenhagen was chosen to use Aquifer Thermal Energy Storage or ATES groundwater based cooling as a cheaper alternative than district cooling from HOFOR, the Copenhagen Energy Company.
The yearly energy saving is 75% and more than 90% of stored heat during summer can be recovered. 2 stage heat pumps from Sabroe is used (owned by Johnson Controls).
In winter, district heating is base load and heat pumps delivers the peaks. (Only from November to March).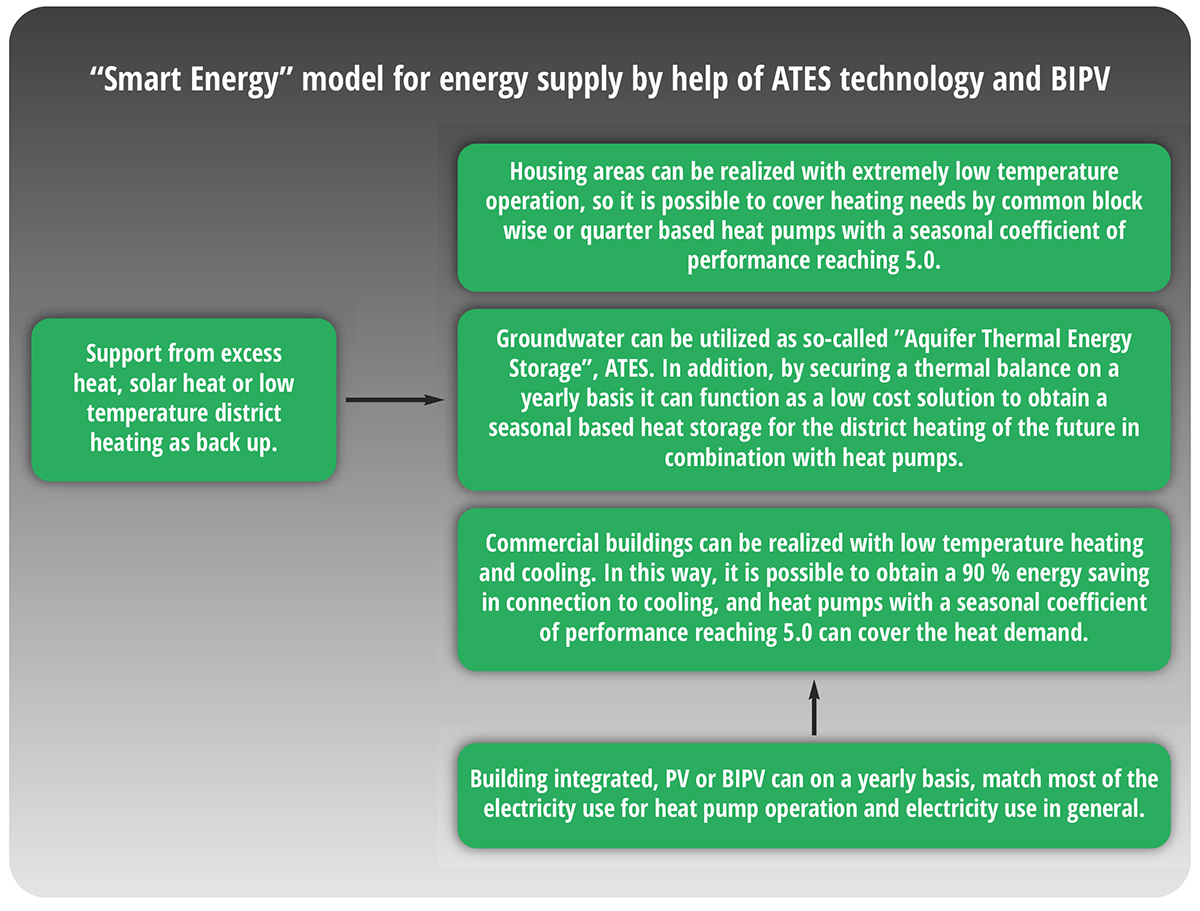 In Denmark, it has been proven that ATES systems can be used even quite near to drinking water pumping stations, but it is a demand that the groundwater temperatures are never heated more than 0,5°C in the vicinity of this.
Besides an important effect has been that there has never been any net consumption of water, and there is no noise from the system. This can be compared to normal compressor cooling systems, which have a clear noise problem from the condenser in the roofs in summer.
From the ATES system developer Enopsol's point of view, the new and innovative SOLUS heating/cooling system, from Lindab with 19° – 24°C operation temperatures, is really interesting. Since there can be a perspective of avoiding the use of a large part of the heat pump operation, with its quite high electricity use, if the groundwater temperatures can be raised somewhat in summer periods.
For a new city development area, Køge Nord south of Copenhagen it has been suggested to implement an advanced low-temperature bidirectional district heating solution, which can be ideally combined with the above-mentioned technologies, and new types of BIPV facades for a large commercial building development area.
Please note: This is a commercial profile
Editor's Recommended Articles