TRAILAR is a British multi-award winning transport innovation company that has been recognised as a key contributor to decarbonising the transport system in the UK and the NHS
Born from the idea to innovate and permanently evolve the transport industry, our solar panel solution is listed as the best practice in the Government's decarbonisation plan (Decarbonising Transport, A Better Greener Britain). Our solution sits alongside the best of the best in the UK for delivery the road to net zero.
How does TRAILAR work to reduce emissions?
TRAILAR provides a fuel-saving product that is unlike any other in the market. Dispel any ideas of solar panels being similar to the ones placed on the roofs of houses. We fit ultra-thin, lightweight, flexible solar mats to the roof of commercial vehicles, saving huge amounts of fuel and reducing CO2 emissions. The technology has a simple solution architecture allowing for a large array of vehicle types to benefit from solar. The full transport system weighs less than 30kg and includes a Smart Charge Controller designed to proactively manage the vehicle battery.
In simple terms, our mats are connected seamlessly to a Smart Charge Controller that fits the vehicle chassis, this is where our technology becomes completely unique. The alternator requires fuel to power ancillary equipment, this necessity is minimised to near zero with TRAILAR systems, as solar energy becomes responsible for powering on-board equipment in a clean, efficient way. The TRAILAR systems can be fitted to new vehicles whilst in production or retrofitted to existing vehicles, both providing a quick return on investment.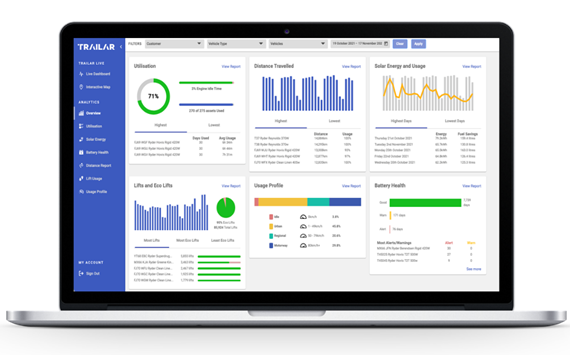 Tracking the benefits of decarbonising the transport system
Unlike any other fuel-saving technology available, TRAILAR provides real-time telematics. Making use of the system's 4G mobile connectivity, the TRAILAR insights platform provides the end user with a web-based solution to give visibility of operational insights such as GPS tracking, fleet utilisation, battery conditions, fuel and CO2 savings across the vehicles the panels are fitted to. The telematics platform comes as standard.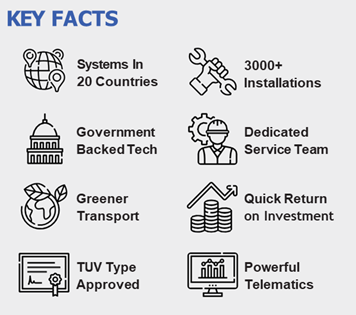 TRAILAR's vision for the climate crisis
The discussion around the Climate Emergency is always an important one for us and plays a vital role within customer agendas for moving towards lowering their carbon footprint. Our systems embody this notion and directly contribute toward a worldwide mission to reduce the impact we are having on our planet.
With our green vision, we as a company have set ourselves an ambitious target to save 100 million litres of fuel & 268,000 tonnes of CO2 by 2025.
This has been created to work alongside and in harmony with the government's key drive towards zero emissions in 2050. A major step on the path to net zero is to help decarbonise the NHS who is responsible for around 4% of the UK's carbon emissions every year.
The Northern Care Alliance, NHS Foundation Trust, which runs hospitals and services across Oldham, Bury, Rochdale and Salford, is the first NHS organisation to take steps to reduce its environmental impact by innovating its fleet with TRAILAR technology.
TRAILAR has been implemented across ten vehicles in its network serving all four hospital sites. More recently, it has been applied to two 7-tonne Iveco HGV Laundry vehicles that are utilised to fulfil laundry contracts and two Ford waste disposal vehicles used for internal local collections. Last year the Trust took delivery of an all-electric Maxus ED3 patient-transport ambulance – fitted with TRAILAR technology the fully electric vehicle is believed to be the cleanest, greenest and most energy-efficient in the NHS.
Saving the NHS by decarbonising the transport system
TRAILAR solar technology means that the vehicle no longer needs to idle its engine when making deliveries to power the tail-lift or any other ancillaries due to the new source of clean energy being utilised.
TRAILAR technology has already saved The Northern Care Alliance over 4.5 tonnes of CO2, over 1700 litres of diesel and generated over 1,200kwh of energy in just 6 months with the vehicles being utilised 80% of the time, a significant step forward in the NHS meeting their commitment to reach net zero carbon emissions by 2040.
TRAILAR is proud to be able to deliver these solutions to organisations of all sizes throughout the UK and worldwide, as tackling climate change becomes a problem every business has a responsibility to contribute towards. The transparency with which we present findings back to the customer is something we take very seriously as fleet operations become more and more data-driven.
Furthermore, the uniqueness of our product enables us to provide a whole suite of statistics back to customers, the likes of which they would otherwise require 4 or 5 separate providers. The CO2 emission reductions we can accrue for customers is key, as environmental agendas around the world become more prevalent in business development meetings, and justifiably so.
For more information visit the website www.trailar.co.uk
Please Note: This is a Commercial Profile

This work is licensed under a
Creative Commons Attribution-NonCommercial-NoDerivatives 4.0 International License
.
Editor's Recommended Articles