The NHS has pledged Net Zero carbon emissions by 2040, but annual reports suggest that the health organisation will miss this goal
To achieve a Net Zero health system by 2040, stakeholders across government, the NHS and industry must collaborate to set a new standard for procurement, improve supply chain thoroughness and foster innovation to ensure that a shift to circular economy practices are sustained.
To prompt action, a new report developed by the University of Exeter Circular Economy Hub and in partnership with health technology leader Philips UK&I makes 45 recommendations about how this can be achieved across three stakeholder parties – the NHS, suppliers, and regulators.
As of 2022, the NHS's suppliers account for 62% of all NHS emissions. This demonstrates that to reach Net Zero target goals, suppliers need to make emissions reductions faster before 2040.
Regarding former carbon reduction measures – which have only ever reached 1% per year – urgent action from both the suppliers and the NHS is necessary to avoid both a climate and health emergency.
This follows a key commitment made by the Government to achieve a net zero NHS by 2040, a UK-led COP26 Health Programme, and £280 million of funding to decarbonise the NHS estate between now and 2025.
It's time to confidently adopt proposed circular economy models
The findings highlight that currently £700 million per year is used on waste management, with providers in England creating nearly 600,000 tonnes of waste annually.
Emphasising the extreme importance for a system shift to a circular economy – this report highlights where this waste can be recycled and reinvested back into the NHS.
Featuring case studies from NHS Trusts across the country and independent interviews with the NHS Green Team led by Dr Nick Watts, Chief Sustainability Officer of NHS England, they advise that the NHS should mandate that suppliers should provide proof of circular economy-based practices by 2025.
This entails that they should be required to show how they are extending material lifetime use, refurbishing equipment to sufficient standards, and that if possible, introduce digital-first products and services which align with the NHS Evergreen framework.
Featuring independent interviews with numerous NHS Trusts alongside NHS England's Green Team, the new NHS report presents three case study examples of best practice for applying a circular economy mindset to different aspects of the NHS.
Changes needed for medical devices, services, and solutions
These changes – discussed in the report "Accelerating the transition towards a net zero NHS" – include the impact of telehealth in paediatric cardiology, the positive outcomes from introducing digital pathology services and through introducing eco-design principles in hospital equipment such as low-helium MRI scanners.
The NHS' Carbon Footprint and Carbon Footprint Plus – including the supplier footprint – are currently 6.1 MtCO2e and 24.9MtCO2e per year respectively. Significantly, suppliers to the NHS are responsible for 62% of all NHS emissions.
To achieve the target set by NHS Carbon Footprint Plus, the health service must achieve 8% CAGR (CAGR = Compounded Annual Growth Rate) reductions in carbon emissions from 2020 to 2036, a rate far higher than the 1% historical average.
Mounting waste is also a major issue with providers in England creating nearly 600,000 tonnes of waste annually at a management cost of £700 million per year. Hospital staff, healthcare workers, waste handlers, patients and the community at large are more exposed to infection, toxic effects and injuries as a result.
Highlighting different types of medical equipment used extensively in the NHS for diagnosis and treatment, the researchers illustrate how service delivery can be optimised whilst reducing carbon use and product and material requirements.
These 45 recommendations have been summarised to nine key recommendations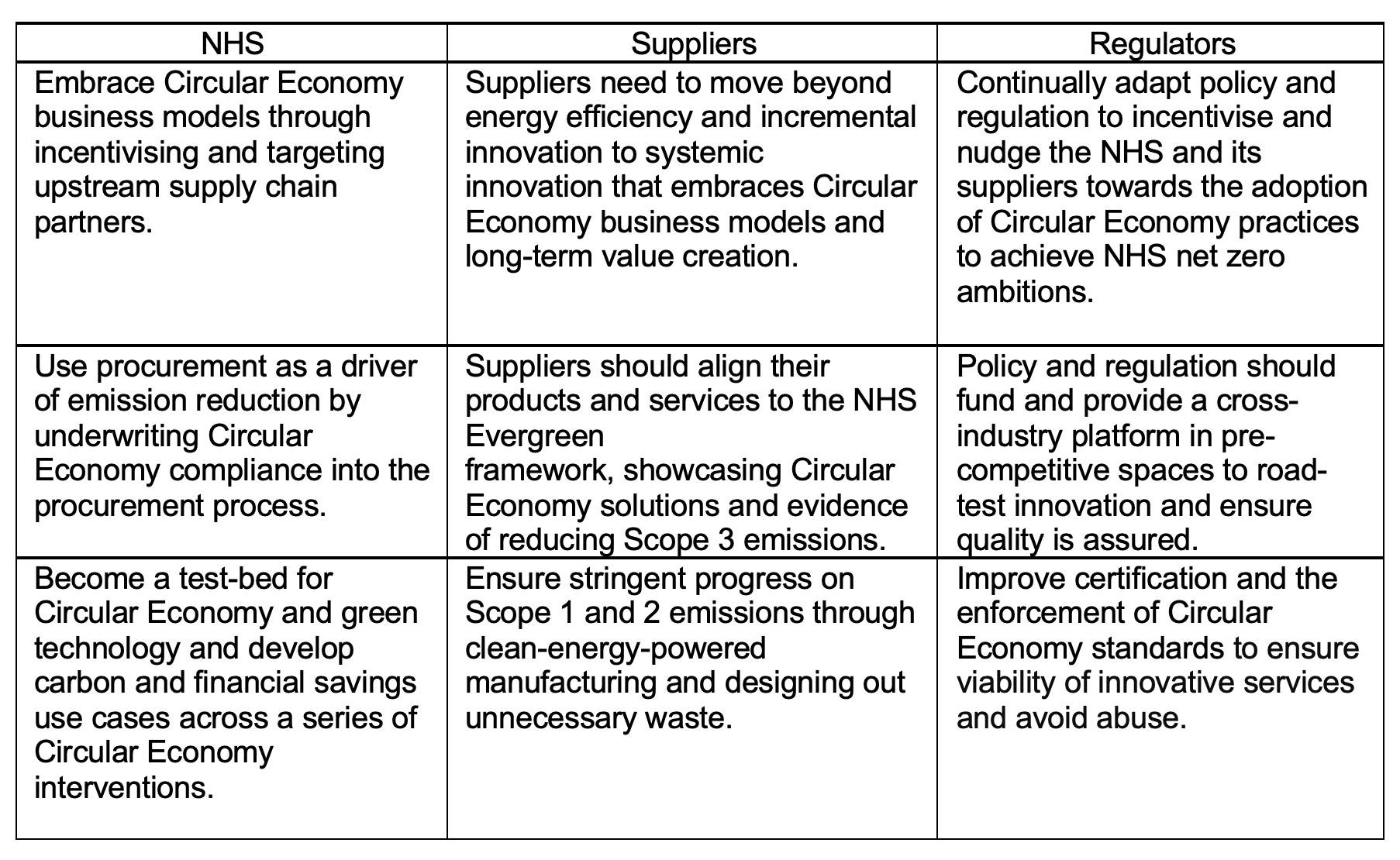 The research's co-author, Professor Markus Zils, Professor for Circular Economy and Management Science at the University of Exeter, said: "NHS leaders have outlined their commitments to making health services more sustainable, but the pace of change has to swiftly accelerate.
"Our research has outlined that meeting the NHS's ambitious net zero targets is only possible with the adoption of circular economy practices.
"It is critical that companies and key supply chain partners work with the NHS and wider health system to begin this journey. Such a transformation would dramatically enhance the patient experience, improve financial efficiency and reduce the system's environmental impact."
Finally, the report is timely – after the latest Spring Statement, with Chancellor Rishi Sunak committing to cutting 'wasteful' government spending. The NHS efficiency commitment is set to double to 2.2% a year – freeing up £4.75 billion to fund NHS priority areas over the next three years.
This creates further focus on how circular economy models – including refurbishment, remanufacture and increasing service-based models – can benefit the NHS' technology infrastructure for the future.
References
Editor's Recommended Articles