Here, OPEX Corporation explains why the UK Government promotes digitisation with national data strategy response
The recent publication of the Government response to the consultation on the National Data Strategy by the Secretary of State for Digital, Culture, Media and Sport, The Rt Hon Oliver Dowden, has sparked a nationwide conversation on the importance of the UK's data and digitisation advances.
The National Data Strategy (NDS) was launched by the UK Government to stimulate wider adoption of data-based services, in the wake of the Coronavirus pandemic, and also to highlight the importance of digital transformation across the UK in general. It is an ambitious strategy that will adopt a series of priority missions to drive the digital economy and make the UK a world-leading digital nation.
The five priority missions include:
Unlocking the value of data held across the economy,
Securing a pro-growth and trusted data regime,
Transforming government's use of data to drive efficiency and improve public services,
Ensuring the security and resilience of the infrastructure on which data use relies, and
Championing the international flow of data.
The goal is to harness the power of data to drive growth and innovation, and fuel new jobs and businesses.
In addition, the Government will be supporting the uptake of technologies that reduce carbon emissions by giving British businesses digital tools that reduce their own emissions as digital innovation drives forward to reach net-zero.
The Government will also be implementing an Innovation Fellowship Programme to support this digital transformation. Inspired by the U.S. Presidential Innovation Fellows Program, ten fellows from digital and tech giants will join the Government each year to help accelerate the adoption of cutting-edge advances.
The last five years have seen huge technological changes and advancements. Digitisation has already proved its worth, especially throughout the pandemic, and with the UK already a leading digital nation, the Government is keen for the UK to be a nation of digital entrepreneurs, innovators and investors and the best place to grow a digital business.
Digitisation: Never been more important to the UK economy & society
Digitisation and better use of data within organisations of any kind, public or private sector, can only benefit and help companies and individuals achieve their successes. Organisations are embracing digital transformation, which is introducing smarter ways of working, customer engagement/experience and managing internal operations. Digitisation has been a saviour for many businesses, especially over the past fourteen months, enabling organisations and public services to quickly transition to remote working and share vital information quickly to essentially keep businesses in operation.
In particular, mailroom digitisation has been a vital lifeline for most businesses, ensuring mail is received, read and processed in a timely and efficient manner.
This is where OPEX can help. As market leaders in automation and document digitisation, OPEX can help make the transition to a paperless office and a more streamlined digital working environment seem effortless.
Digitisation will not only help create a more efficient mailroom but will also reduce time and increase efficiency. OPEX uses state-of-the-art equipment from the innovative Falcon® Scanner Series, capturing and transforming a vast array of unstructured paper workflows into structured digital output for onward ingestion into back-end systems. For mail applications, the Falcon® RED integrates onto the Model 72™ extraction desk, which allows one operator to extract contents directly from an envelope and drop those contents and envelope onto the scanner feed conveyor for scanning with one-touch.
Confidentiality and heightened data security and compliance is also of paramount importance and the One-Touch Scanning, ensures efficient, safe, and secure document transformation, guarding against costly data breaches and more importantly, a fully transparent audit trail facilitates traceability.
Helping the healthcare sector
In addition to the Government's NDS strategy, Government Ministers for Health continue to drive their own digital agenda. As leading digitisation experts, OPEX has already helped the public healthcare sector, including over 30 NHS Trusts and hospitals across the UK have already completely transitioned to using electronic medical records (EMR).
As the Government works on its ambitious digitisation plans, all businesses should take stock and seriously address their own digitisation needs as we enter this phase of important recovery.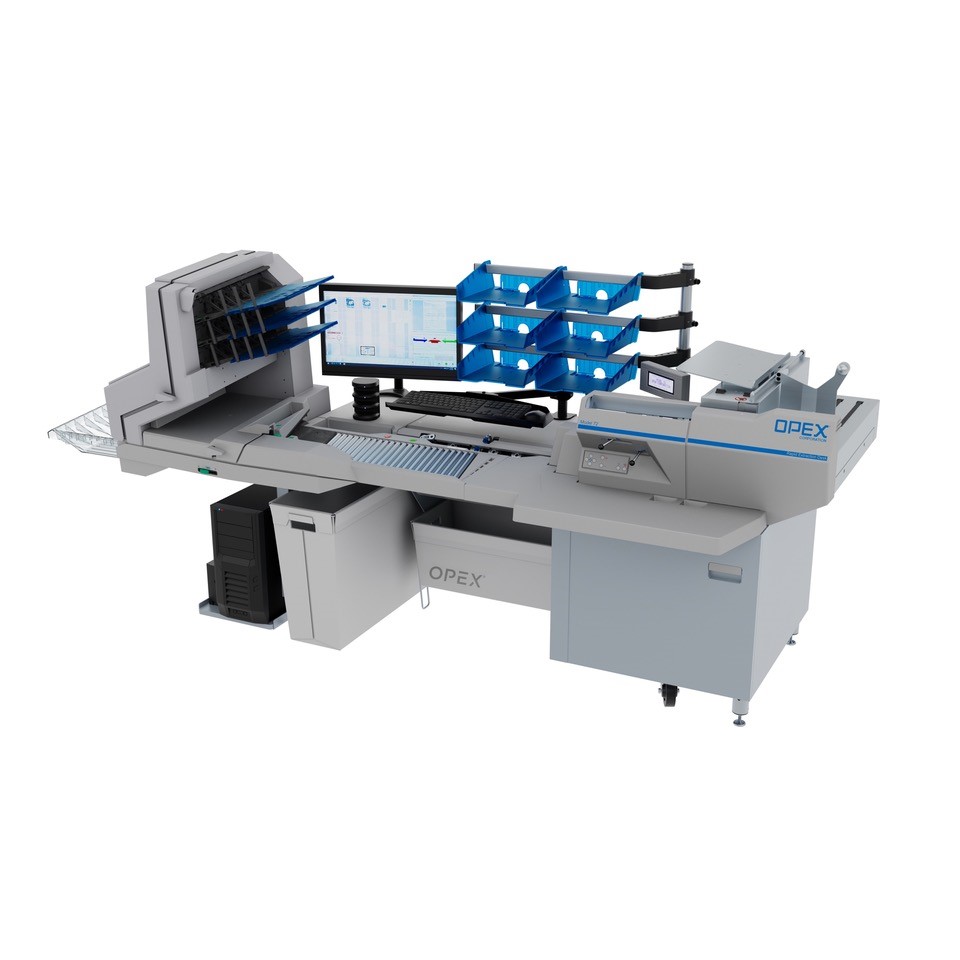 Key highlights of The Falcon® scanner series
Efficiency and Flexibility – The Falcon series can easily process anything from thick paper to thin, fragile or damaged pieces, without pre-sorting. It can process envelopes and file folders, receipts and other small pages without taping or copying. It can even handle X-rays and three-dimensional objects with ease.
One-Touch Scanning – Falcon document scanners eliminate virtually all prep, and manual tasks to ensure a safe, fast, and accurate document transformation process.
CertainScan® 5.5 – builds custom scanning jobs, identifies page types within a job, and automates many traditional document prep activities all while integrating with your software.
Enhanced Sorting Capabilities – Available in configurations of three or five programmable sort-bins, the Falcon series provides versatile and unique sorting abilities. All Falcon series scanners are equipped with an additional pass-through bin, ideal for thick and delicate items.
Superior Security and Document Integrity – In today's world of heightened data security and compliance, One-Touch Scanning ensures efficient, safe and secure document transformation that makes sense, guarding against costly data breaches.
To learn more about OPEX document and mail automation solutions, visit https://digitiseyourdocuments.co.uk.
For an informal chat to discuss how OPEX can help with your digitisation, please visit our website for your preferred contact option.
OPEX Corporation
www.digitiseyourdocuments.co.uk
https://twitter.com/OPEXcorporation
Please note: This is a commercial profile
Editor's Recommended Articles