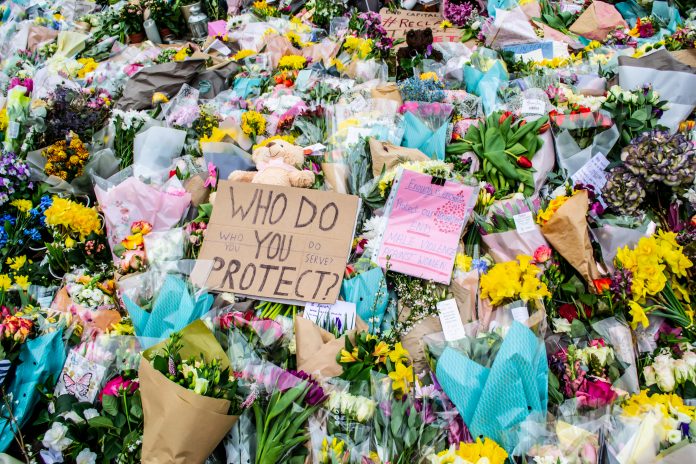 The Guardian reveals new data analysis of Home Office figures on crime, finding that only 1.6% of UK rape cases led to charges in 2020 – which is 843 out of 52,210
On 10 March, a police officer was arrested in relation the disappearance and murder of Sarah Everard. She was walking home in the Clapham Common area of London. When she didn't arrive home, her image was spread on social media by concerned friends and family.
This moment of her loss resonated across the UK.
Many people walked in protests to highlight the atmosphere of fear that women still live in, whether walking through a residential suburb at 9pm or going for a walk at 1pm. Sarah Everard was on the phone to her boyfriend and walking on a well-lit path, as the police officer approached her.
97% of women have experienced sexual harassment
A UN Women investigation found that 97% of women aged 18-24 have experienced sexual harassment. This figure resonated across the UK too, with some expressing doubt for the validity of this reality and others countering that they live it, daily.
A criminal barrister framed the issue as one of men stopping their violent behaviour toward women, not simply women learning new defences and counter-measures against a spectrum of potential threats to their lives.
Tim Kiely, Criminal Barrister at Red Lion Chambers, commented: "Seemingly well-intentioned advice that tells women to stay indoors after dark, even if delivered out of an apparently sincere wish to keep women safe, springs from the same infantilising, patriarchal source. In ways both subtle and overt it shifts the blame for misogynistic violence, overwhelmingly committed by men, onto women, and leaves the foundations of male impunity undisturbed."
At the University of Washington, a team of researchers found that more "conventionally attractive" women were believed when they shared their experience of assault with law enforcement officials.
Bryn Bandt-Law, a graduate student in psychology and lead author, said: "It will drastically change their legal outcomes. If they're not being believed, they're effectively being silenced."
One in sixty rape cases lead to charges
Now, new data analysed exclusively by The Guardian reveals a new perspective. They looked at the amount of rape cases reported versus the amount prosecuted.
It seems that fewer that one in 60 cases recorded in 2020 led to a suspect being charged. To contextualise this likelihood, they further found that only 843 individuals were given a charge or summons – out of an immense 52,210 rapes documented by police in England and Wales.
This means that 2020 saw a rate of 1.6% of recorded rapes leading to any kind of charge or summons. The action of charges or summons do not directly mean that the individual ended up imprisoned.
As COVID-19 has limited many services, it is thought to have impacted levels of interpersonal violence – with increased amounts of domestic and child abuse. The Guardian further reports that twice as many victims dropped out of lengthy, sexual assault investigations in 2020 as they did in 2015.
A government spokesperson commented to the paper: "Victims of rape deserve to know that their cases will be taken seriously and everything will be done to bring offenders to justice. That is why we are reviewing the response to this horrific crime, in consultation with survivors' groups and experts across the sector, and will set out next steps in due course."
'Failing to protect women and girls', says Shadow Justice Secretary
On 16 May, the Labour Party released a Green Paper with proposed reforms on women's rights in the UK. This included more substantial support for victims at court, and toughening rape sentences. The paper also reflects on abuse on social media, suggesting sanctions for tech giants who do not move fast enough to tackle death threats geared at women. Currently, the proposals remain theoretical as the Conservative party retain an 80-seat majority in parliament.
MP David Lammy, Labour's Shadow Justice Secretary, commented: "The Conservatives are failing to protect women and girls from violent criminals, which should be one of the first duties of any government.
"With record low conviction rates for perpetrators of sexual violence and an epidemic of misogyny that makes women and girls feel unsafe, this Government is treating victims of violence as an afterthought."
Editor's Recommended Articles