Unemployment in Europe following COVID-19 dropped to a record low of 6%, despite one-third of workers reporting having 'strained' jobs in 2022
The resurgence of Europe's labour markets happened in 2022. Despite all the major trends, including Russia's war against Ukraine, the cost-of-living crisis and the energy crisis, unemployment in Europe has eventually declined.
The EU unemployment rate was 6.0% in February 2023, down from 6.1% in January 2023 and from 6.2% in February 2022. Compared with January 2023, unemployment decreased by 24,000 in the EU and by 59,000 in the Euro area.
Analysis of unemployment in Europe, conducted by Eurofound's Living and Working in Europe Yearbook 2022, shows that employment began to recover in the EU quite rapidly following COVID-19, reaching an all-time high of 74.8% in the second quarter.
Unemployment decreased by 24,000 in the EU
Which countries saw the most improvement in employment?
Member States of the EU sought to further increase the minimum wage, which helped the unemployment crisis. This notably occurred in central and eastern Member States to keep pace with inflation
However, despite these increases, only workers in Hungary, Croatia, Romania, Portugal, Lithuania and Estonia saw improvements in real terms.
The lowest rates of unemployment in Europe were observed in Germany at 5.6% and Austria at 7.6%, while the highest were recorded in Spain (29.5%), Greece (24.2%) and Italy (22.3%).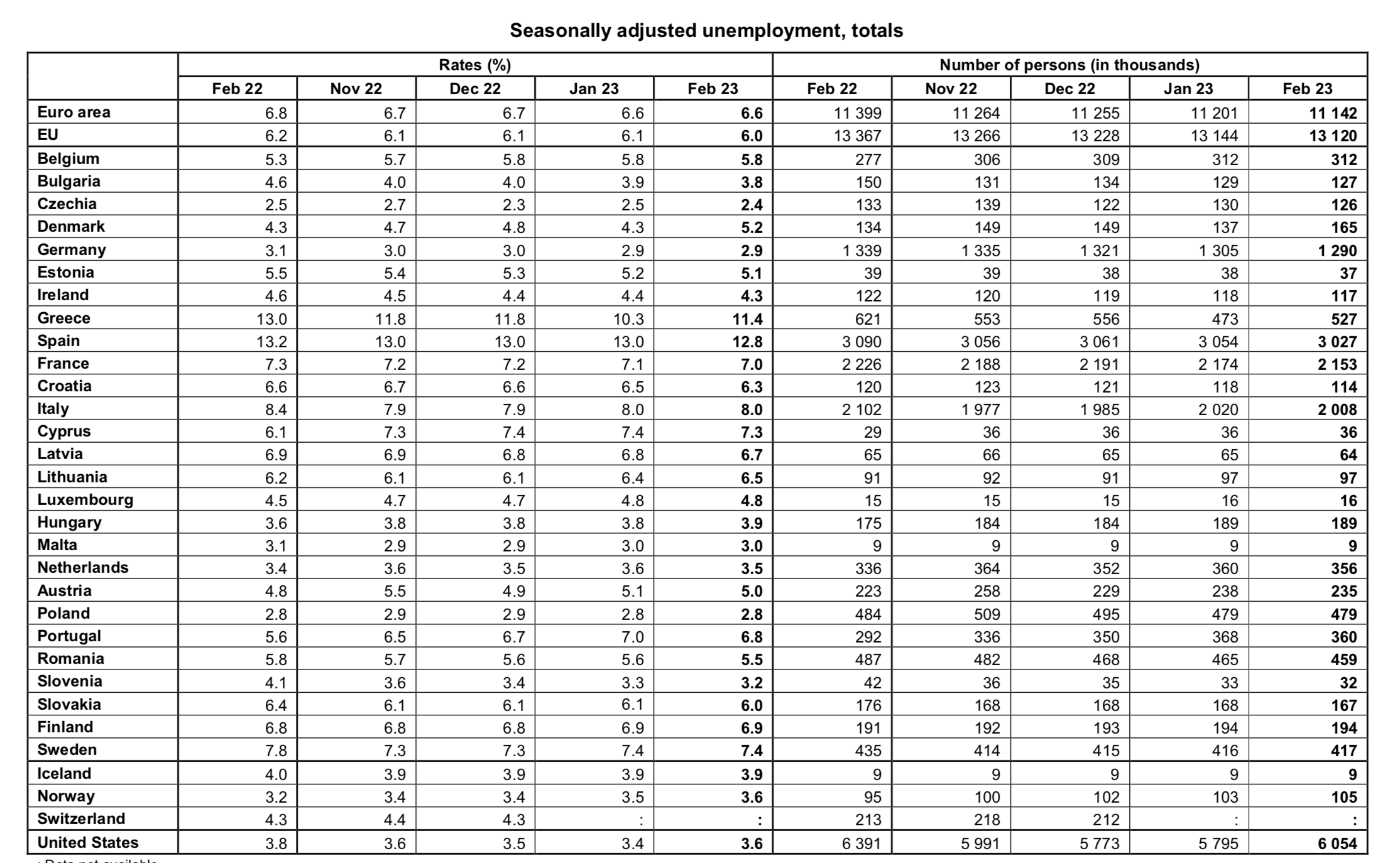 Did people cope better – even during a cost-of-living crisis?
The intense cost-of-living crisis has been slightly alleviated by a strong labour market and increasing employment. This occurred partially due to the upgraded composition of employment, with growth in higher-paid jobs, which was particularly an advantage for women across Europe.
Looking at social dialogue, working conditions, living conditions and quality of life in this important year for Europe, the research shows that while employment decreased, a 'great resignation' was concurrently happening.
During this 'great resignation', research shows that European workers were increasingly changing career paths and searching for better quality jobs that better suited their work-life goals.
"2022 was a period of remarkable constancy in a time of crisis"
Speaking on the publishing of the report, Eurofound Executive Director Ivailo Kalfin said: "2022 was a period of remarkable constancy in a time of crisis.
"Labour markets remained robust during the horror and upheaval of Russia's brutal war of aggression against Ukraine, and workers had the confidence to seek better employment and look to improve their situation."
"Workers had the confidence to seek better employment"
Eurofound research shows that nearly one-third of workers had 'strained' jobs in 2022 – demonstrating many European's aversion to the negative aspects of their working conditions, which likely outweighed the positive aspects.
These adverse working conditions included physical and psychosocial hazards, job insecurity, unsocial hours, and work intensity. Research implies that there were insufficient job resources to manage this.
Editor's Recommended Articles