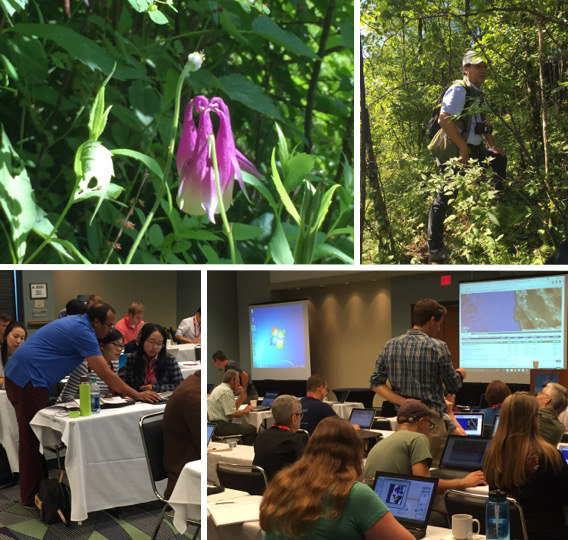 Director of University of Florida Biodiversity Institute, Pamela S. Soltis gives a compelling insight into the world of biodiversity and the importance of training the workforce behind it
Biodiversity – the extraordinary variety of life on Earth – is fundamental to a healthy, sustainable planet, yet the connections between biodiversity, ecosystem function and services that contribute to human well-being, such as the flow of fresh water and pollination of crops, are less well understood.
Global responses to societal problems arising from the biodiversity crisis (that is, the loss and alteration of biodiversity) suffer from a myriad of problems, ranging from limited access to requisite data to inadequate policies for sustainable use of natural resources. The ongoing assembly of global biodiversity data into computer-accessible formats in publically available repositories (such as GenBank, GBIF (the Global Biodiversity Information Facility), iDigBio (Integrated Digitized Biodiversity Collections), the Atlas of Living Australia, the U.S. National Ecological Observatory Network (NEON) and many others) provides burgeoning resources to address significant biodiversity-related issues in novel ways.
Moreover, sophisticated software and cyberinfrastructure – such as computational and storage clouds, machine learning techniques, workflow platforms for data analysis – are expanding the storage and analytical requirements of a new biodiversity science that is inextricably linked to informatics and data science.
However, the global workforce is generally unprepared to take advantage of these recent developments in data assembly, software design and cyberinfrastructure implementation. Innovative training that combines biological knowledge with data science and informatics is needed to produce a workforce capable of shaping the biodiversity science of the future, as well as meeting the societal needs of a changing planet.
The promise of integrative, data-rich, computational approaches for understanding and conserving biodiversity has never been greater or more attainable. However, most professionals and students alike lack the expertise needed to access and synthesise the wide gamut of resources needed for integrative analyses.
The need for graduate training geared toward rapid changes in biodiversity science and aligned with new developments and changing workforce needs were identified by the American Institute of Biological Sciences in 2015, in a report entitled, "Addressing Biological Informatics Workforce Needs".
That report noted that students are often interested in training at the nexus of biology and data infrastructure, but few programmes are available, and this training gap is a key factor limiting the integration of relevant data and the development of sustainable knowledge. Programmes to fill this gap and provide synthetic training while stimulating innovative, cutting-edge research is needed.
Addressing the societal problems posed by the biodiversity crisis requires an integrated research and training agenda. Central to this agenda is the development of synthetic conceptual and technical frameworks for understanding the factors that dictate the distributions of species and allow for predictive modelling in the face of climate change. Coupled with this enhanced approach to understanding biological diversity is the design and deployment of robust data science and informatics toolkits for management, analysis, integration and storage of biodiversity data and knowledge.
This marriage of biodiversity and data science will provide critical skill sets for an empowered, 21st-century science and engineering workforce to tackle our hardest challenges for global use of natural resources, with applications to human health and agriculture. Leveraging resources and connecting biodiversity scientists and engineers via an integrated training programme can hasten the development of a workforce to enable the next generation of integrative biodiversity science.
Finally, a successful training programme requires that the products of innovative science should be made available and actionable by the broadest community of users, thus emphasising the significant role of communication to scientists, managers, policy makers and the public. In contrast to the classic view of a biodiversity scientist in muddy boots in a jungle, the next generation of biodiversity data scientists will be equally comfortable exploring the jungle, discussing biodiversity theory, developing statistical and machine learning techniques and optimising code for high-performance computing platforms.
The University of Florida (UF) Biodiversity Institute, in partnership with the UF Informatics Institute, has initiated an integrative graduate training programme in biodiversity and data sciences to meet the needs described above. Coursework and research, coupled with real-world experiences such as collaborative practicums and internships, form the core of this programme, which also provides training in communicating with multiple stakeholders.
Partnerships with other institutions and with undergraduate programmes engage diverse participants and extend this new vision of biodiversity science to other disciplines. Fellowships funded by the UF Biodiversity Institute enable students to focus on synthetic research at the intersection of biodiversity and data sciences. Although rare, other programmes uniting biodiversity and data sciences are also springing up elsewhere.
Moreover, many of the skills needed for integrative research can be obtained via short courses, 'boot camps', workshops and webinars, such as those offered by Data Carpentry (www.datacarpentry.org), Software Carpentry (www.software-carpentry.org) and iDigBio (www.idigbio.org). Global collaboration to develop and implement next-generation training in biodiversity science is both encouraged and necessary if we are to meet the societal challenges ranging from food security to invasive species to response of species to climate change.
The UF Biodiversity Institute was introduced in the August 2017, issue of Adjacent Government. Launched in 2016 to bring together scientists, social scientists and policy experts to address critical societal issues of the 21st century related to biodiversity, the interdisciplinary UF Biodiversity Institute is accelerating synthetic research on biological diversity to serve stakeholders in Florida (a biodiversity hotspot) and globally through efforts to understand and manage biodiversity, develop relevant conservation, educational and outreach programmes and shape policy to protect and enhance environmental capital. Newly synthesised knowledge from the Institute is available to individuals and organisations seeking validated biodiversity information.
Previous articles in this series have (1) introduced the UF Biodiversity Institute and (2) described how iDigBio, the U.S. national centre for digitisation of natural history collections, promotes digitisation of collections, serves digitised data (including images and other media) for biodiversity research and education, enables the use of digitised data in biodiversity science and engages with biodiversity resources worldwide. Upcoming articles will focus on the role of the UF Biodiversity Institute in applying data science and informatics to biodiversity-centred problems and case studies of how biodiversity scientists are addressing societal problems.
Supported by the UF Biodiversity Institute.
Please Note: This is a commercial profile
Pamela S. Soltis
Director
University of Florida Biodiversity Institute
University of Florida
Gainesville, Florida 32611, USA
Tel: +1 352 273 1964
https://biodiversity.institute.ufl.edu/
Editor's Recommended Articles