There are numerous benefits of working from home for disabled workers, who have been the worst affected by the COVID-19 pandemic in their careers
A study, published by the Work Foundation think-tank at Lancaster University, explores disabled workers' experiences of remote and hybrid working, before and during the pandemic.
Surveying 406 disabled workers across the UK, over 80% agree remote working would either be essential or very important when looking for a new job, and 66% ideally want to work remotely 80 – 100% of the time.
While 70% note that not being allowed to work remotely would negatively impact their health, most of these workers additionally fear remote working will damage their career progression.
Most disabled workers fear working from home will damage their career progression
With only 52.7% of disabled people employed in the UK compared to 81% of non-disabled people, and the disability pay gap increasing from 11.7% in 2014 to 13.8% in 2021 – the study emphasises the significant barriers and disadvantages disabled people continue to face in the labour market.
While many are being allowed to continue working from home, some feel it has been arranged half-heartedly, as 70% of disabled workers with two or more impairments also fear that working from home will mean they are overlooked for training or 'stretch' opportunities ­– suggesting that pre-pandemic perceptions amongst managers and employers could remain, and they would be at a disadvantage in their careers.
the disability pay gap increased from 11.7% in 2014 to 13.8% in 2021
However, the majority of respondents felt the support at work had not gotten worse during the pandemic, with respondents in some sectors noticing a marked improvement while working from home.
One in five of the UK working-age population identify as disabled
But out of all survey respondents who requested additional support or new adjustments while working remotely, almost 1 in 5 (19%) had their request refused – which meant many interviewees had to use their own money to purchase the equipment they needed themselves.
One of the main benefits for disabled workers working from home was the concept of gaining more autonomy and control over working environments – for example, autistic workers stressed the benefits of being able to control lighting and noise levels at home, which is more challenging to do in an open-plan office.
Those with multiple conditions or those who were affected 'a lot' by their impairments, were more than 3 times likely to say that not being able to work remotely would impact their ability to do all of their job.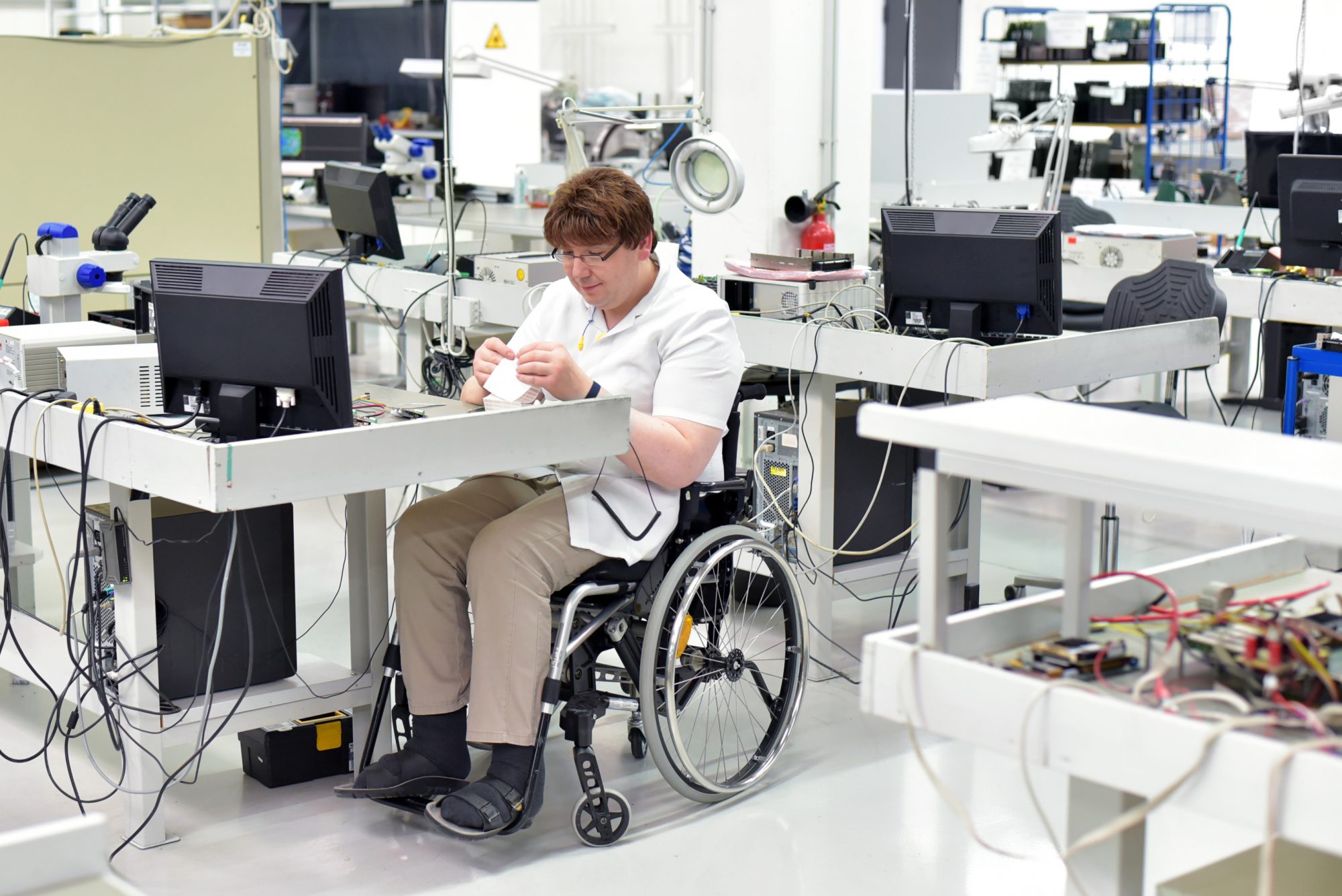 Disabled people have been worst affected by the economic fallout of the pandemic
Ben Harrison, Director of the Work Foundation explains: "Disabled people have been worst affected by the economic fallout of the pandemic, experiencing higher rates of unemployment and redundancies than non-disabled people.
"Many employers refused to offer remote or hybrid working options before Covid-19 hit – even as reasonable adjustments – which probably goes some way to explain the shocking disability employment gap we face in the UK.
"Despite seeing an overall rise in remote and flexible working since, it's particularly concerning to see that 'pre-pandemic' perceptions are still affecting the experience of work for disabled people, with many fearing their career progression and access to training and development will be limited if they continue working from home.
"But if flexibility and autonomy isn't adopted into workplace culture, there is a real danger we could reverse any progress that has been made."
"The actions and language of politicians, policymakers and employers matter here. Implicitly or explicitly asserting flexible working leads to lower productivity or somehow undermines organisations isn't only inaccurate but could have very damaging consequences for those managing health issues and disabilities.
"As vacancies rise to record levels and employers struggle to recruit into roles, a vast pool of talent is being overlooked amongst disabled people currently out of work. Given the right conditions and flexibility to thrive, disabled people could help alleviate the shortages we see across the country.
"But if flexibility and autonomy isn't adopted into workplace culture, there is a real danger we could reverse any progress that has been made."
Editor's Recommended Articles