Abigail Kellett, Product Manager at Marshalls PLC explores the importance of crash barriers that can withstand vehicular attacks
Asking whether architects value aesthetics is rather like asking if a mathematician appreciates numbers.
But if aesthetics in the built environment can be elevated only at the expense of security or safety standards, then architects must grudgingly concede to the demands of functionality.
The involvement of vehicles in recent atrocities in Europe in the last 12 months – such as in Nice during July, Berlin in December, London in March, and Stockholm in April – have tragically highlighted why the deployment of robust physical barriers is a growing priority in public spaces. Together, killing over 100 people and injuring more than 550, they were brutal reminders that vehicles can be every bit as destructive as bullets and bombs.
Crowded places such as shopping centres, plazas and sports stadia increasingly need barriers that can withstand vehicular attacks, and then there's also the ever-present threat of cars veering off the road because the driver is reckless, drunk or asleep. Protective design can deter, delay and prevent vehicle collision around accident blackspots.
But urban planners are mindful of the adverse psychological impact on citizens of imposing barriers. Another consideration is permeability: pedestrians must not be impeded along with rogue drivers. Therefore, unsurprisingly, design-led forms of security barriers such as crash-tested seating, planters and cycle racks are gaining ground with architects and specifiers.
But how easily can urban planners find crash-tested street furniture that is not only visually appealing on its own merits, but also in keeping with the location's wider architectural style?
Marshalls, the UK's leading hard landscaping manufacturer and street furniture specialist, believes that, while security must always be paramount, traditional forms of protective street furniture can often be too imposing and have a detrimental effect on a landscape's visual appeal.
Marshalls recruited IFSEC Global to test this assumption. IFSEC Global polled hundreds of architects, consultants, security professionals, facilities managers and specifiers.
With around four in five (79%) respondents involved in a growing number of projects specifying aesthetically-pleasing, crash-tested perimeter protection over the last three years, there has apparently been a sea change in priorities when it comes to urban planning briefs.
There's a clear and growing appetite for aesthetically-pleasing, crash-tested perimeter protection – but have manufacturers kept up with a trend observed even within a short, three-year timespan? Apparently not, the findings indicate.
The demand for a wider range of aesthetically-pleasing, crash-tested perimeter protection than is currently available is enormous – equally so regardless of who we asked in the design and procurement chain, or where they were based in the world. Asked if they thought there was demand in the market for more of these products, a resounding 94% agreed.
Security professionals were equally as emphatic in their desire for more visually-appealing security products, with 95% wanting more choice in the market.
Steve Reddington, street furniture commercial director at Marshalls, says the findings back up the company's own, anecdotal experience. "The research confirms the conversations we are having with our customers in the security industry," he says. "We work closely with many landscape architects, and from the conversations, we are having, it is clear the market is changing" he adds.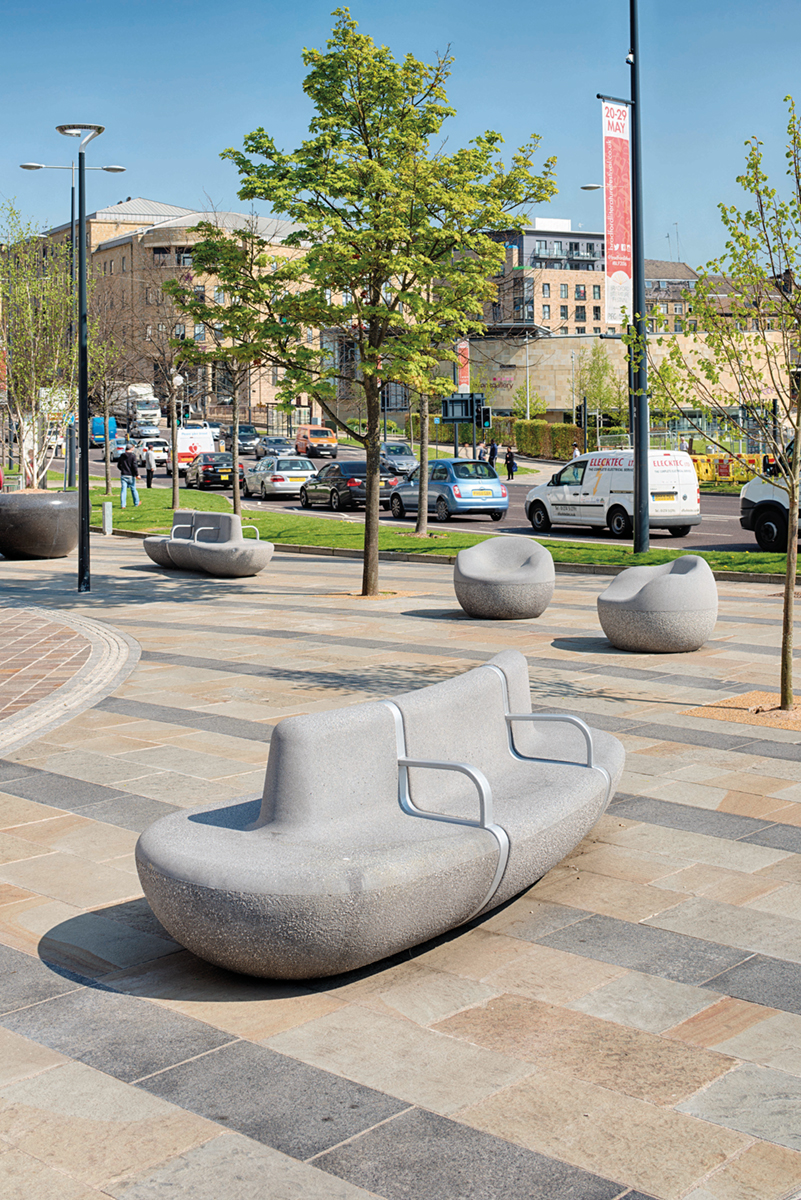 Creating harmony
Mindful of this reservoir of untapped demand, Marshalls has pioneered a paradigm shift in how street furniture and crash-tested perimeter protection can coexist more harmoniously.
By combining the two, Marshalls hopes that architects never have to compromise on aesthetic when designing public spaces. Where once they might have to specify a seat and a bollard – or reluctantly jettison the seat – now they can just specify a protective seat such as Marshalls' Igneo75/40.
But not everyone has embraced the concept of protective street furniture. Many involved in the built environment fear that it fosters homogeneity and blandness in urban landscapes.
The challenge for manufacturers of street furniture is to prove such fears unfounded through an innovative, design-led approach. They must equip architects and specifiers with the means to complement, rather than jar with an urban landscape's prevailing style.
The aesthetic value of a product even trumps price when respondents were asked to rank their priorities when procuring crash-tested perimeter protection. Nevertheless, it is reasonable to surmise that only a lucky few in the architect profession can honestly claim that money is truly no object in their latest project.
Thankfully, street furniture can play a key role in preserving the architect's grand vision, even as 21st-century spaces are fortified against vehicular or explosive attack. But is there enough crash-tested street furniture on the market to meet the eclectic demands of urban planners?
It is surely no surprise, then, that architects and specifiers should be overwhelmingly interested in at least 2-3 crash-tested versions of lighting, seating, bollards, planters, litter bins and post and rail products. Only 6% professed to not be interested in any.
Ranked third out of six options given, the demand for the tried-and-trusted bollard remains strong even as imaginative alternatives emerge. Nevertheless, comparable levels of demand for crash-tested lighting, seating, planters and litter bins suggests that bollards are no longer the default choice of protective barrier. Products such as Marshalls' Giove Planter, Geo Cycle Stand and Geo Litter Bins have increased in popularity over recent times.
But the dramatic elevation in the terror threat over recent years has thrown down a new challenge to architects, making public spaces as secure as possible without undermining the aforementioned gains.
The findings from our survey, along with the trends explored above, suggest that the future of protective street furniture will be defined by its discrete incorporation within design-led products like seating, lighting and planters.
You can read the full report here.
Please note: this is a commercial profile
Abigail Kellett
Product Manager
Marshalls PLC
Tel: 01422 312000
www.marshalls.co.uk/landscapefurniture
Editor's Recommended Articles