Here, UKCloud explains how businesses can take advantage of Data Centre Modernisation, whilst still focusing on their core business and avoiding key pitfalls of digital transformation
So, you've decided you'd like to reap the benefits of Data Centre Modernisation; reducing costs, increasing your operational agility and spending more time focusing on your core business. But you may be left wondering what you need to do, what approaches you can take and some of the key pitfalls to avoid.
You have realised that your organisation needs to adopt multiple cloud services – but that's a long way from where you are today. You are facing a myriad of existing systems, technologies and contracts that you need to disentangle. But you don't have the capacity or expertise to properly focus on turning your vision into an executable plan.
Without a coherent plan, your use of cloud is tactical and piecemeal. It's difficult to keep control of these new cloud services whilst also keeping your existing IT afloat. In effect, things are getting worse – and you need them to get better.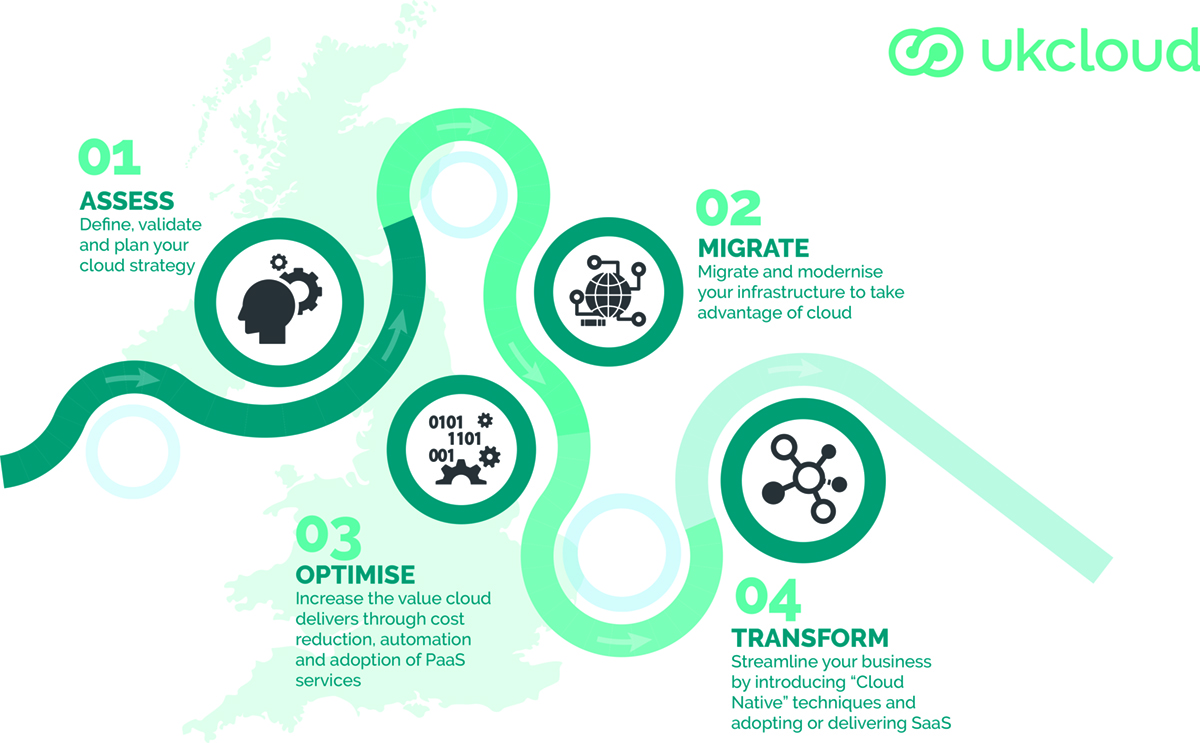 4 Key Steps to Cloud: High-level
Recognising these challenges, we have identified four keys steps that can simplify, de-risk and accelerate your journey to cloud as outlined below in Figure 1:
4 Key Steps to Cloud: Detailed
UKCloud provides a range of services at each step, that supports organisations as they progress their journey to the cloud. Figure 2. shows some examples of the type of work we recommend and progress with our customers.
How can we help?
Our team of multi-cloud experts are at hand to help you with a clear path to cloud, no matter where you are on that journey. UKCloud provide expert, agnostic, multi-cloud advisory through a structured, modular approach. Each stage is supported by a defined, outcome focused workflow that delivers tailored, high value output enabling organisations to adopt cloud with confidence.
Our services are designed to support the specific procurement, assurance, security and connectivity needs of public sector organisations. Our portfolio of products and services are available via G-Cloud and other popular public sector frameworks and support cloud-based transformation programmes end-to-end or via discrete phases dependent on your requirements.
Why UKCloud for Professional Services?
Our methodology is informed by the 220+ digital transformation projects we have successfully completed within public Sector.
Our agnostic, multi-cloud approach and experience ensures appropriate and efficient solutions for business needs: the right workloads, on the right clouds.
Our team of experts provide pragmatic leadership and support that caters for the end-to-end cloud journey, spanning vision, strategy, migration and optimisation.
Our approach supports transformation programmes of varying scale & complexity using flexible tools, templates, reference architectures and methods tailored to individual organisation needs.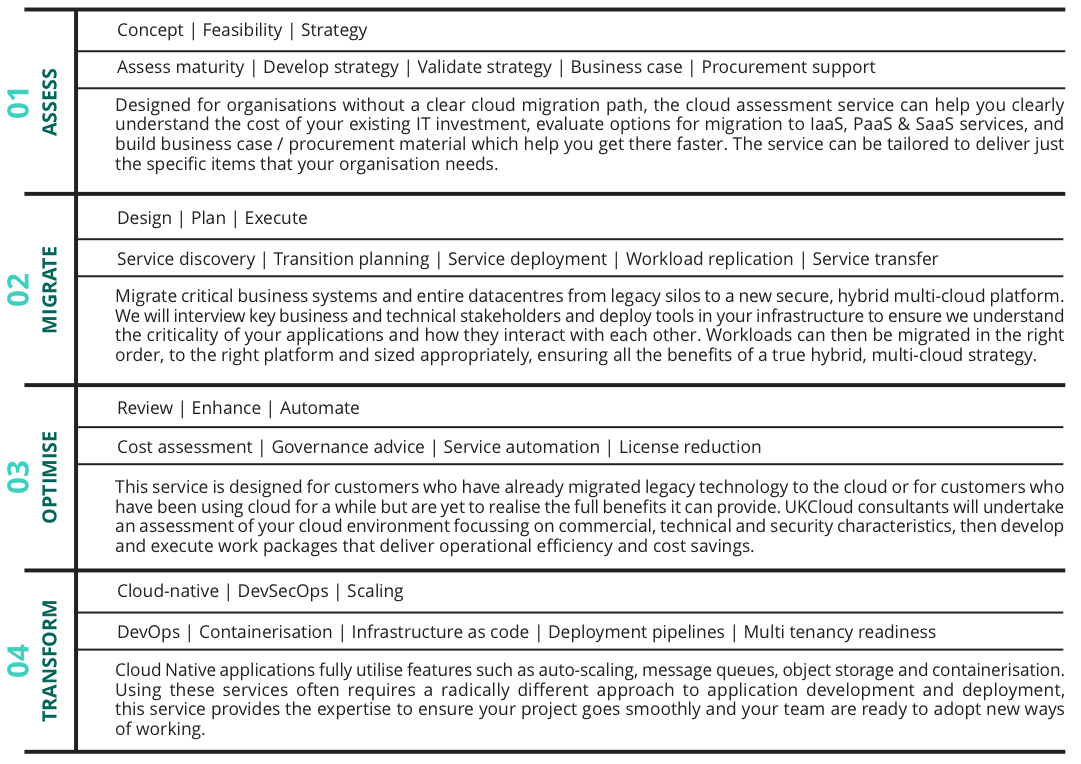 We focus on doing what's right and remain dedicated to our core values by developing digital services and products that underpin economic growth and support our public sector customers.
Our people are all based in the UK and are government security cleared and vetted under the national police personnel vetting (NPPV) scheme.
We ensure pace and certainty of outcome, with measurable business benefits achieved faster and with less risk.
UKCloud – Making Transformation Happen
UKCloud is dedicated to helping the UK public sector by delivering more choice and flexibility through safe and trusted cloud technology. We own and operate UK sovereign, industry-leading, multi-cloud platforms which are secure, assured and located from the Government's Crown Campus.
Our team of multi-cloud experts are dedicated to helping our customers gain value from the agility and cost savings of a multi-cloud strategy and Making Transformation Happen – cheaper, faster, safer.
If you would like some advice as to how you could approach your cloud transformation project – please contact us on 01252 303 300 or pro-serv@ukcloud.com .
Please note: This is a commercial profile
UKCLOUD Limited
Tel: +44 (0)1252 303 300
Editor's Recommended Articles