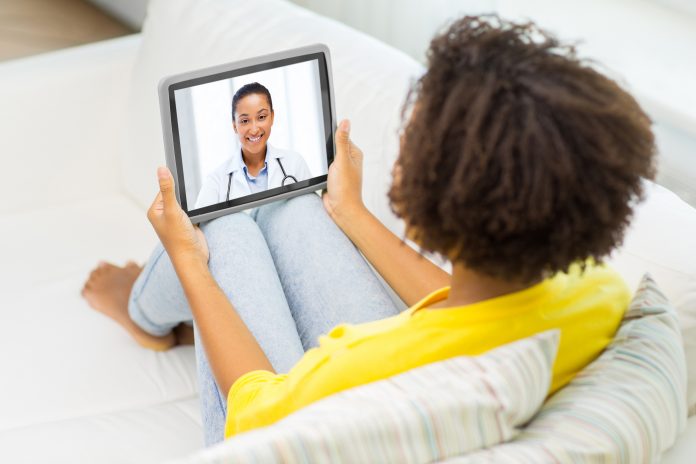 Here, José Bastos, Director at knok, explores how virtual care management will be fundamental to digital transformation within the healthcare sector
In today's world, everything and everyone is tech-savvy, primed for Instagrammable self-expression. Individuals crave intense and immediate experiences, which create a need for a new reality where multi-sensory experience occurs on screen, inspired by real-world tactility. And healthcare is no exception.
At knok, we believe that virtual care management will be a crucial and integral part of the larger population health management picture. This pledge means health providers will:
Understand what the real care needs are for both individuals and populations
Increase medical practice efficiency by applying practice-based learnings
Proactively find new ways to engage patients in pursuit of better outcomes at lower costs.
Healthcare is going through a process of digital transformation which started well before the pandemic. COVID has accelerated it and pushed further the need to adapt to new business models. Despite acceleration, adoption remains low at an overall level. Decision-makers are pressed to act upon patient journeys and their existing workflows to produce an impact that is proportional to the size of the problem. As an additional challenge, hospitals and health systems need to evolve to satisfy a patient that behaves more as a customer always looking for a more personalised experience.
As healthcare models evolve, IT infrastructures must also evolve to meet this new population health and care management demand. Reality has changed due to technology.
Besides keeping a record of useful historical data, existing care management systems may be good at certain specific tasks. But they are far from being the needed solution to navigate today's care management practice.
Today there is an evident gap between healthcare providers and patients, which became even more pronounced amid the pandemic and one of the root causes is tied to the current care management model. Therefore, the time is ripe for exploring how alternatives such as video communications aka telemedicine or telehealth, could bridge that gap by enhancing a better and more suitable venue for both providers and patients.
Digital trends to watch
Consumer demands are driving a shift to value-based care, regulatory changes, and advances in technology. The increased utilisation of alternative care settings is contributing to the inpatient business model losing its sheen. The patient journey will move from the hospitals to wherever the patient is. 21st-century medicine will be about technology coupled with patient empowerment.
The use of video as a tool for delivering medical consultations is coming of age. Healthcare providers are adopting telehealth for a variety of reasons from being more responsive to the medical needs of patients, to saving time and money.
High literacy rate and a better socio-economic situation are the growth factors for the expanding digital health market. Furthermore, increasing geriatric population and the rise of chronic diseases, surging demand for self-care in remote locations, and the increased number of smartphone users sustain the market trend.
However, high setup costs, lack of skilled professionals, and lack of awareness are restraining factors. Additionally, the lack of interoperability between e-health solutions and unfavourable regulatory framework will be a challenging factor for the market in the coming years. On a positive note, the integration of innovative technologies such as IoT and data analytics coupled with 5G will create unimaginable opportunities for the market.
Constantly evolving to meet new demands
As mentioned above, the pandemic boosted several technology shifts that are making it easier than ever before for providers and patients to adopt video communications as an effective way of having a medical consultation.
We are committed to democratising access to health by offering customised virtual care management solutions.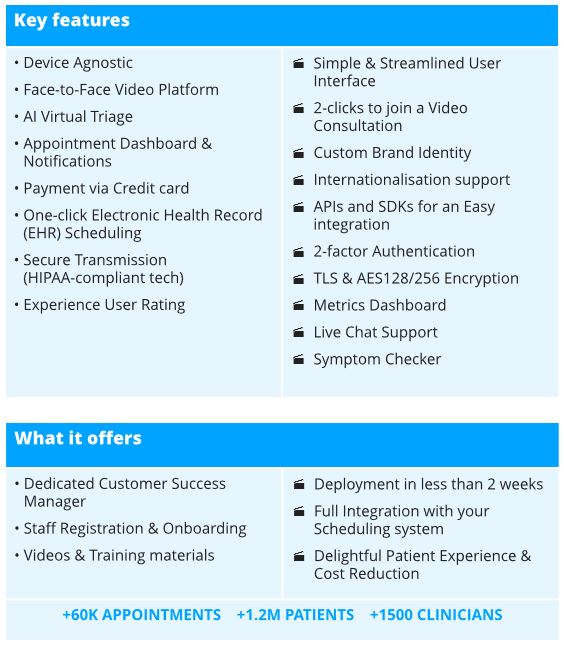 knok | Panacea
"In Greek mythology, Panacea (Greek Πανάκεια, Panakeia) was a goddess of universal remedy"
The best HIPAA-compliant Telemedicine Video Platform.
Purpose-built to improve patient engagement, health team collaboration and drive your medical practice revenues. Every time & Everywhere.
Panacea was designed to be tomorrow's medical practice, 100% Digital, +80% effective solution and 0% Complexity.
A turn-key & white-label telemedicine platform designed for Hospitals, Insurers and all other Healthcare providers who want a real-time patient assessment as remote patient monitoring while improving operational efficiencies.
Designed to power Care Coordination, Readmission Reduction, and Lower Healthcare spend.
Fully developed by our physician-led care team and trusted by clinicians worldwide.
Easy to deploy and easier to use
Ready to integrate all patient's data in just one interface within a secure, GDPR and HIPAA-compliant environment.
No need to download software or apps – for a Video Consultation patients will only need to have an internet-connected device with a browser installed.
Panacea ensures better patient experience, improves medical workflow and reduces operating costs.
To accomplish our mission, it is essential that all healthcare providers are able to improve access to quality care and healthcare outcomes in tandem with controlling associated costs. Only then they will have all the resources and capabilities in place to make better-informed decisions about their patients' health.
Experience a live customized demo, get answers to your specific questions, and find out why Panacea is the right choice for your healthcare organization by clicking here.
The Only Integrated Care Video Platform Purposely-built for Safe & Secure Patient Experience – "from head to toe." 
Please note: This is a commercial profile
Editor's Recommended Articles