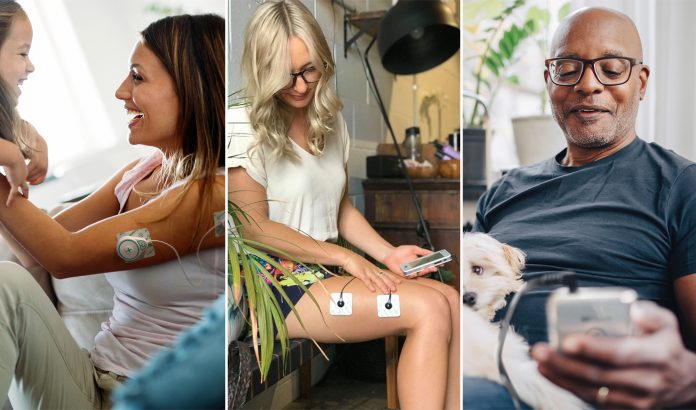 Rick Rowan, CEO and founder of NuroKor Bioelectronics, tells us about how bioelectronic technology is changing the future of healthcare
NuroKor Bioelectronics is a pioneer in the field of bioelectronic technology, developing new ways to address a range of unmet health needs through electroceuticals. By supporting healthcare professionals and patients with non-invasive, drug-free therapy options, we can create better outcomes for the future of healthcare.
Electroceuticals and bioelectronic technology
Electrical signals are a fundamental part of how organisms function – present in transmitting signals and having a regulatory purpose for many reactions. We can support and influence cellular processes by mimicking these signals to achieve desired outcomes.
The health benefits of electrotherapy – using electrical currents on the body within specific parameters – have been investigated for many years. Today, it is mostly used to manage pain and optimise recovery from injury or exercise. However, papers examining its effects on wound healing (Ojingwa JC, et al. 2003), diabetic ulcers (Baker LL, et al. 1997) and other conditions show potential for electroceuticals to become a commonly used pillar of medicine.
"Bioelectronics is a rapidly growing field and many of the large pharmaceutical companies are already investing millions in new technologies."
Bioelectronic technology generally covers the use of technology or devices for health purposes, such as pacemakers. At NuroKor, we research and develop new formulations of therapeutic electrical currents and how they can be used to treat multiple conditions.
How NuroKor's bioelectronic technology works
Our technology delivers therapeutic electrical currents through specifically developed formulae that employ three modalities:
Peripheral nerve stimulation can help manage pain by influencing the pain signals being sent to and from the brain.
Neuromuscular stimulation has a role in supporting recovery and rehabilitation.
Microcurrent can be used to accelerate healing and is also known to help reduce inflammation.
By developing these and defining the parameters of the electrical currents, we can apply them to a wide selection of conditions in both clinical and domestic settings. For example, our world-first sequential microcurrent utilises therapeutic microcurrent protocols to trigger the body's recovery process, helping to restore disruption to the body's natural cell and tissue current caused by trauma, inflammation, injury or disease.
The case for electroceuticals
Chronic conditions are one of the major costs to the NHS and society as a whole. In 2018, The British Pain Society cited reports that 40% of NHS sickness absences were due to back pain, while the cost to the UK economy as a whole was £10 billion per year. This is just one health issue and is to say nothing of the impact of arthritis, menstrual pain, fibromyalgia, or any number of other chronic health conditions.
In all these cases, painkillers of varying strengths, including powerful opioids, are the most common treatment method. But it is known that they don't work for everyone and that some people experience adverse side effects.
Bioelectronic technology, particularly electroceuticals, has shown to be effective for managing acute and chronic pain – a survey showed that 100% of participants experienced reduced pain after using NuroKor technology.
At the same time, we have several case studies for people with conditions such as nerve damage, diabetes, and arthritis, whose symptoms and quality of life have improved greatly since using our technology. In one example, a 77-year-old man with diabetes, peripheral neuropathy, and critical occlusion of blood vessels in his legs had improved circulation and even return of feeling in his feet after.
Bioelectronic technology is changing care for patients and professionals
Healthcare systems are under stress, and there are likely to be systemic changes in the next few years and months. How people interact with them is also changing, and treatment in the community and in people's homes will become ever more prevalent. Technology is at the heart of facilitating this shift, both logistically and with the necessary treatment options to do so.
NuroKor's bioelectronic technology is ideally suited to use in the home, where someone can select the treatment they need with the press of a button and apply it themselves. However, we have also partnered with several pharmacies, including Meaghers Pharmacy in Dublin and Hopwoods Pharmacy in Cardiff, to create pain clinics. People can visit these and try our technology under professional supervision and see the benefits for themselves with some remarkable results.
Electroceuticals are an effective supplementary or standalone treatment option for conditions beyond just pain. Optimising recovery through promoting the production of proteins is a common use for NuroKor technology, and we are working with several academic and health institutions to investigate further and develop our therapies.
Bioelectronics is a rapidly growing field, and many large pharmaceutical companies are already investing millions in new technologies. At NuroKor, we are committed not just to creating groundbreaking technology but also to elevating the conversation around how bioelectronics can revolutionise healthcare systems for the better.
Please Note: This is a Commercial Profile

This work is licensed under a
Creative Commons Attribution-NonCommercial-NoDerivatives 4.0 International License
.
Editor's Recommended Articles