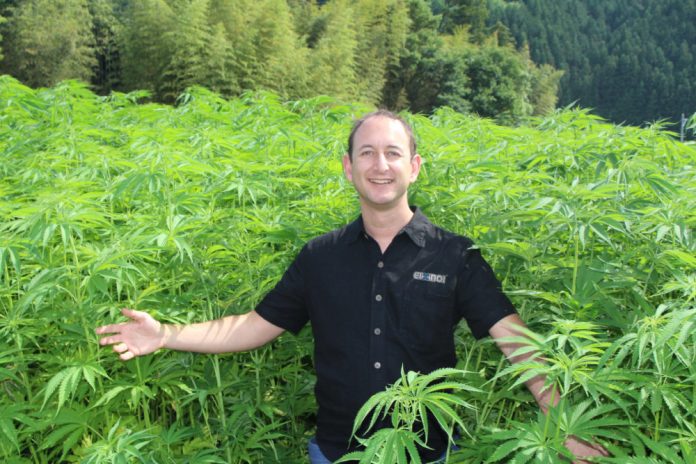 A worldwide manufacturer and distributor of cannabinoid products, Elixinol are committed to creating the best organic hemp products for the mass market
Elixinol was founded by a group of passionate leaders led by British born Paul Benhaim. Committed to becoming a leading worldwide manufacturer and distributor of cannabinoid products. They have over 20 years of relationships with hemp farmers around the globe.
Benhaim learned in 1991 that hemp seed is a superior source of essential fatty acids, and has been working with it ever since. Since his first product, the '9bar' snack bar (one of the world's best-selling hemp products), he has developed numerous businesses, and supported government policies and global strategies to grow and develop the industrial hemp industry.
His obsession is to create the best organic hemp products for the mass market. Paul works with seed breeders and suppliers, growers, harvesters, cleaners, primary processors, manufacturers, laboratories and quality control personnel (in-house, contracted and third party) to source the highest-quality hemp from around the world for use in Elixinol products.
After learning about hemp seeds in 1991, Paul Benhaim immediately began tracking down the best hemp in the world. He has worked in England, Germany, France, Spain, Italy, Slovenia, Czech Republic, Lithuania, Poland, Hungary, Korea, Thailand, India, China, Canada, U.S., Australia, New Zealand and more!
Paul has travelled the world for the last two decades, making close friends and colleagues in his chosen speciality – the highest-quality hemp on the planet!
Elixinol hemp farms
Elixinol has hemp farms in both the U.S. and Europe; hemp extracts from Elixinol U.S. are grown in Colorado, while Elixinol Europe's hemp comes from farmers in Europe. They work from seed to sale with farmers and producers in each location to ensure they formulate the very best products for you.
Before they ship from their manufacturing facility, all the products undergo rigorous testing. Then they use advanced HPLC (HPLC-DAD) equipment, in leading labs, to confirm the results. Besides testing for potency, they also test for microbiological contamination, heavy metals, pesticides and the unique terpene profile.
Elixinol products
To establish the best labs for testing their products, they initially submit multiple samples of the same product, as well as "dummy" samples, to assure stability of the lab's analysis methods and their ability to identify abnormalities in our products. This also allows them to be sure that they report any abnormalities immediately. Good communication and attention to detail are critical to the Elixinol process.
They employ these quality-control measures in every batch of Elixinol product they manufacture. There is never a question of what an individual is receiving when they make a purchase.
They use only hemp-based product testing laboratories that mirror pharmaceutical-industry processes and controls. Through these processes, they've solved the common problem of inconsistent test results. The testing team comes from the pharmaceutical industry, understands the complexity of operating in a cGMP/GLP environment and has operated in this environment for decades.
Quality control
Elixinol gives customers and partners greater peace of mind by providing batch and lot numbers for each product. They identify each batch of a product that is manufactured (GMP). This is essential in ensuring consistent quality. They provide full transparency to their customers about what they are buying at any given point in time.
It also assures that should an issue arise; they can rapidly perform a recall on that specific batch and know exactly who may be in possession of a product derived from that batch. Lastly, it allows them to communicate clearly with their manufacturing partners so that they can identify any issues that may arise on the manufacturing side of our business.
They publish certificates of analysis for all of their products. They work closely with a team of medical professionals to conduct intensive research and development of formulations. Elixinol is proud to lead the industry when it comes to safety, product innovation and value for money. They are experts with decades of experience working with truly natural products. They know how to extract, process and formulate the ingredients they carefully select, without resorting to synthetic chemicals. They maintain a strict policy of no GMO products whatsoever.
Product safety
Their own in-house formulator develops and oversees the innovative methods we employ to make our products safe and enjoyable to use. They also continue to invest in manufacturing facilities to expand the range of products they can make, without ever compromising on values.
These same values are applied when choosing ingredients for flavouring their edible products or developing non-toxic skin products. The Cinnamint tincture, for example, uses a variety of cinnamon that is extracted using the same solvent-free Super Critical Fluid Extraction techniques used to extract their hemp plants. The result is record levels of cinnamaldehyde, a compound that offers more than just great natural flavour.
Elixinol Global Limited is an ASX listed company with a global presence in the cannabis industry through its subsidiary businesses.
Nunyara an emerging Australian medicinal cannabis company who recently had a Manufacturing License granted and are looking forward to shortly receiving a Medicinal Cannabis License the Australian Office of Drug Control.
Hemp food and skincare
Hemp Foods Australia is a leading hemp food and skincare products wholesaler, retailer, manufacturer and exporter of bulk and branded raw materials and finished products.
The Certified *Organic Sativa skincare range contains wholesome hemp oils and extracts. Fortified with Synergistic Botanicals from the Amazon and wild Australian outback, Sativa satisfies the health and beauty needs of your skin.
Most recently Elixinol purchased 25% of Pet Releaf, a world leader in the development of CBD products for Pets. The Elixinol mission is to transform health, through cannabis plant science and technology.
Please note: This is a commercial profile
Elixinol
Instagram: elixinol_eu
Linkedin: elixinol-europe
Editor's Recommended Articles