The climate crisis has caused wildfires to rage across Oregon, California and Washington causing tens of thousands to flee their homes and has resulted in over 30 deaths
Climate and fire scientists have warned that fires in the U.S. would grow fiercer and more dangerous, but the fires that have been burning in the Western states over September 2020 are baffling even the more experienced scientists.
Fires have been raging in California, Oregon and Washington for the past three weeks, burning millions of acres of land and destroying thousands of homes.
In Oregon alone, over 500,000 people, which is more than 10% of the population, have been evacuated due to the severity of the wildfires. Emergency officials from the state have said dozens of people are missing and the state should be preparing for a 'mass fatality incident'.
The US National Weather Service has issued a 'red flag warning' for areas of the West Coast, as high winds threaten to spread devastating wildfires still further. Gusts of up to 40 mph (64 km/h) are expected in parts of southern Oregon, with no rain.
So far, officials say, the devastating fires have burnt across an area the size of New Jersey.
According to IQAir.com, the consequential smoke pollution from the wildfires has left Portland, Oregon's largest city, with the worst air quality in the world, followed by San Francisco and Seattle.
What is causing the wildfires?
When you consider the mix of two human-caused catastrophes, the climate crisis and a century of fire suppression, it is clear to see why these devastating wildfires are spilling out of control.
Countless scientific studies show links between climate change and increased frequency of fires or severity of fire weather.
Rising global temperatures, caused by human-induced climate change, more frequent heatwaves and associated droughts in some regions increase the likelihood of wildfires by stimulating hot and dry conditions, promoting fire weather, which can be used as an overall measure of the impact of climate change on the risk of fires occurring.
Drought has played a role in the severity of the fires. In the past decade, severe drought has contributed to the death of around 163m trees in California. This accumulation of dead vegetation has helped fuel and feed some of the fastest-moving fires. Similarly, in Oregon dried soils resulting from periods of drought has allowed flames to tear across the landscape unfettered by moisture.
A Climate Scientist at Stanford University, Chris Field, said: "Each fire has a particular ignition, a particular context. But when you step back, a more consistent pattern emerges.
"The climate crisis has increased the risks of large, extreme fires, heating and drying the landscape so it's primed for catastrophe."
On top of the drought problem, record-breaking air temperatures, periods of unusually dry air, and blasts of fierce winds in some areas, led fires to produce vast plumes of smoke which billowed to rarely seen heights.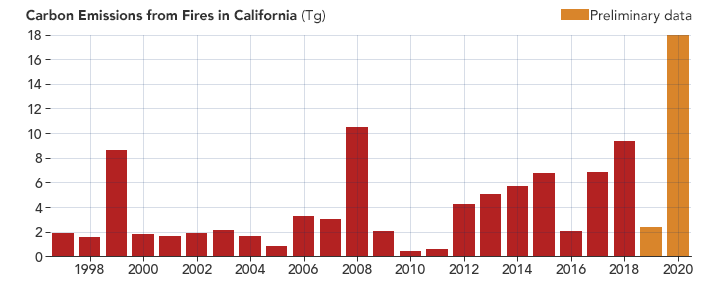 A country run by climate change deniers
Democratic Presidential challenger, Joe Biden, warned that: "climate change poses an imminent, existential threat to our way of life" and accused President Donald Trump, a climate sceptic, of denying the reality that climate change poses.
President Trump has blamed the wildfires in Oregon, California and other western states on poor forest management.
Learning to live with fire
Scientists say there are no quick solutions. Due to climate change, fires are going to get fiercer and more frequent in coming years. However, if leaders committed to meeting climate change targets set out in the UN Paris Agreement, then the affects of the wildfires could be substantially less severe.
Although the reality is even is dramatic action is taken to reduce the levels of global warming, the region is likely to get drier and warmer for the next few decades.
A short-term solution to the problem may involve residents easing out of fire-prone wildlands and designing homes to be more fire resilient.
Policymakers will also need to play their part and restore Indigenous land stewardship and work alongside the Native American fire practitioners to allow them to burn more land.
The only way there can be a solution to this disastrous problem is through reversing destructive environmental policies and adjusting societies relationship with the natural landscape.
Editor's Recommended Articles