Here, GERICS discusses how they are engaging with stakeholders to improve urban climate modelling capabilities and fight climate change
Climate change is among one of the most important societal challenges of our time. Responding to this challenge requires immediate action to reduce greenhouse gas emissions and to adapt to those unavoidable changes which are already occurring. Storms, heat and cold waves, droughts, heavy precipitation, episodes of increased air pollution and the combined effects of these events are already causing health problems and even death, as well as significant economic damage. Due to the concentration of people, economic activities and assets, there is a particularly high need for action in large cities and urban regions. It is expected that these problems will become even more severe in the coming decades and will require additional efforts.
Particularly in the urban environment, long-term planning requires special instruments. For example, what impacts do large construction projects have on the supply of fresh air, where does surface sealing create particular flooding risks, what impacts do constructions have on the thermal microclimate and how can these effects be mitigated? These are just a few of the questions that urban planners and engineering offices are dealing with.
To answer these questions, urban planners must be equipped with the appropriate tools. Urban climate models help to answer these questions. However, the urban climate models available to date are often designed for scientific applications rather than for use in urban planning practice. They often require large computing capacities and expertise in handling numerical models.
For four years, Climate Service Germany (GERICS) has been involved in the climate modelling capabilities of a practical urban climate model within the two projects UseUClim (2016 – 2019) and ProPolis (2019 – 2022) together with other partners from research and practice.
This process began with the identification of potential users and their requirements. In order to ensure the practical suitability, various application scenarios and use cases will be tested in close cooperation with partners from practice. These are mainly actors from municipal environmental agencies, but also include an engineering office. Some of the practice partners plan to apply the model independently as far as possible, others have real use cases simulated e.g. by GERICS experts. The planning cases include questions about thermal comfort, pollutant dispersion and air quality, or storm hazards.
In order to enable the practice partners to use the urban climate modelling capabilities independently, all partners in the project receive introductory trainings and computing capacities are provided. Simulations will be carried out on high performance computers; additionally, the use of cloud services will be exploited. The latter offers the advantage that the corresponding computer capacities do not have to be permanently available but are purchased on demand. A further important function to ensure practical suitability are the appropriately designed and implemented service and support offers as well as the training courses already mentioned. This includes, for example, a telephone hotline or a ticketing system.
The close cooperation with practice partners ensures that their needs and suggestions for improvement can be directly fed into all development processes for climate modelling capabilities. This applies explicitly not only to the further development of the model but also to the service, support and training offers or the possibility of using the cloud. An initial interim evaluation has delivered promising results, but also revealed a clear need for action in some areas.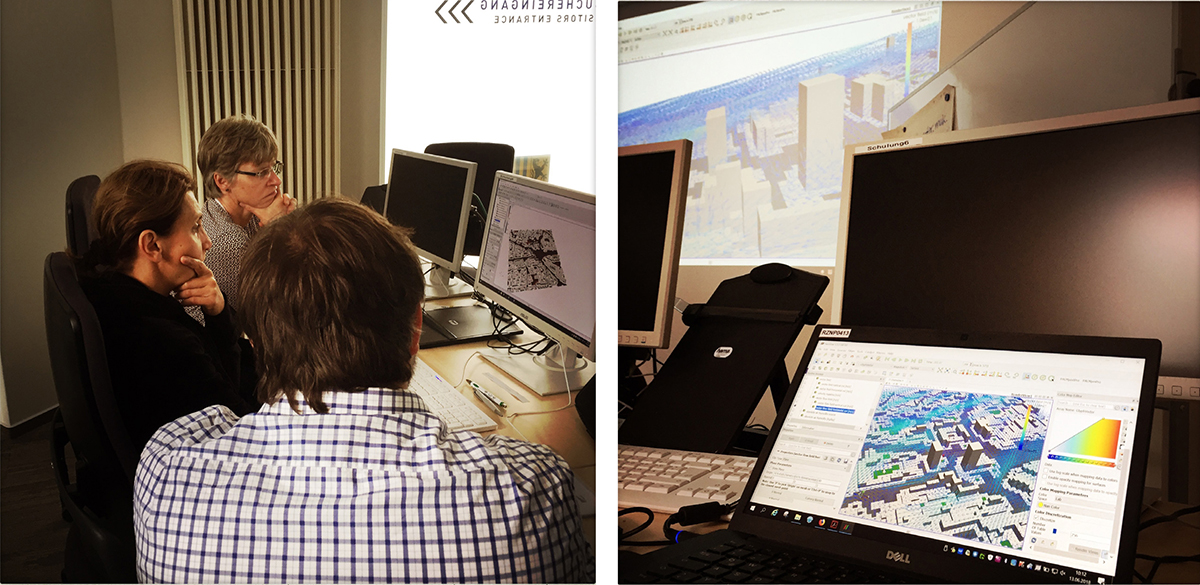 In order for the results to transform from knowledge to action and to generate a lasting impact, GERICS and the project partners are developing a continuation strategy. The goal is to transfer the model into an operational mode and to make it available permanently. This includes all components mentioned above model and the corresponding further development, provision of computer capacities, service, support and training offers.
Within a few years, urban planners will thus have at their disposal an innovative, powerful and, above all, practical tool that will enable them to test different planning scenarios and weigh up the associated impacts against one another.
The results of the two projects contribute to the further development of the thematic focus City at GERICS. With the new urban climate model, a new analysis tool is available to develop new services to support cities in adapting to the impacts of climate change. In addition, the urban climate model extends the range of models. Complementing the regional climate model REMO with a resolution of 3 kilometers, the urban climate model can be used to achieve resolutions of less than one metre.
*Please note: This is a commercial profile
Editor's Recommended Articles