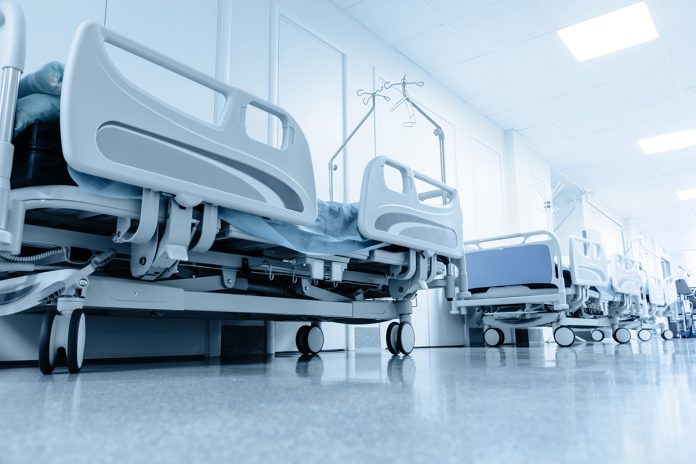 Brendan Crossey, Chief Executive Officer of Healthcare Analytics Limited places the adoption of effective medical bed tracking under the spotlight, including the innovative use of technology in this aspect of healthcare
The ability to understand the location of every medical bed and their associated mattresses is becoming a necessity, and the raft of legal, regulatory and policy forces driving the adoption of effective bed tracking has never been greater.
All too often, clinical and medical engineering teams face a daily battle to locate beds and mattresses, as they are frequently underutilised and poorly maintained. This creates a risk burden and a significant yet avoidable cost. Inevitably, compromises in relation to time, cost efficiency, safety, patient care and risk management are common.
Hospital assets can be costly, as the cost per bed has risen 90% in the past 15 years. Each hospital bed includes expensive equipment and keeping track of this equipment is often a huge task.
Staff often work in several different specialist teams with different objectives. The result is precious and costly assets misplaced or left in disuse.
Estimates indicate that hospitals will purchase 25% more equipment than actually required for operational needs.
One recent investigation uncovered that a major U.S. hospital took a huge financial hit simply because they were "unable to locate" 383 assets which equates to more than $11m of equipment. A UK Healthcare Trust recently had to replace 150 mattresses that went missing and this paints a grim image of asset tracking in healthcare. This is due largely to poor processes.
With current bed occupancy rates in most NHS hospitals at 95% and above, the locating and efficient management of beds and other assets is paramount and while making institutional changes in the industry will take time, connected technology solutions are becoming an increasingly popular aid to solving these healthcare issues.
These solutions offer hospitals the chance to automate time-consuming services to increase efficiency and improve the patient experience.
The need
The Healthcare Analytics i-trackbeds solution helps staff to ensure security and regulation compliance, as well as enabling employees to work more efficiently on a daily basis by solving the issues around:
Locating and managing assets in a large NHS Trust is a huge, almost impossible and very time-consuming task.
For audit or traceability purposes, it is vital that we capture and hold the history of all interactions with the bed and mattress including its maintenance, service and cleaning history.
9% of patients will suffer an HCAI (Healthcare Acquired Infection), with 30% being avoidable and every Healthcare Professional understands the significant negative impact this can have on both the patient and length of stay. Currently it is impossible to trace the source of infections and therefore the eradication of an outbreak can take days or weeks.
Nursing Staff spend on average 21 minutes on every shift looking for equipment, and again we recognise the importance of the right bed for the right patient, e.g. bariatric to reduce bed sores or other complications.
Improved device management, availability and utilisation reduces the need to loan beds and mattresses to accommodate short-term demand.
The process of bed and mattress rentals can be automated with nursing staff able to raise requests for rentals, which are sent for approval, with a remainder raised at end of period and rental companies automatically informed of the return with its location.
What's more, significant rental charges can be avoided by ensuring clinical staff only use specialist beds and mattresses when necessary.
The solution
This seems like a no brainer concept, so why hasn't it been solved before?
Several technologies have been used in the past for asset tracking, and technologies like Global Positing Systems (GPS) have disrupted a number of industries, however, the limitations of GPS and the high cost of existing systems means managers are often left blind when conducting operations indoors.
Similarly, Wi-Fi and active RFID-based systems can offer dividends, but they come with a huge price tag.
Today, the cost of manufacturing Passive RFID tags has fallen to the point where certain types can be used to cost-effectively manage tens of thousands of devices in a hospital environment.
However, the technology is only part of the answer as 80% of the problem is around poor processes, so we need to ensure that we also improve both processes and workflows, and that the solution delivers real benefits to the staff to ensure that they are engaged in the transformational process.
With this mind, Healthcare Analytics and our partner Multitone engaged in a 2-year research project with the Medicines Optimisation Innovation Centre (MOIC), an innovation unit within the Northern Ireland Health Service to design and build an efficient solution that enables key assets including beds and mattresses to be managed effectively, providing real time asset location, with a built-in task management application for monitoring the availability, cleaning and maintenance of these assets.
Consisting of a small chip and antenna, RFID tags are attached to beds and mattresses. Each tag has a unique device identification number and use radio waves to identify and track beds and mattresses.
We also include a barcode on our tags to allow staff to integrate the history of a device by scanning its barcode using our mobile app.
The mobile app also allows staff to manage requests for bed moves, cleaning and maintenance. All requests, notices and alerts are processed via the Multitone mission critical iMessage Service which guarantees that all messages are sent and received in a timely manner.
The whole service is managed via a Management Dashboard which includes the database and software for processing the data. The software can be integrated with other Patient Administration and Ward Management Systems for truly efficient and effective bed management.
"Our PATIENTS get access to the RIGHT equipment at the RIGHT time for the RIGHT patient – resulting in safer patient care while delivering a better patient experience" Dr. Naomi Baldwin PhD, Senior Nurse Patient Safety and Performance, Northern Health and Social Care Trust.
Please note: This is a commercial profile
Brendan Crossey
Chief Executive Officer
Healthcare Analytics Limited
Tel: +44 (0)2838 442 081
Brendan.crossey@h9analytics.com  
Editor's Recommended Articles