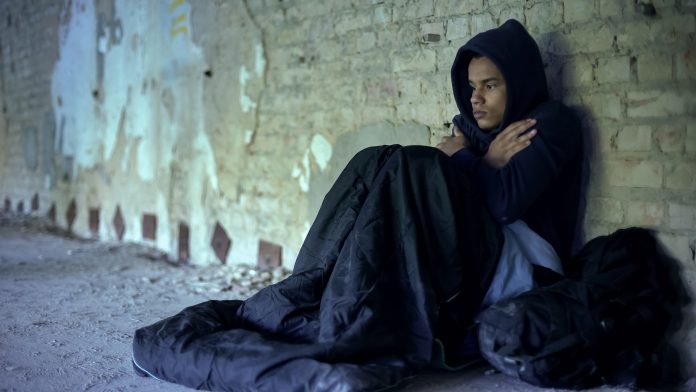 Tony Perkins, Chief Executive at LHA London Ltd, calls on the Government to provide more emergency shelter to the homeless during the new lockdown and bitter cold weather
Despite the estimated 15,000 people experiencing homelessness that were put into emergency accommodation since the start of the UK's COVID-19 outbreak under the £3.2 million 'Everyone In' scheme, there is now tremendous pressure on both charities and the Government to source suitable medium to long term 'Move-On' accommodation, especially in London.
COVID-19 pandemic
During the pandemic, local councils were instructed to ensure that all rough sleepers had somewhere safe to isolate. This meant that those who have a higher rate of chronic health conditions than the rest of the population had somewhere to self-isolate and could follow public health advice on hygiene and social distancing.
However, eight months later and with some contracts expiring soon, many of these people are now using day centres (some with queues of up to 100+ people waiting to be fed) and are back living on the streets, classified as 'newly homeless'.
Set against this backdrop is the wider crisis of 75,000 households identifying as homeless or at risk of becoming so before lockdown as more people have lost their jobs and livelihoods. Others have limited access to public funds – particularly foreign nationals – who have struggled after the essential services they relied upon have recently shut down.
With the eviction ban being revised and expectations of mass unemployment, it is feared that tens of thousands of people could be pushed into homelessness over the coming year.
Move-On accommodation
Furthermore, the lack of Move-On accommodation and reluctance from Private Rented Sector (PRS) landlords to consider individuals as 'suitable tenants' adds further complexities to this deeply concerning issue.
Affordability is another factor. When considering the challenges of single homelessness (and the limited affordable accommodation currently available), the introduction of the benefits cap means that a single adult (aged over 35) looking to move towards independent living receives a maximum of just £296.35 per week.
People who are looking for permament accommodation are increasingly forced to move away from their communities and local support network and into outer London boroughs. This, in turn, puts increasing pressure on local services.
In comparison, those under the age of 35 are only allowed to claim for shared accommodation (which includes a shared bathroom and kitchen) rather than a flat or studio (with an average maximum of £150 per week) – making matters even more challenging for the young single and homeless.
We know that housing rough sleepers in hotels during the first lockdown was not a sustainable solution over the longer term. What we now need is an exit strategy from the Government that allows those former rough sleepers who are working towards securing a tenancy a more suitable transition.
Charitable organisations
The recent collaboration between charitable organisations, LHA London Ltd and Glass Door Homeless Charity to offer temporary accommodation to those affected by homelessness in London this winter demonstrates how these organisations (and others) can provide a stepping-stone between emergency hostels and independent living.
The initiative, which runs until to Easter 2021, will see LHA London Ltd (which provides affordable accommodation to young people either studying or working in the Capital) allocating 92 of its beds at a heavily subsidised rate to those most in need of shelter and support.
Many of these individuals have faced critical challenges in their lives, from escaping war-torn countries to suffering job losses and facing family upheavals. They are in desperate need of a safe, clean place to live before moving to more permanent accommodation and finding employment.
Government support is now urgently needed to address the ever-widening gap in funding for the young single homeless living in London.
The Homeless Reduction Act
The Homeless Reduction Act which came into effect on 3rd April 2018 and provides an opportunity to transform the way Local Housing Authority services are provided to homeless people is arguably the biggest change in homelessness legislation since 1971. It not only imposes a duty to prevent and relieve homelessness, but it provides opportunities for culture and systems change – whilst providing a pathway to give the young homeless a more equal footing on today's housing waiting lists.
Providing affordable co-living in London to balance high-end private developments is a positive way forward to produce both 'move-on' accommodation and a solution to end urban loneliness.
Together, we must now begin to develop a range of suitable accommodation options to prevent the cycle of homeless in inner cities across the UK. Adequate funding for co-partnership arrangements between homeless charities and providers such as LHA London will help form the foundation required for effective collaborations on such issues. If anything, the pandemic marks a unique opportunity to change our approach to homelessness in the long term and to make homelessness rare, brief and unrepeated.
Editor's Recommended Articles