Speaking to COVI on Thursday (12 May), Commissioner Stella Kyriakides announced upcoming health measures for the bloc – including strategies against "causes of vaccine hesitancy"
The European Parliament Special Committee on the COVID-19 pandemic – known better as COVI – held their first official meeting with EU Health Commissioner Stella Kyriakides this week.
Committee Chair, Kathleen Van Brempt, said that the Commissioner was one of six EU health ministers to continue holding office after the initial virus outbreak.
COVI spoke with the Commissioner about ongoing COVID concerns across Europe, as part of their mission to examine health, coordinated responses that preserve human rights, societal and economic impact, and how the EU response related to the global health crisis.
The Commissioner responded to questions and explained a range of issues that need to be resolved, touching on everything from pandemic preparedness to gender inequality in the care industry.
EU will continue to use infection surveillance mechanisms, to prevent potential crisis of new variant
In her prepared statement, Kyriakides reminded COVI of the speed with which the virus consumed available resources across the bloc, with an emphasis on how the national healthcare system in Italy crumbled under an influx of critical cases.
During the initial COVID-19 response, healthcare professionals were not aware of which resources would be most necessary. Oxygen, PPE and ventilatory equipment became invaluable at the time, as they could change the fate of a hospitalised patient.
To prevent this level of crisis happening again, she says that the EU will prioritise pandemic preparedness. This includes keeping "non-pharmaceutical measures" like social distancing ready for use, instead of fully retiring them. The region would also continue to pursue clinical trials for vaccine candidates, and push for further vaccine development.
The Commissioner, deviating from her written statement, also said that COVID is not over.
To deal with living in what she describes as an "age of pandemics," she proposes that the EU will continue to use infection surveillance systems – with the goal of picking up any "new variant" so that countries can "immediately pick it up and be able to react."
Other countries, like the UK, have retracted funding from the majority of surveillance studies, which have been instrumental to identifying variants and mutations of COVID before they became internationally dominant. The UK will also no longer track levels of the virus in healthcare workers, as the country exits all pandemic measures.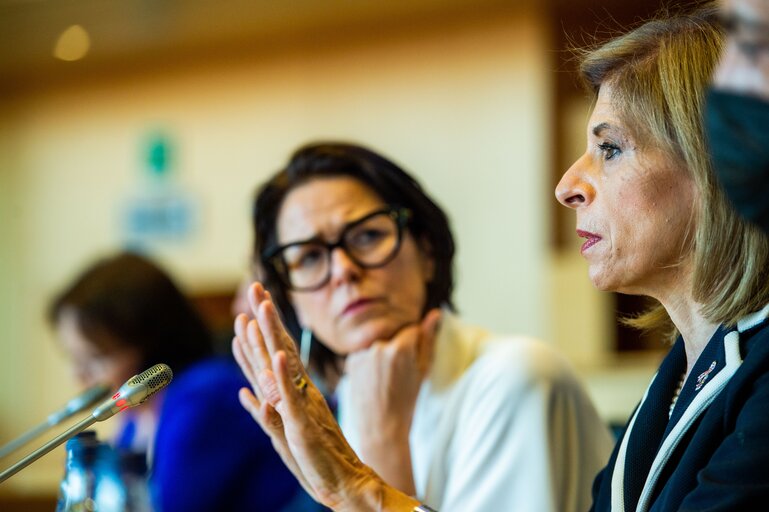 Commissioner also said that "causes of vaccine hesitancy" should be analysed, then addressed
The EU will push for an increased uptake of vaccines, to protect more of the population from severe COVID and to prevent further variants emerging. While the Commissioner said that "causes of vaccine hesitancy" must be investigated at a country-level, she also insinuated that there must be some form of compassion.
Speaking to COVI, she said: "We need to fight disinformation and misinformation every step of the way. We also need to not put those who are unvaccinated with a label."
When looking at causes of vaccine hesitancy in Black communities of the US, Yolanda Wilson highlights a history of biological and psychological harm done to Black populations.
She writes: "The loss of loved ones, the loss of limbs, the loss of fertility—such things leave their mark on communities that experience them at the hands of institutions, whose harmful actions have often had the at least tacit approval of the government."
Wilson further explains that asking questions is not "hesitancy", but an instinct for information honed through a tenuous and violent history of mistreatment from authority figures. While this study is done in the historical context of North America, a similar rationale impacts demographics who have previously experienced medical mistreatment from authorities across the EU.
Commissioner Kyriakides confirmed that "national analysis" was underway in Member States, to isolate which parts of the population continued to feel vaccine-hesitant, and to then launch targeted information campaigns to tackle any misinformation.
According to EuroStat, countries in Eastern Europe are more likely to have vaccine hesitant populations. With the stress of Russian aggression, it will be a waiting game to see how these countries tackle the latent health crisis of vaccine hesitancy.
Highlighting the urgency of tackling vaccine hesitancy, she said: "As we pointed out in late April, we are moving into a post-acute phase of the pandemic. But the virus is still with us, and it is still circulating. Vaccination and natural immunity offered us a window of opportunity.
"We must prepare for the autumn and winter, and keep our most vulnerable populations protected."
Editor's Recommended Articles