Natalie Harney, Senior Consultant at Engine Transformation, tells us about the inclusive design principles they provided to the Immigration and Asylum appeals service for HMCTS, to tackle digital inequality
Inclusive design isn't a nice to have, it's a universal need. 14.1 million people in the UK live with a disability(1), but only 2% of the world's most popular websites are accessible(2) putting up unnecessary barriers to inclusion and sales.
While there's lots of goodwill towards building more inclusive services, we're not making enough change. Over 30% of people with disabilities report poor digital experiences when buying groceries, booking trains and picking up a new outfit due to a lack of inclusion(3), a figure which only grows when you consider other kinds of exclusion like digital confidence.
We understand that often what's holding service teams back is nervousness around the range of things you need to do and making mistakes along the way. Unfortunately, there's no cookie-cutter approach for what inclusive solutions look like. But there are approaches that underpin the inclusive design, no matter the project.
That's why we wanted to demystify the process by sharing our inclusive design principles with you, alongside some examples of what they look like in practice, using our award-winning(4) work redesigning the Immigration and Asylum appeals service for HM Courts and Tribunals Service (HMCTS).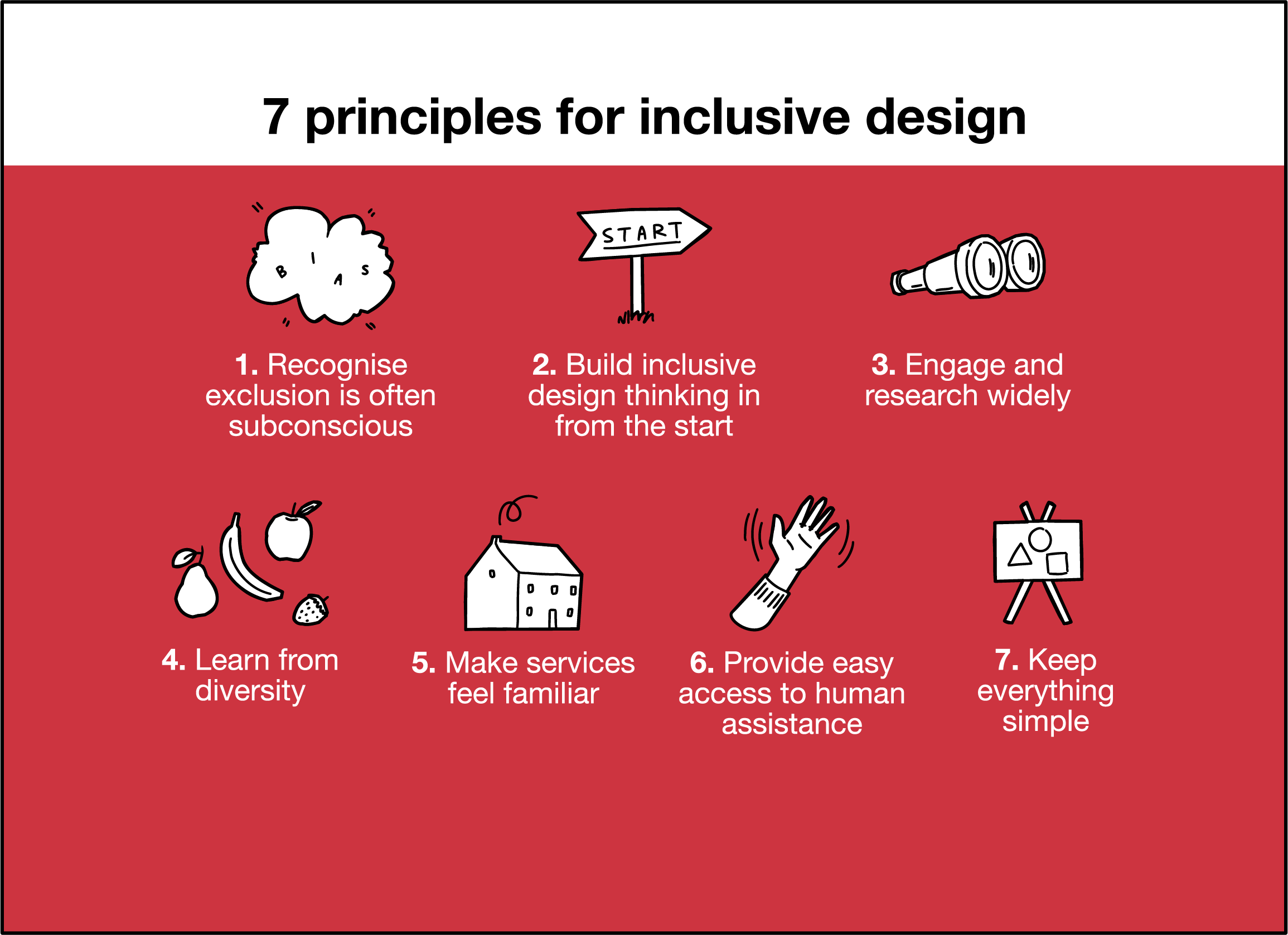 Recognise that exclusion is often subconscious
Exclusion happens when we solve problems using our own biases. We need to recognise our subconscious biases and make decisions based on input from voices beyond our own. 
At HMCTS that meant committing to research and making design decisions with our full spectrum of stakeholders from the outset.
Build-in inclusive design thinking from the start
You can't retrofit inclusion; it needs to be a part of decision-making throughout the design process. 
Everyone in our team was responsible for inclusive design, from research through to development; ensuring this understanding and responsibility for inclusion extended across our stakeholders. We shared first-hand experiences of appellants and asked stakeholders to engage with those experiences, acting as researchers, then design based on those insights. This shared storytelling was at the heart of our approach, galvanising business-wide support.
Engage and research widely
To design inclusively you need to work with a diverse range of people to understand needs, strengths, behaviours and opportunities. 
Prior to our work with HMCTS, very little research had been done with appellants – they were considered too hard to recruit and previous teams had been unsure of how to start. The challenge of recruiting seldom heard participants can be intimidating, but when designing inclusively it is vital. Our approach was to learn from and build trust with charities, who offered their spaces and networks to support our research, allowing us to speak to a range of appellants.
Don't be afraid to reach out, if your research is respectful and valuable to participants, you might be surprised.
Learn from diversity
People are experts in how they do things. Someone who's dyslexic might have a way of approaching a task that someone who isn't might never have considered. 
We believe the best way to learn from diversity, is to design with a diverse group of stakeholders. At HMCTS, we established a wide-ranging design community who co-designed the service with us, sharing their expertise and making decisions about a service that impacted them. At every stage, we shared designs and asked a range of users to test and help improve them based on their expertise.
Make services feel familiar
Familiar tasks are easier to complete and make us feel at ease. Avoid trying to reinvent the wheel when it comes to simple interactions and find the patterns users are already following.
Based on our research, we knew that appellants were familiar with talking about their appeals in terms of what had happened and when rather than referring to different types of documents. So, we mirrored this in the design of the service, showing appellants a building timeline of appeal activities.
Provide easy access to human assistance
We should be aiming to design services that support everyone to succeed the first time without support. But that isn't always possible. Sometimes we all need help and want services that provide the right support when we need it.
For the appeals service, that meant offering clear signposting to our phone line that offered interpretation when appellants needed help understanding tasks and links to support organisations when appellants wanted someone to talk to about their appeal.
Keep everything simple
Making things simple makes them easier for everyone. Wherever you can, reduce complexity in your journeys, language, and interface. 
An impactful example of this is our work with the judiciary to simplify complex legal language into plain English with a reading age of 5, making it understandable for everyone, and allowing us to shorten the appeal form to 10% of its original size.
Digital inclusion is a complex and ever-evolving subject. The realisation comes before action, so the first step is to identify and embrace the opportunity, then you can begin to delve into the requirements of users to ensure that everyone who needs your service can use it. Our principles are not an exhaustive guide but are an approach we've found can make a huge difference. We're always keen to learn more and work together, so we'd love to hear your experiences of designing inclusive services.
Engine Transformation is a digital and data consultancy, specialising in customer-led transformation through strategy, technology, and insight.
Please note: This is a commercial profile
© 2019. This work is licensed under CC-BY-NC-ND.
Editor's Recommended Articles