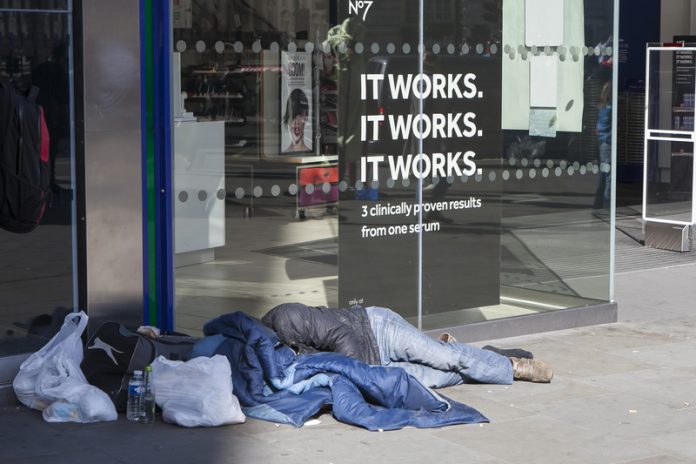 A new report reveals the extent of homelessness in London and the 'hidden homeless' who do not receive adequate help from authorities
A new report into homelessness in London reveals that there are 13 times more 'hidden homeless' people than those sleeping rough, around 12,500, with around 225,000 young Londoners having stayed somewhere 'unsafe' due to having nowhere to call home.
The 'hidden homeless' include people who couch surf, squat, or sleep on public transport and as such are often overlooked by homelessness statistics.
These people can be left open to abuse and assault and are often ineligible for support.
Many are LGBT, victims of domestic abuse, or asylum seekers and are generally young, with an estimated one in five 16-24-year-olds seeking help from their local council.
The report, titled 'Hidden Homelessness in London', comes from the London Assembly Housing Committee and includes personal stories from homeless individuals.
Sian Berry, head of the committee, said that rough sleepers are the 'tip of the iceberg' and that 'gaps' in current policies often make it difficult for people to receive help.
The future
Terrie Alafat from the Chartered Institute of Housing said: "Homelessness has risen steadily since 2010 according to official statistics and we know that the problem is acute in London."
"To have so many people homeless in 2017 is quite simply a national disgrace and something we must act on now."
"History tells us that we can significantly reduce homelessness, but it will take a cross-departmental commitment from government and a strategic approach to tackle all of its causes."
The report recommends that Sadiq Khan push local authorities to record the numbers of those seeking help so that the problem of homelessness in London can be well recorded.
It suggests government legislation that would guarantee the right of abuse victims to stay in their homes rather than perpetrators.
It also recommends that the government provide local London authorities with financial support to ensure the Homelessness Act can be properly implemented.
The recent Grenfell tower fire brought London housing into sharp focus and since the tragedy, only 14 families have been sufficiently rehoused.
There are also warnings of young people being 'priced out' of the capital as housing costs soar.
Editor's Recommended Articles