Katerina Kousoulaki, Christos Tsatsanis, Tone-Kari K. Østbye and Francisco J. Barba of the AQUABIOPRO-FIT project discuss the health benefits of dietary products made from fish side streams
The main objective of AQUABIOPRO-FIT (Project video), a project running from 2018 to 2022, funded by the Bio-based Industries Joint Undertaking (BBI JU) under the European Union Horizon 2020 research and innovation programme (grant agreement No 790956), is to promote efficient utilisation of European aquaculture, fisheries and agriculture side streams in feeds and nutritional supplement food products promoting fitness and health in humans.
Farmed and fisheries derived fish side-stream materials such as hydrolysates, possess various bioactive properties. Via enzymatic hydrolysis, fish protein is converted into free amino acids and peptides that are building blocks for growing muscles. Thus, among the various potential applications for fish protein hydrolysates are the improvement of the nutritional value of formulations for the elderly and sports nutrition.
Bioactive properties of fish side stream fractions
In AQUABIOPRO-FIT we perform a long series of technical and biological studies to demonstrate the specific bioactive properties of differentially processed fish side stream fractions, in vitro and in vivo, including clinical studies with humans, to provide the necessary documentation to promote healthier food habits and enable more sustainable use of marine resources.
As part of the AQUABIOPRO-FIT works the group of Nutrition and feed technology in the AQUABIOPRO-FIT coordinating partner, Nofima wanted to investigate if growth and metabolism of muscle could be improved by fish side stream materials from salmon, mackerel and herring using salmon heart and skeletal muscle cell culture models (Figure 1).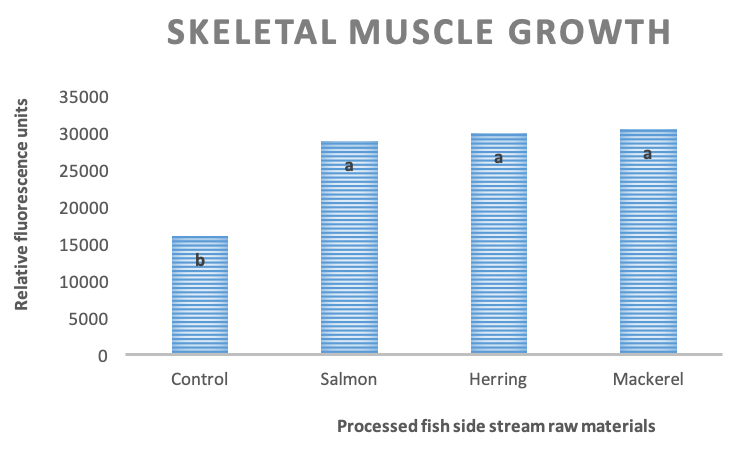 The results showed that skeletal muscle growth (Figure 2) and metabolism were increased by supplementation of fish side stream materials from all fish species. Different fractions of the fish affected the muscle growth differently, with the head fractions being most potent. Heart cell growth and metabolism were also positively affected by the fish side stream materials especially from salmon and herring.
The processed fish side stream bioactive fractions can be up-concentrated using conventional as well as innovative food processing technologies.
Scientists in the AQUABIOPRO-FIT partner, Universitat de València, studied the effect of different green extraction processes such as pulsed electric fields, accelerated solvent extraction, ultrasound and supercritical fluid extraction on the recovery of high-added-value compounds, such as protein and antioxidant compounds from fish side streams (i.e. sea bass, sea bream, salmon, rainbow trout, and sole, among others). The trial results showed that these technologies are an efficient tool to increase the yield of the protein fraction as well as compounds with antioxidant activity, as compared to conventional extraction methods (Figure 3).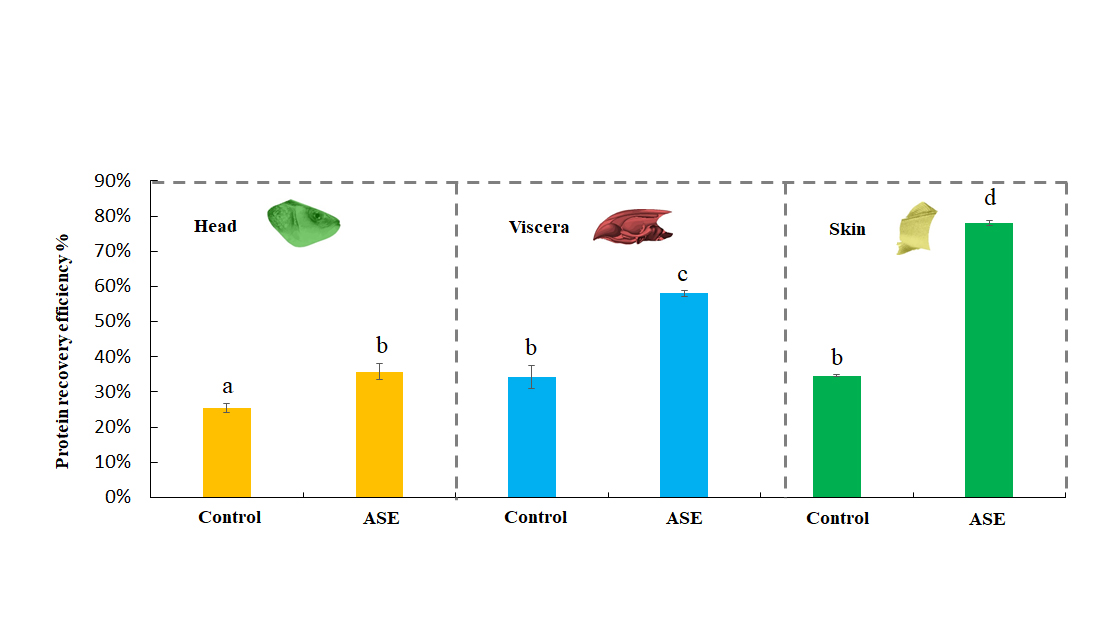 The cytotoxicity, bioaccessibility and bioavailability of different protein hydrolysates obtained from side stream fractions (heads, backbones, and viscera) of mackerel, salmon, and herring processing were also evaluated. It was seen that hydrolysate extracts did not have significant effects on the mitochondrial function and total protein content of differentiated Caco-2 cells. Moreover, the tested hydrolysates prevented the propagation of membrane lipid peroxidation in differentiated Caco-2 cells, demonstrating their antioxidant activity.
Total antioxidant capacity (TAC) of the bioaccessible fraction of the processed fish side stream materials was evaluated by the ORAC and TEAC assays, and the respective behaviour of TAC values of the bioaccessible fraction from the hydrolysates differed according to the method used, being lower than those obtained from the non-digested raw materials for ORAC, while the TEAC values of the bioaccesible fraction of the hydrolysates were higher than the non-digested. This behaviour can be explained by the different compounds TEAC and ORAC measured.
Health promoting properties
Dietary products possess several health promoting properties many of which are attributed to anti-inflammatory actions. Different minerals, proteins, vitamins, and lipids are known to possess anti-inflammatory properties, many of which are present in high amounts in fish. The scientific group from the AQUABIOPRO-FIT partner School of Medicine in the University of Crete, aimed to investigate whether processed fish side-stream ingredients possess such health promoting properties in the context of obesity and type 2 diabetes.
In an experimental mouse model of type 2 diabetes we found that supplementation of the diet with particular hydrolysates of fish side-streams suppressed the development of diabetes as it is measured by the ability of the organism to lower glucose (glucose tolerance test) (Figure 4).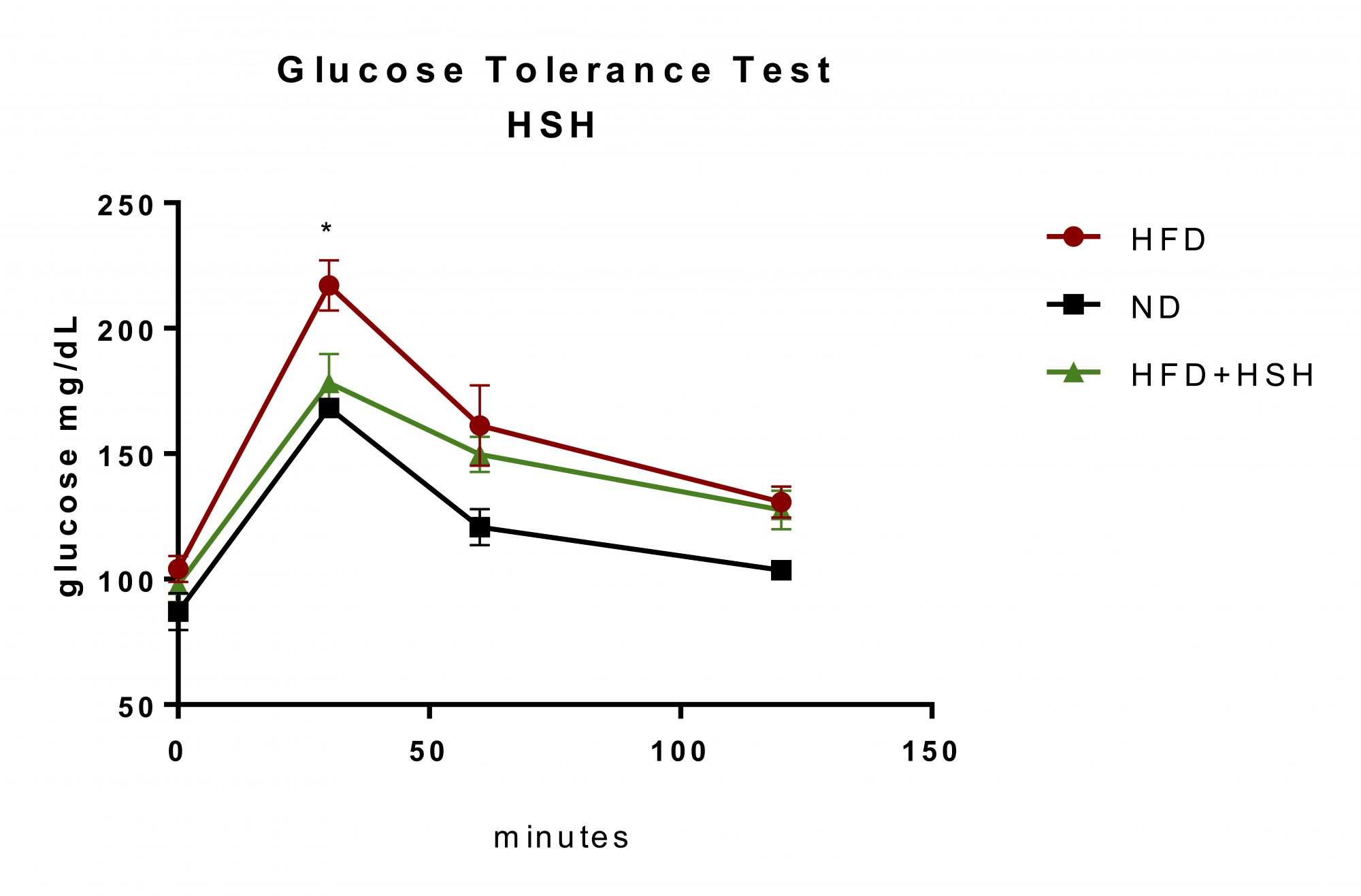 Obesity also affects the gut microbiome, which metabolises nutrients providing secondary metabolites that promote wellbeing of the organism. We, therefore, evaluated whether diet supplementation with fish side-stream products supports a healthy gut microenvironment. For this purpose we tested the effect of dietary supplementation with different extracts on the gut microbiome, focusing on the ability of these supplements to reverse the detrimental effects of a diet containing high amounts of fat that causes type 2 diabetes. We found that diet supplementation with particular fish side-streams supported growth of health-promoting probiotics, highlighting the dietary value of these extracts. In addition, we analysed the effect of the same fish side-streams in suppressing inflammatory bowel disease, a disease also associated with a healthy gut microbiome. We found that selected extracts partly suppressed development of the disease.
Collagen is a structural protein found in tendons, ligaments, bones, skin, cartilage, and teeth. Fish skin, scales and bone are rich sources of Type I collagen, frequently used in nutraceuticals, whereas type II collagen can also be isolated from fish cartilage that is often used for medicinal purposes. Using collagen supplements has shown benefits for tendon flexibility, ligament stability, muscle and bone integrity, bone metabolism1,2 and improved skin elasticity3 through increased endogenous collagen production or antioxidant function that may prevent and even repair skin and other tissue damages4. Collagen products are mostly of porcine and bovine origin marine sources are becoming more prevalent following the outbreak of bovine spongiform encephalopathy (1980s) and due to religious constraints5.
In AQUABIOPRO-FIT we tested the ability of diet supplementation with selected hydrolysed fish side streams and fish-derived collagen to promote skin health. In a model of epithelial healing we found that selected side-streams, particularly those containing fish collagen and collagen rich fractions (e.g. fish heads), improved skin health. Overall, our experimental models highlighted the nutritional value of fish side-streams and their potential as nutritional supplement dietary products.
More information about the project can be found in the project's website where you will have the opportunity to sign up for our yearly newsletter to be among the first to receive the most recent project news.
Please note: This is a commercial profile
1 Schunck & Oesser (2013) Specific collagen peptides benefit the biosynthesis of matrix molecules of tendons and ligaments. J. Int. Soc. Sports Nutr. 10, P23.
2 Seagarden AS. Collagen Peptides – Source, Properties and Benefits.
3 Zague et al. (2011) Collagen Hydrolysate intake increases skin collagen expression and suppresses matrix metalloproteinase 2 Activity. J. Med. Food 14, 6.
4 Kim, S. K. (2014) Marine cosmeceuticals. Journal of cosmetic dermatology, 13(1), 56-67.
5 Silva et al. (2014) Marine origin collagens and its potential applications. Mar. Drugs 2014, 12, 5881-5901.
Editor's Recommended Articles