CEO of OC Care ApS, Christian Ohlendorff Hollensen, illuminates what we need to know about the cultivation of sustainable and organic medical cannabis in controlled environments, including lighting
In OC Care, we are still at the beginning of our adventure. Now, we are focusing on developing specialised methods for all our strains in the newly built 110 sqm test facility. Here, we also plan to cultivate and process our first batches of sustainable and organic medical cannabis to sell on the Danish market. Furthermore, we are fine-tuning our substrate blends. When working with organic cultivation, good microbiology is vital. It's essential to keep an optimal environment in the substrate and make the microbiology thrive and enable optimal nutrient uptake by the plants. Only the best is good enough for our plants and, therefore, we are carefully choosing certified organic suppliers with the highest standards to ensure high quality and standardised end products.
Denmark: The ideal place to start an innovative and sustainable business
In Denmark, renewable energy sources have been heavily invested in during the last decade. In 2019, 40.7% of all energy consumption was generated by wind turbines, and in the future, that percentage will keep increasing. As a result of this, energy will become cheaper and cleaner in Denmark, and in 2022, a tax that has contributed to financing the establishment of wind turbines will be removed, resulting in a further decrease in the costs related to energy consumption.
Denmark has, for many years, valued entrepreneurship and innovation, and in recent years, many companies have entered the field of robotics. Universities and scientists are promoting network meetings where different companies share knowledge, experience, and find inspiration for new initiatives. Denmark is also known for its well established pharmaceutical industry with prominent global companies like Novo Nordisk and Lundbeck.
All this combined creates the perfect launchpad for a high-tech, sustainable, and innovative pharmaceutical company.
The Envision concept
We know that our Envision concept will be a gamechanger, not only regarding pharma-grade medical cannabis, but also concerning conventional crop production in the future. The idea is, in principle, to have several production modules combined and connected into a complete facility, where capacities are thoroughly adjusted to ensure the full use of the total production capacity. The Envision facility is designed to be fully compliant with GMP, and some parts of the facility will be Cleanroom (ISO 14644) certified. Since an Envision facility is module-based, we can easily modify the facilities to meet the demands of individual markets and ease the regulatory work due to the high degree of similarity the facilities have. The controlled environment holds a lot of potential for optimisation and standardisation of medical cannabis as well as other crops. Furthermore, new technology enables us to automate processes – something that was unthinkable just ten years ago.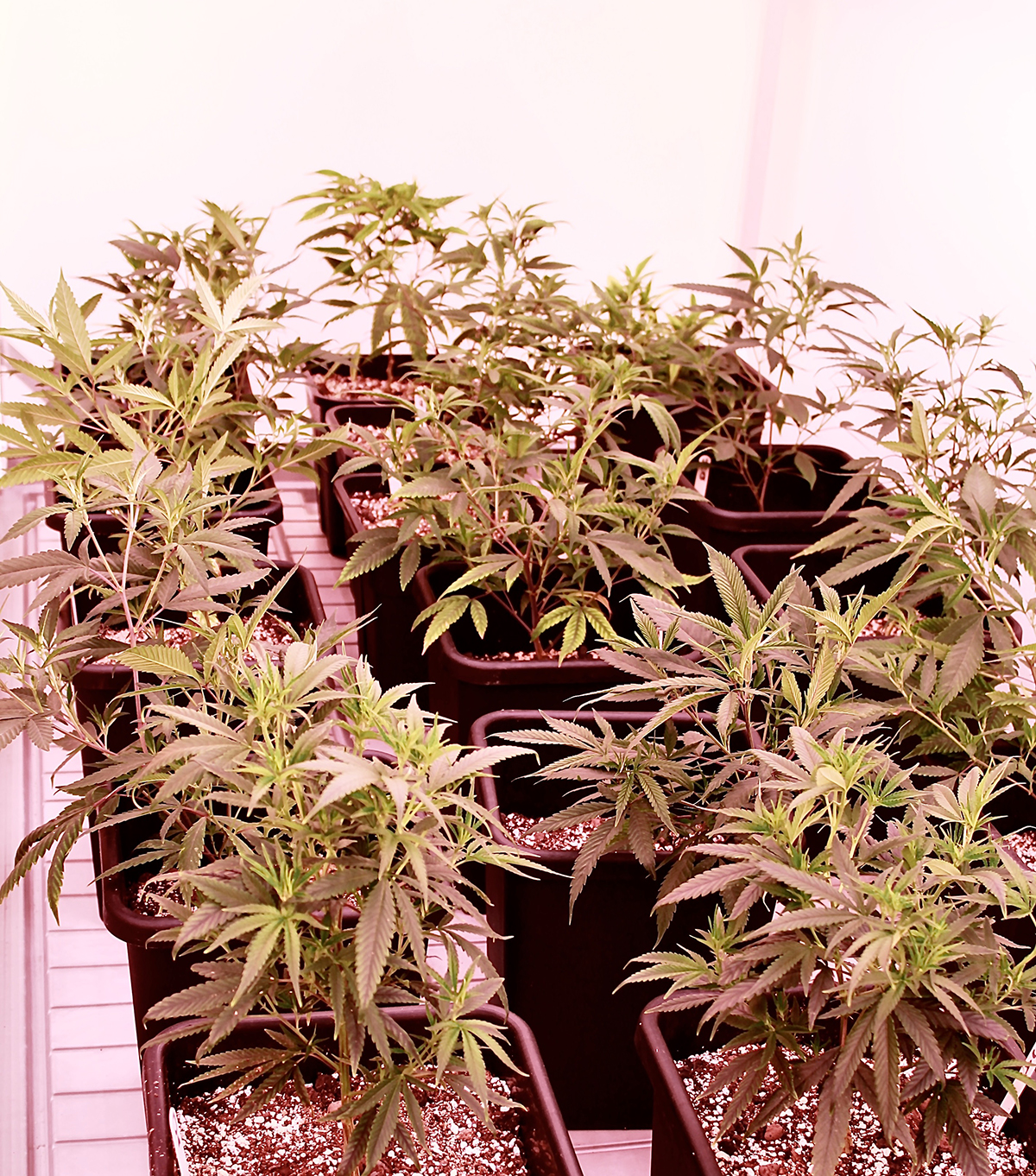 The controlled environment
By controlling and monitoring all the variables that have a direct or indirect effect on the end product, enables us to cultivate a consistent and standardised high-quality pharma product. The cultivation system we are designing will, among other things, measure and adjust levels of different types of gases that are common in the atmosphere and naturally generated by plants. As a result of this, we will be able to record plant responses to the various stimuli the plants are exposed to during a full growth cycle and this approach will ultimately optimise and increase yields.
Lighting is one of the essential factors when cultivating cannabis. In recent years, the technology and development of LEDs have accelerated drastically. For us, there is no doubt – HID and HPS are dinosaurs that should be displayed in a museum. Different spectrums of light have a significant impact on how the plants grow and on the quality of the finished flower. Furthermore, LEDs will soon allow replicating the sunlight from sunrise to sunset with incredible accuracy.
The cultivation will take place in a unique multi-layer system developed together with our key partners. This compact system brings down internal logistics, and increases productivity and profitability, and makes it possible to build Envision facilities near large cities with high numbers of patients.
Industry 4.0 merging with cannabis cultivation and processing
Automation is vital to ensure a standardised, efficient, and consistent execution of most processes related to the cultivation and handling of organic medical cannabis. Therefore, the integration of robotics and artificial intelligence (AI) are a crucial element of the Envision concept. In this regard, Steenbek A/S has been a valuable partner and has assisted us in shaping our innovative ideas into great solutions and production lines never seen before in medical cannabis cultivation. Their many years of experience in the field of automation in horticulture have contributed to choosing the ideal equipment and reliable suppliers with specialised competencies. As a result, we can realise our vision for the future of cannabis cultivation and horticulture in general.
Data is king – especially in the field of medical cannabis and for multiple reasons. It's crucial to replicate all environmental factors to ensure a consistent product in the cultivation chambers for each batch. Therefore, our multi-layer system is packed with sensors to collect data. A high degree of product traceability is another essential feature when cultivating and processing cannabis. Every plant unit will be given an ID tag at an early stage of its life and will follow it through processing. This we utilise to combine and analyse data to detect deviations, and minimise them in future production. This is, therefore, an essential part of our quality management system to increase standardisation.
Together with Schneider Electric Denmark, we are fine-tuning and gathering all features of an Envision facility in a cloud-based and centralised management system. For this reason, the management of this multidimensional and complicated system is surprisingly simple. Furthermore, Schneider Electric has introduced us to EcoStruxure platform that monitors all components of an Envision facility and will enable us to replace worn-out parts before they break. As a result of this fantastic feature, we will decrease downtime, which is crucial for all manufacturing companies.
Sustainability is profitable
In order to establish a highly sustainable company; our approach has been to choose technologies that have less energy consumption. Secondly, to minimise waste from production and thirdly, to generate energy from renewable sources. These approaches have two things in common: they reduce carbon footprint, but they also allow minimising costs. The cannabis plant does not only provide active substances with a broad spectrum of medical benefits. Every part of the plant can be used for many purposes and products.
Cannabis is full of resources, so why not tap into the full potential of this ancient plant?
Forget about CO2 neutrality – CO2 absorption is the next frontier. In a not so distant future, we strive to make all Envision facilities 100% self-supplant on the CO2 that we use to accelerate the growth of our plants – and we are going to pull it out of the atmosphere. New technology is making this possible, which means that we will be able to bind CO2 from the atmosphere to the organic medical cannabis plants while we are optimising our production.
Why? Simply because we care
The fundamental idea and vision of OC Care is to make a difference. We dream about providing patients with an organically grown, standardised, and sustainable pharma-grade product that increases the quality of life at affordable prices. We want to inspire and challenge our peers to think differently to accelerate innovation and sustainable initiatives. Looking at the wider picture, we can see that human civilisation has had an enormous impact on the Earth, and in the past years, we have seen the harsh reality of climate change. Ahead of us, we, as a species, are facing a challenge that, at times, can seem impossible, but there is still hope. We need to change our ways and be innovative and think differently – and we need to do it today – not tomorrow. Envision facilities are, therefore, a big step in the right direction.
*Please note: This is a commercial profile
Editor's Recommended Articles